It's been two and a half years since Jurgen Klopp's famous "doubters to believers" quote, and if you're still not convinced after Liverpool's quarter final triumph over Pep Guardiola's Manchester City in the Champions League then there really is no hope for you.
After convincingly beating City 3-0 at Anfield in the first leg, the Reds finished the job in style at the Etihad and now Liverpool stand on the cusp of another glorious European cup run.
This time, they had to come from behind to win 2-1, inflicting City with their third consecutive defeat in the space of a week. Guardiola was left holding his head in his hands as Liverpool's second dashed any hopes of a legendary comeback.
What a contrast in emotions in the space of a few weeks. When the quarter final draw was made, it would be fair to say many were a little underwhelmed drawing Manchester City. For different reasons.
Some wanted a glorious away day at an exotic location somewhere on the mainland and others were simply worried that City might just be too strong over two legs.
Their squad depth and overall quality were superior to Liverpool's but Klopp teams just know how to beat Guardiola's. Their head-to-head (now 8-5-1 in Klopp's favour) proves the German to be Guardiola's trickiest opponent.
Dazzling Defence
The clean sheet at Anfield should not be underestimated in the slightest. It's been said time and again but it really was equally, if not more, important as a goal or two and left City with a mountain to climb.
Even at home. Few could have foreseen Liverpool's excellent defensive display over the two legs considering how they let a 4-1 scoreline slip to 4-3 in the league fixture a few months ago.
Virgil Van Dijk and Dejan Lovren have been building a solid partnership since the Dutchman joined in January.
But with the Croatian prone to errors every now and again, there were question marks as to whether Liverpool could keep out City's excellent forward line over the course of one hundred and eighty minutes.
However, it was Lovren who shone, throwing himself at everything and limiting City to just three shots on target over both legs.
Unfortunately, few will be willing to give him the credit he so deserves.
City's solitary goal came from Van Dijk being barged off the ball by Raheem Sterling on the touchline, leaving the defender completely out of position, and Sterling free to continue his run to set up Gabriel Jesus in the second minute.
It was the nightmare start that Liverpool fans had feared and it seemed inevitable that City would score more.
The rest of the first-half was an onslaught of incessant pressure by them on Liverpool's defence, but Klopp's men fought valiantly to shut them out.
That, coupled with some good fortune. Bernardo Silva's forty-third minute shot skimmed off Lovren's head to hit the post, whilst moments later Leroy Sane had a goal ruled offside.
Subsequent replays showed the German was played onside by Alex Oxlade-Chamberlain. A huge let off for Liverpool.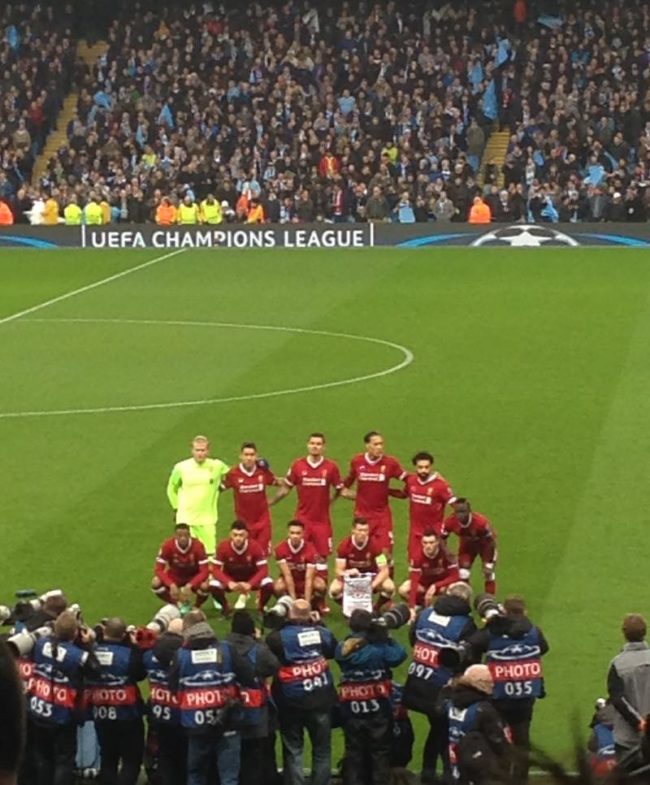 Midfield Mess?
When Jordan Henderson was booked in the previous game, he was automatically suspended for this one. And with Emre Can injured, Liverpool were left with only Gini Wijnaldum to deputise in his captain's absence alongside James Milner and Oxlade-Chamberlain.
The first-half showed how much Liverpool missed Henderson's energy and pressing as Liverpool's three were outnumbered in midfield to City's four.
But whatever Klopp said at half-time worked wonders as Wijnaldum and Milner upped their level and were a much improved unit after the break.
Liverpool were managing to keep the ball for more than one pass hence had more of a foothold in the game.
The frantic attacking by the home team in the first-half abated as the Reds did a much better job than Brexit of taking back control.
Milner did what Milner does and ran his heart heart out as Wijnaldum settled into his number six role beautifully boding well for the rest of the season.
Inevitable Mo
Probably no one alive believed that Liverpool would fail to score on Tuesday night. Just one goal from them would've made the mountain insurmountable for City.
And with Mo Salah back in the starting line up after recovering from a minor groin strain, it was just a matter of time. The fifty-sixth minute, to be precise.
Wijnaldum found Salah, Salah found Sadio Mané, Mané found a gap, the gap found Salah and Salah found the net with an outrageous chip over a sprawled Nicolas Otamendi.
City now needed four more and Pep looked like he needed a drink.
But any false sliver of hope that remained for City was snuffed out as Roberto Firmino pounced on Otamendi's poor play and was allowed an unfettered run toward goal as Salah pulled several defenders away from his teammate to allow him to calmly finish the game off.
Both players are now on eight goals for this champions league campaign with Mané on seven and the team on thirty-three; the most by any team so far this season.
Liverpool will fear no one in the semi final draw. Quite the opposite in fact.