James Rowe interviewed Viljandi JK Tulevik manager Sander Post, exclusively for WFi. They discussed what it was like to transition from being a player-manager to a full-time manager, and his time in the Estonia national team setup.
---
How are you coping with the balance between playing and managing at Viljandi JK Tulevik?
I returned to Viljandi Tulevik, my hometown club, in 2015 after returning home from Norway in 2013 and playing two seasons at FC Flora.
Tulevik, an independent club, had managed to make its way back to top flight from fourth tier in just four years which was sensational.
Although we were directly relegated after the first season, we immediately returned to the Meistriliiga (Premium Liiga) again in 2017 after breaking many second tier records and winning the league in a season we absolutely dominated. 2019 will be the third season in a row for us in the top flight.
In 2016 I still played the full season for Tulevik, but in 2017 I was starting to steer my career towards managing.
I took on the national U-17 team assistant job and by then was already playing much less in the Premium Liiga. But then in 2018 the manager was let go after three months, the club was really struggling in every sense, and I was offered to take over as a player manager.
I accepted although it is very unconventional in Estonian, let alone European, football.
It was a rough season and a heck of a challenge. When I took over we had got only four points from our first nine matches.
My first and only task was to keep the team together until the summer break and we only concentrated on defence in the remaining games until the break.
In the summer transfer window we managed to bring in a couple of new players, but occasionally I still had to play myself, too.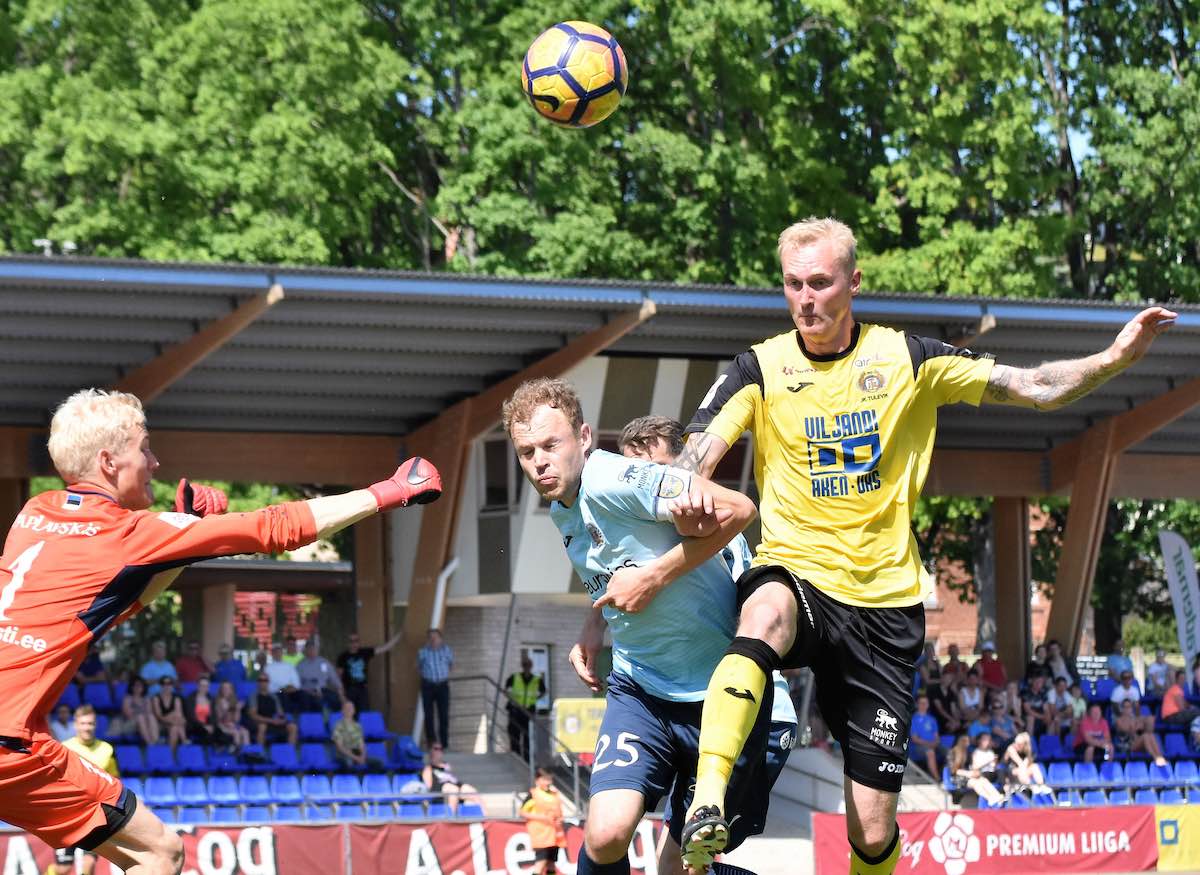 The last time I played for the team was 15 minutes in a cup match in June last year and after that I was at last able to concentrate solely on managing.
Since then I haven't put the boots on in an official match.
So finding the balance was tough, as was the task of keeping the team alive.
In conclusion, we fared pretty well, I would say. We won some really important six-pointers, then beat one of the biggest clubs — Narva Trans — just two rounds before the season finale.
In the end we finished 7th in the league, and comfortably retained our spot in the top flight.
You played for Go Ahead Eagles in the Netherlands between 2008 and 2010. How do you look back on your time at the club, and do you have any particular highlights?
I can honestly say these were the best years for me as a footballer. I loved the club, I loved the environment, I loved the country. Only good memories.
I would say that at Go Ahead Eagles I really learned how to play as a striker. Before Netherlands I had always been a central defender with just a six months spell as a striker at FC Flora, before moving to Eagles.
In my last season there we reached top flight play-offs, but lost in the last game. A draw would have taken us upwards, but oh well…
The fans loved me there, somehow. (Laughs). I loved them back. It was very simple, a very pure relationship. Only the best of memories.
I have pondered going back just as a tourist, and one day I will. I loved the Netherlands — simple as that. I still do.
You also played for Aalesunds FK between 2011 and 2013. What can you tell me about your experience playing in Norway?
Norwegian top league level is definitely stronger than the second tier in Netherlands. It was different.
The football was very physical and it suited me well. In Aalesunds I also learned a lot, so I have nothing even remotely negative to say about any of my clubs abroad. Everything was logical and professional.
We won the Norwegian cup with Aalesunds, beating Brann in the final. During that time I played in Aalesunds with a fellow countryman and international, Enar Jääger.
The cup title celebrations took a long, very long time, it was really a big deal for the town and the supporters. I would say it is one of the strongest winning emotions I have experienced.
In Norway the overall environment wasn't as comfortable as in Netherlands, mainly simply due to the climate. Precipitation per year was huge, and in August it just poured rain for three weeks in a row.
It was hard to bear and at times it got quite depressive. The town was small, summers were chilly and distances between cities were huge.
So I really got to concentrate fully and solemnly on football there. This was, however, the reason I was there in the first place, so in that sense everything was all right!
You have been capped by your country — Estonia. Can you tell me about your highlights representing your country. Do you have any particular matches you remember well?
I was capped 12 times, but I was in the squad… I would say, 50 times, maybe even more.
I was regularly called up to the national team since very young age, but didn't get on the pitch much.
I remember my debut, it was against Hungary in Thailand, the King's Cup. We lost 6-0. And of course I remember my only goal for the national team. I scored in my second appearance against Finland in a friendly that we won 2-0.
The most awesome match in my international career was against Faroe Islands in 2010. It was the European qualifier at home, a real thriller.
I went on pitch for the last 20 minutes when we were 0-1 behind. It was a huge blow, a catastrophe, and everybody thought it was over for us. In the 90th minute I gave a headed assist to Kaimar Saag who scored an equaliser, and two minutes later Raio Piiroja scored a winner, too.
I will never forget the emotion from that day. This victory played a crucial role for Estonia in reaching the European Cup play-offs for the first time in history in 2011.
Could you say who are the best players you have played alongside so far in your career?
Marc Overmars, no doubt. I played with him in Netherlands. He was, of course, not in the best of his days anymore, but the sheer level of skills he still had… World class.
To be able to train and play shoulder to shoulder with him on daily basis, it was a big thing for me.
In Estonia there are many players with 100+ caps for the national team. I have had an honour to play with many of them, because they are legends for the Estonian people.
On the opposing side I have taken on many world class players, too. Go Ahead Eagles played the cup match against Ajax Amsterdam and at that time Luis Suarez, Jan Vertonghen, Toby Alderweireld and many more of today's stars and those of yesteryear played for them.
When we beat Finland, Jari Litmanen played. I have also played against Croatia with Ivan Rakitic and Domagoj Vida.
So, yeah, I have had an honour to play with or against many true legends, both in clubs and national team.
Could you say who were the most difficult of these opponents to come up against?
I would say Alderwiereld and Vertonghen again. It was difficult, really difficult!
As for the clubs, there have been quite a few. Shakhtar Donetsk, for example, although it was just a pre-season friendly. The team was packed with stars and quality.
Anzhi Makhachkala with Samuel Eto'o and so on… But there have been quite a few more.
Finally Sander could you say which managers were influential for you, and played a key role in your development as a professional footballer?
All the managers have left their mark, I think. From Estonia I would say Pasi Rautiainen and Arno Pijpers from my time at FC Flora.
Andries Ulderink from Eagles, of course. I liked his youthful methods and he was a true tactical genius.
Kjetil Rekdal from Aalesunds. Everybody knows him in Norway.
But there is one man that stands out. When I first started playing football here in Viljandi, I was in the same group with Ragnar Klavan. Our first coach was Indrek Ojamaa. To him I owe my deepest gratitude.