James Rowe spoke to Spanish football manager Imanol Idiakez for WFi. They discussed his current club AEK Larnaca, his playing days, and the idea of managers needing time to make their mark on a club.
---
You are currently managing AEK Larnaca in Cyprus for a second time. How do you feel as manager there and what are the main qualities of the club?
"AEK Larnaca is a little bit of a special club. In Cyprus, there are several clubs with a bigger number of followers, bigger in terms of their history, but AEK Larnaca is a club with a different tradition.
"Jordi Cruiff came in and started a new sporting politics, new game idea. After him came Xavi Roca as sporting director, and now there is Ander Murillo.
"We have a very clear idea regarding football. Being a football family.
"My first season at the club went very well, winning the cup for the second time in the club's history.
"After that, I went to Real Zaragoza, and after leaving Zaragoza and coming back here everything been wonderful.
"This season was a little bit more difficult because we were a little bit unlucky with injuries. We also started a little slowly, but I hope we can revert the situation and end up like last season, fighting for the upper positions as in the previous years.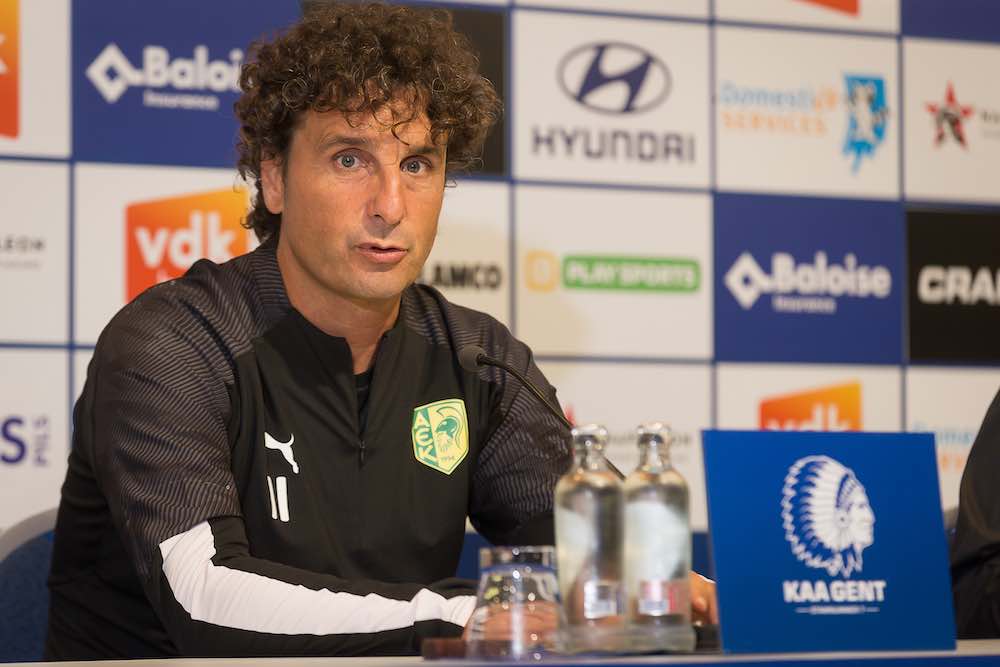 ---
My next question concerns your career as a player. You played in the youth team of Real Sociedad. What are your main memories of your time there?
"I played for Real Sociedad for 15 years. I played two years as a youth player and later spent 13 years in the second team, the subsidiary team.
"The first year I was loaned to a third division side, Ondarroa and later two years more. In the best moment at the beginning of my career at only 20 years old, when I reached a headline position, I broke my tibia.
"The next season I started again with the team having already recovered, but in October I broke my tibia again. And that was the end of my time in Real Sociedad.
"I remember that time in my career as a hopeful time. A time that ended up with lots of pain, delusion, a broken leg.
"A very hard time in my life. They were hard experiences that made me stronger for the future."
---
"Could you tell me more about the players you played alongside during your time at the club and the manager you played under?
"When I was playing in Real Sociedad, the manager was John Toshack — a manager who gave lots of opportunities to young players.
"I had the opportunity to meet lots of players who later had the opportunity to play in the first team. My brother Iñigo, Agustín Aranzabal, Javi de Pedro, Imanol Alguacil, Xabier Guruzeta, Andoni Imaz, Luis López, José Antonio Pikabea, and Alberto the goalkeeper. I also played with Unai Emery. I will have forgotten some players for sure.
"During those years the players of youth team were very important. Unfortunately, my injury did not allow me to enjoy that time."
---
My club is Arsenal and I very often return to the UK to watch home matches, and I feel embarrassed with how Unai Emery was treated. He needed time as manager, and he did not have it.
"Unai was very competitive with all the teams he managed so far in his managerial career. He has a tremendous CV in football management.
"He won three Europe Leagues with Sevilla. At Valencia, he guided them to qualify for the Champions League for many years.
"I do not know well what happened in England, I was not able to follow it regularly. I understand it must have been very difficult the change after so many years with Arsene Wenger to a new manager.
"Previously in England, the managers had more time to prove themselves, now that time is shorter, maybe not enough. At least that is my opinion."
---
You were also the manager of Real Zaragoza. What are your memories of managing there?
"I think the best word to define my time in Real Zaragoza is intensity. The whole experience was short but extremely intense.
"It is possible to assess the scope of the team, the entity, the huge amount of people behind the scenes. I experienced my time there with passion.
"I went there full of excitement and suddenly those who needed to rely on me, they finally did not. I experienced a lot of intensity and a big feeling of frustration.
"Managers need time, as I mentioned before, and they need time to prove themselves and I did not have it.
"I left Real Zaragoza completely sure that we could change the situation. It was a pity."
---
Would you like to return to Spain to manage a Spanish football club in future?
"It would be a dream to manage a team in the Primera Division in Spain, but our job is so based in the day by day, match after match, that sometimes it is very difficult to make plans.
"I wish I could find a football club in Spain to manage, after all, my family is Spanish.
"My priorities are also changing. I give a lot of value to the projects I take part in and that I believe in, beyond the location, or any other aspect.
"If I can I choose a place where I can find people with the same way of understanding football, the teams, the behaviour, and an understanding of the game in a similar way to mine. In a world where the immediate result is so important, it is difficult to build a project if you do not share it with people who have a clear idea.
"Also during difficulties or in times with bad results, it is fundamental to stick with the project, especially when the intermediate stage is a priority to that immediate result.
"If I can find a place where I can work, I will be glad, but I am not sure where I will be tomorrow, so I enjoy the day by day."