By Louis Smith.
Every young footballer growing up in Rio de Janeiro hopes they will one day get the chance to represent one of the several clubs in the city.
That is exactly what happened to Marrony, who was scouted and signed up by Vasco da Gama in 2015 after helping his local side, Volta Redonda, to victory in the regional championship.
Named after the singer Marrone, from Bruno & Marrone fame of whom his mother was a fan, the teenager was snapped up by the youth team aged just 15, where he played for three years, eventually becoming a pivotal figure for the Vasco under 20s side.
"When I found out Vasco wanted me to sign, it was a great feeling," Marrony told WFi.
"It was a very happy occasion. I believe that nothing is written without the will of God, and that was in his plans since 2015. I believe a lot in that.
"It was an important learning period. I was taught many things that I never imagined I would learn.
"It was a real pleasure to be at Vasco's base after I was signed from Volta Redonda."
In the second half of the 2018 season, Marrony was moved into the senior team of Vasco. Some fans voiced their frustration at the coaching staff for not bringing him through earlier, which shows how much he had caught the eye in the youth teams.
After being in and around the squad, his debut in the Brazilian top-flight came in September 2018, coming on as a substitute against América Mineiro.
"When you are promoted to the professional team, there are many changes," he said.
"The type of training changes, the intensity of the games, and the pressing also — this is not often mentioned.
"But we are prepared for this change during the youth team, to overcome the adversities that we will certainly encounter in the senior team.
"I worked my whole life to get to this day when it happened, I hit anxiety and I had to control it.
"Making my first appearance in the league was an achievement that I visualized my whole life."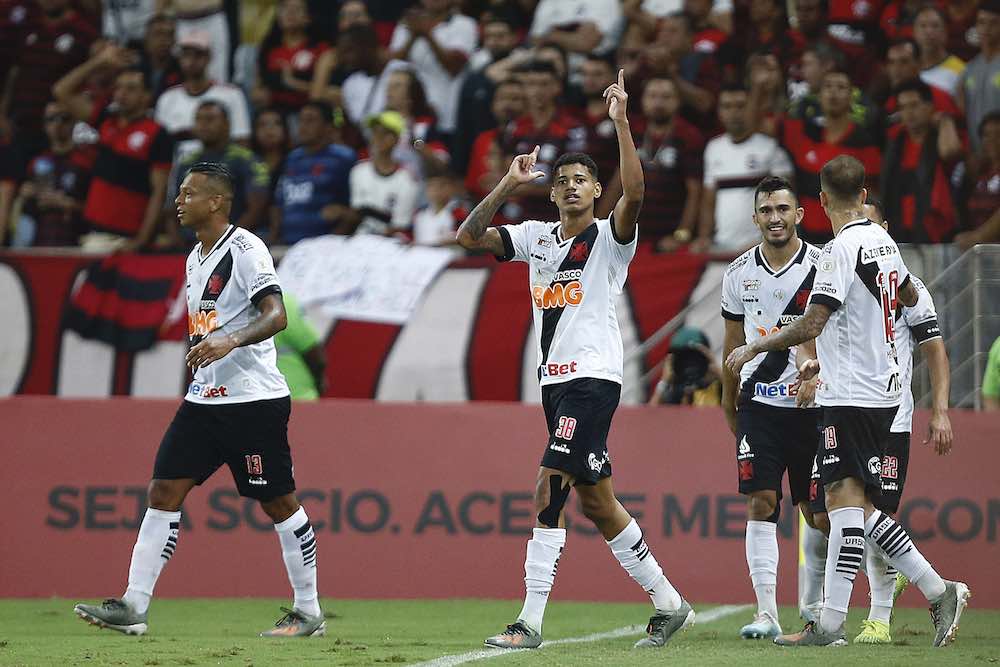 Seventeen days later, in a league match against fellow relegation contenders Bahia, a looping cross by Yago Pikachu was met by Marrony who showed good strength and composure to head the ball past Fernando Augusto for his first goal at senior level. It also turned out to be the winner.
"I never imagined that a guy like me, a kid from the youth team, coming from Volta Redonda — I scored a goal against Bahia and the victory in addition to this was beautiful," added the youngster.
"To see a crowded stadium, with the crowd shouting my name, it was the most exciting day of my life."
At that moment, Vasco was fighting relegation and any player coming in would find it hard to cope with the extra pressure caused by this, let alone an 18-year-old with little senior team experience.
Marrony was thrown into the deep end, playing the majority of the remaining games in 2018 season. Thankfully for him, he settled into the squad nicely and helped Vasco avoid the drop.
"I had the help of Maxi Lopez, Martin Silva, Pikachu and Leandro Castan as well as the others," he said.
"Everyone was very careful with me, gave me tips and advice, and even today I listen to those who still play at the club.
"They are more experienced and know much more than we young people. Each day for me brings something new to learn."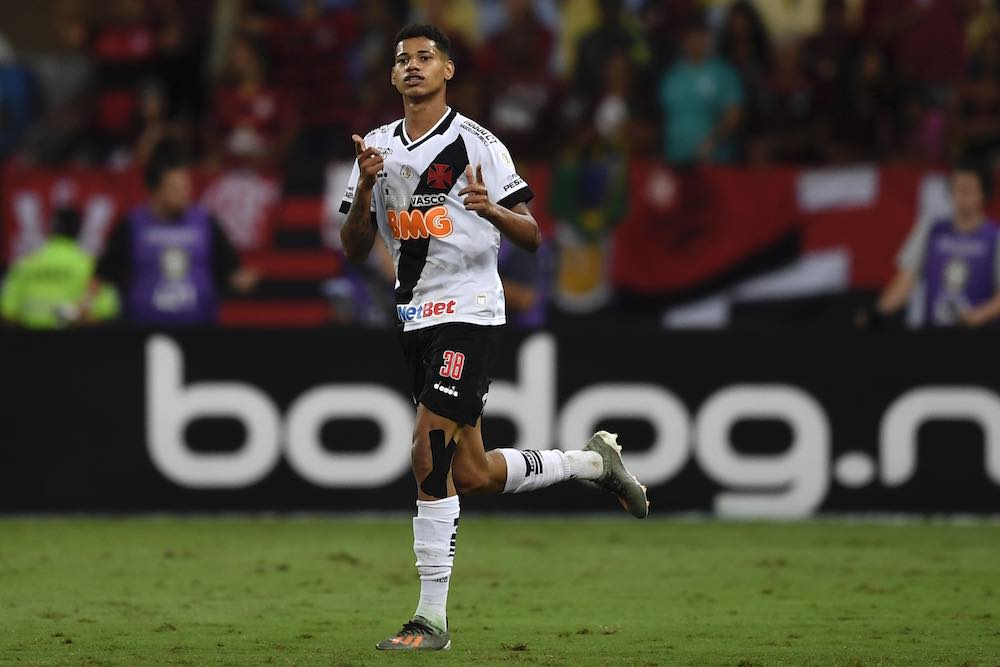 Last season, Marrony featured in 34 league matches. He and the team experienced highs and lows throughout the campaign, but overall it was a fairly successful season for Vasco who earned qualification for the Copa Sudamericana. They will take part in competitive continental action for the first time since 2018.
"Football has up's and downs, you need to deal with it," Marrony added.
"In the good moments, many people praise you, in bad periods, they're many criticisms.
"You need to be strong mentally and need support from family, friends and staff — this is essential.
"Throughout the 2019 campaign, I learned that we cannot give up and face problems head-on. In football, situations change very fast.
"I scored goals, I made assists, I'm having a good time. I ended 2019 on a high, but the best is yet to come, I always think that."
On the prospect of playing in the Sudamericana for the first time, Marrony said,
"The Copa Sudamericana is an important competition. It will be my first international competition in the senior team.
"We know that it is a tough competition. If we play badly and lose, we will have to work twice as hard.
"We need to be smart to move forward in the knockout stages and move towards the goal of helping Vasco win titles."
Vasco has a new manager, Abel Braga, for the 2020 season. Braga will be hoping his methods can take Vasco to the next level.
"The players have known each other since last year. A  new coach has arrived, with experience, just like our previous coach [Vanderlei] Luxemburgo," said Marrony.
"Braga has a lot of time for both young and experienced players. This mix has everything in order to work, but we need some time for that to happen.
"I hope to help Vasco with goals and assists, with victories and titles. I want to Make history with the club.
"The best thing is to hear the crowd in São Januário screaming and singing happily with Vascão's victory. I want to do this always, make the crowd sing and vibrate."
The 20-year-old has been dubbed a similar type of player to Marcus Rashford, and in the summer of 2019, the Brazilian was linked with a move to Europe.
"I hope to have my football recognized. If I play at a high level, I'm sure good things will come… it would be a consequence of my work," said Marrony.
"Of course, the dream of every young player who plays at a professional club in Brazil is to go to Europe,  but I am keeping my feet on the ground to do my job well at Vasco.
"The things that are going to happen will happen, and they will be a consequence of my work.
"I always liked to see the great world and Brazilian stars who have done well in Europe such as [Zlatan] Ibra[himovic], Cristiano Ronaldo, [Lionel] Messi, Ronaldinho Gaúcho, Neymar…
"There are also many others I like to see such as Rashford at Manchester United — yes we are physically similar.
"These are guys who bring desiquilibram [ability to change a game and unsettle opponents] and never give up looking for results on the field."