By Jerry Mancini.
Lazio began this season with Senad Lulic as the starting left wing-back. Over the course of the past few seasons, the Bosnian has been a mainstay in the position but the team was dealt bad news this past week when the 34-year-old suffered an ankle injury.
While Lulic plays the bulk of the minutes on the left side, he is also the team's captain. In his absence, Lazio should expect Ciro Immobile to wear the armband as he's done in Lulic's absence previously.
Choosing who wears the armband is the easy fix. The bigger problem is filling his position.
The left wing-back position had already been a cause of concern in recent seasons as players such as Riza Durmisi and the often injured Jordan Lukaku didn't help Lulic reduce his playing time. In the January transfer market, Durmisi was sent out on loan as he failed to perform, while Lukaku has failed to stay fit.
The club then signed Jony Rodriquez from La Liga side Malaga this past summer as a back up to Lulic. In his time with Lazio this year he has surpassed more playing time then Durmisi and Lukaku combined last year and has contributed to the team's success.
Lazio is set for a pivotal match this Sunday against Inter Milan as the two clubs are separated by one point in the standings.
Should Lulic's absence be a cause of concern for Lazio or could Jony even be considered an upgrade?
In the past two years, Lulic has played in 70 of Lazio's 76 Serie A matches and additional 25 games in other competitions. He seems to have slowed down towards the end this period and his ability to cross the ball into the box hasn't been as effective.
At times, he has overcommitted while trying to beat players in one on one situations and this has resulted in the opposition going on the counterattack. The defensive side of his game has been his strength as he has been well-positioned at the back end when defending.
In Lazio's match against Roma in January, Lulic was outplayed by Cengiz Ünder on countless occasions and the Roma winger was regularly able to beat Lulic with his speed. With the amount of playing time Lulic has accumulated the past two seasons, it may be time for management to consider reducing his workload.
Jony's natural position has always been on the left wing, and last year on loan with Deportivo Alaves he played in a 4-4-2 that was suited to his role. The Spaniard had to adjust to a new role this year in Simone Inzaghi's 3-5-2 formation.
The manager, who has been known to be very offensive-minded, brought in a player who scored five goals and made 12 assists with Alaves last season.
Back in September, Jony started against Inter when Inzaghi elected to start the new signing over Lulic. In his start, the left wing-back showed signs of inexperience and needed time to learn and adjust to his new role.
Although Lazio played a difficult opponent, Jony was accountable for their loss, leaving Danilo D'Ambrosio unmarked as the Inter player scored from a Cristiano Biraghi cross. It was a costly mistake as the Biancocelesti lost 1-0.
That meeting with Inter was Jony's fourth appearance and second as a starter. Since then, he has appeared in 16 matches and started seven. The increased playing time has allowed him to adjust in Serie A, which will be vital moving forward.
Jony could be seen as an upgrade for their upcoming match against Inter as he offers good delivery into the box where players such as Immobile and Sergej Milinkovic-Savic are able to be much more effective.
He has great speed which allows him to move the ball upfield quickly and take advantage of the counter-attack. He has also been a free-kick and corner kick specialist as an alternative to Luis Alberto.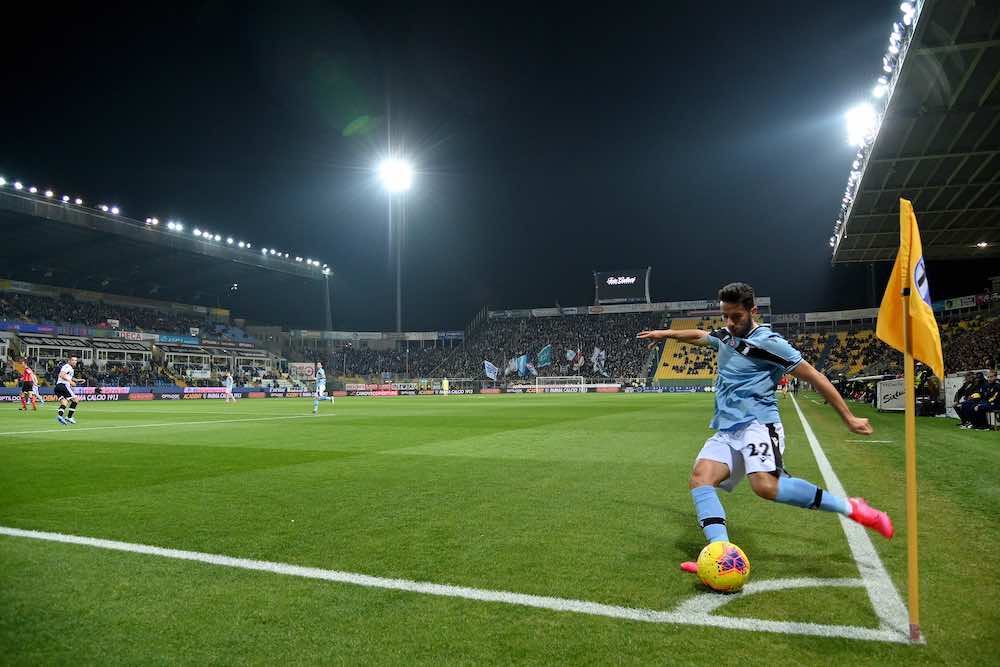 "Play Jony because Lukaku is not ready, maybe in the race," former Lazio star Stefano Mauri stated on Radiosei.
"After the mistake against Inter in the first game, he has been good. I think he's improved a lot, he's willing to learn and to sacrifice. He has different characteristics to Lulic."
In Lazio's recent 1-0 win against Parma, Jony showed great progression in his game, sending in 11 crosses and creating five chances. He also took over the set-piece duties from Alberto.
While Jony's defence has been a cause of concern as he's not a natural wing-back, he has shown great strides toward being a proper replacement for Lulic for the upcoming match, and for the weeks to come.
Not only was Lazio able to manage a win in the absence of Lulic, but Jony also stepped up and proved that he could be a reliable replacement.