Lazio's 0-0 draw with Verona this evening might be seen as an indication they don't quite have what it takes to keep up their challenge for the Scudetto this season.
Following the stalemate, during which Lazio threatened from distance through Luis Alberto, and Ciro Immobile who hit the side netting, the Biancocelesti remain in third, a point behind Inter Milan, and four points off leaders Juventus.
But, as WFi's Jerry Mancini points out, the club are in the middle of a memorable season regardless, and qualification for the Champions League would itself be a great achievement.
---
In the 2017/18 season, Lazio finished just short of a Champions League spot. The club was level in fourth place with Inter Milan, but didn't qualify due to a worse record in the meetings between the two sides.
Players such as Immobile, Alberto, and Sergej Milinkovic-Savic each posted career highs and enjoyed a successful season. Immobile finished the year with 29 goals and tied with Mauro Icardi for first as the players shared the Capocannoniere.
Milinkovic-Savic finished with twelve goals and four assists, while Alberto had eleven goals and three assists.
In 2018/19, Lazio's form regressed. Immobile had a sub-par season with 15 goals as he dealt with injuries and poor form. Milinkovic-Savic failed to produce similar stats from the previous year, scoring five goals and registering three assists, while his teammate Alberto didn't fare much better with four goals and five assists.
At the mid-point of the season, in December 2018, the Biancocelesti were in contention for a Champions League spot. Although they made a strong start, the latter half of season didn't go as well.
In the month of February, Lazio were the only Italian team playing in three competitions: Serie A, Europa League, and the Coppa Italia. As a result of this packed schedule, injuries started to occur and made it difficult for Lazio to compete in the latter stretch of the season.
The club exited the Europa League and missed out on the Champions League yet again, though they did win the Coppa Italia.
Heading into this season, Lazio never expected to reach such heights in the first place. The club set a new record with 11 straight wins, and are now unbeaten in their last 17 matches.
Immobile leads the league's scoring charts with 25 goals, six goals ahead of Cristiano Ronaldo. If he continues at his current rate, Immobile is on track to surpass Gonzalo Higuain's record for goals in one season. The Argentine scored 36 for Napoli in the 2015/16 season.
Behind him, Milinkovic-Savic and Alberto have returned to the form which served them so well in 2017/18, with the Spaniard leading the league in assists with twelve.
This past summer, clubs were interested in the services of both midfielders. Juventus, Paris Saint Germain and Manchester United were all interested in acquiring Milinkovic-Savic while Sevilla had been interested in bringing back Alberto.
Lazio fans and football fans in general know that Claudio Lotito is not easy to do business with and expects a high return for the players which he covets very highly. The owner and president of Lazio turned down an €80m offer for Milinkovic-Savic from Manchester United, electing to keep the main core of the club intact.
The decision to do so has paid off massively. All three players are having a great campaign and have been pivotal to the success of the Biancocelesti so far.
Elsewhere in the team, Francesco Acerbi continues to be the lead man in defense and has had a strong season. Joaquin Correa has also had a productive year with six goals and has shown good chemistry with Immobile.
When Lazio failed to advance from their group in the Europa League, it's possible that they elected to focus on the league and look to return to Champions League after three years away from Europe's top table.
Like all good sides, Lazio have shown resilience under their manager Simone Inzaghi, and this may also be down to the fact they have been able to keep the core of their key players together during recent years.
The squad has played under Inzaghi for over two seasons and have built chemistry. The strong link-up play, especially between Correa, Immobile, Alberto and Milinkovic-Savic continues to improve match by match.
Felipe Caicedo has been the hero on multiple occasions coming off the bench, scoring late into injury time to help Lazio win a couple of matches this season.
Back in November, the team pulled off a brilliant comeback against Atalanta. After being down 0-3 at half time they came back to draw the game 3-3, just one example of the attitude of this group of players.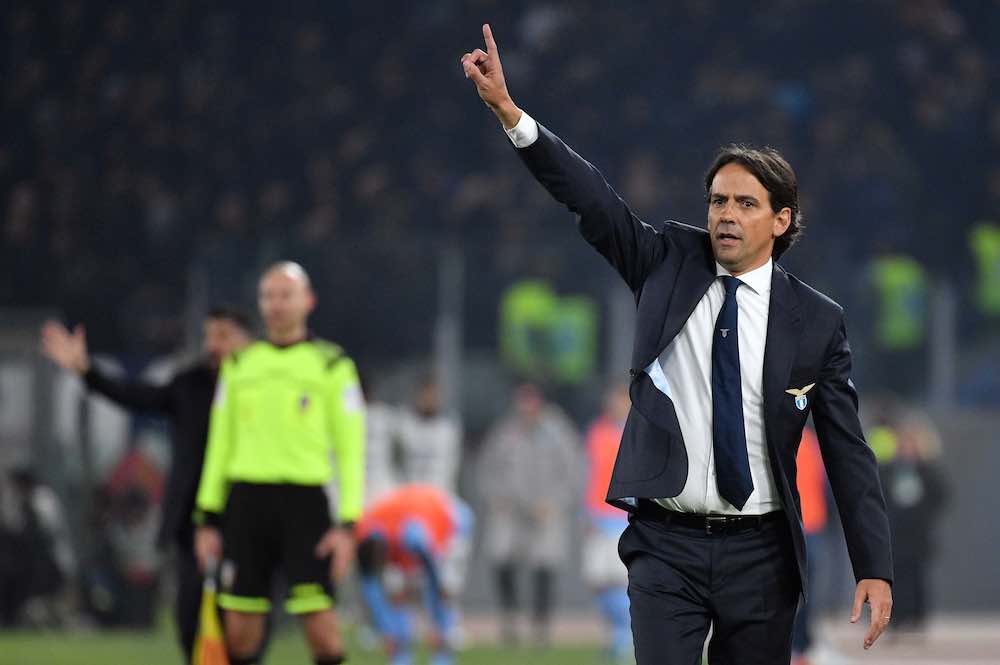 Challenging for a Scudetto may have become more difficult for the Biancocelesti after the January transfer window.
Title challengers Inter acquired players such as Ashley Young and Christian Eriksen, and while Juventus offloaded players they have the squad depth to compete for their ninth consecutive Serie A title.
Lazio could benefit from the fact Inter and Juventus remain in three competitions. With more games to play, injury and fatigue could come into play for Lazio's rivals.
But one area of concern for Lazio continues to be their squad depth. If a player such as Acerbi, Milinkovic-Savic, Alberto, or Immobile were to miss significant game time for any reason, it could really hurt their chances this season.
With options on the bench being very limited, Inzaghi will need to manage his squad to the best of his ability.
After their 5-1 win against Sampdoria, Immobile spoke to Sky Sports about Champions League: "The important thing is to continue like this, to make sure that you keep your feet on the ground: we always repeat it.
"We ware happy for our fans who are having fun. Scudetto or Champions League? I set my eyes on being ten points ahead of Roma and Atalanta.
"If we're there with seven or eight games to go, why not try to believe it? But for now, the goal is the Champions League."
Serie A has become the main objective and this should ease the tension for Inzaghi. Lazio have won against teams such as Juventus, Napoli, and AC Milan, against whom they struggled in previous seasons.
The Champions League remains the primary focus for Lazio, and with the club still riding this unbeaten streak and their star striker topping the scoring charts, it promises to be a memorable season for the Biancocelesti. A title challenge would be a welcome bonus.