By Daniel Lucci.
After another sub-par performance, Serie A giants Juventus continue to barely hang onto a slim three point lead at the top of Serie A.
With Inter Milan and Lazio right behind them, the Bianconeri need to step up their game if they hope of continuing their Serie A dominance.
There are a lot of questions surrounding the current squad and coach. Is it Maurizio Sarri's fault the team has not progressed? Is it the players? Why do they look so disorganized on the pitch? So on and so forth.
All these questions may not be easily answered but one may argue it is a combination of multiple things. This team Sarri has at his disposal is evidently not one he would have hand picked himself, however, he will have to make do with what he has for the remainder of the season.
With that being said, one thing Sarri may want to consider is a change in formation. The stubborn mind of Sarri may not allow for this but a change could allow Juventus to field their best available players and orchestrate much better performances going forward for the rest of the Serie A and Champions League campaign.
Though Sarri can be partially blamed, he is doing the best he can with the team he currently has. Currently playing a 4-3-3/4-3-1-2 formation, Juventus have had a couple of bright performances, but almost instantly after having a decent performance, the team goes back to their disappointing, unconvincing ways.
Lack of pace, creativity, width and vision from a midfield of three is concerning. Furthermore, with a lack of depth of players who are actual central midfielders, this is quite the concern for Juve if they plan on winning more titles this season.
As the January transfer window finishes, it is clear Juve will not make a big splash in the midfield department until at least the summer. Taking that into consideration a change to a 4-2-3-1 formation may benefit all involved.
Firstly, a change to 4-2-3-1 will create much more width by having two wide midfielders and an attacking midfielder supporting the wide players, along with the striker.
Secondly, it would put less strain on the two central midfielders, asking them to do a little less. The two would stay compact and distribute the ball from the back, up to the attacking midfielders. Also considering the central midfielders Juventus currently deploy are not the most mobile or most skilled, this would create the opportunity to get some of their more attacking minded and skilled players playing.
For the time being, a midfield two of Miralem Pjanic and Rodrigo Bentancur or Adrien Rabiot seems to the best option. This allows Sarri to leave Sami Khedira and Blaise Matuidi on the bench, to only be used in dire situations.
No offence to Khedira or Matuidi, who both give maximum effort every time they are on the pitch, but they are not the players they used to be and are most certainly not part of a recipe for success moving forward.
Lastly, playing with three attack-minded midfielders gives Juventus and Sarri a lot more creativity going forward. Also, with the use of three players behind the lone striker, Juve have lots of options as to what personnel play where.
Cristiano Ronaldo can either play on the left side or as the lone striker if Sarri wants to play with more pace and leave Gonzalo Higuain on the bench to start. Furthermore, Paulo Dybala can play as the central or right-sided attacking player, give the option to play Douglas Costa or Federico Bernardeschi. Although Costa and Bernardeschi have not been great this season and have battled injuries, their pace, along with creativity is something the Bianconeri have been desperately missing in recent games.
Let's not forget Aaron Ramsey who many would argue his best position is as an attacking midfielder and not so much a box-to-box midfielder. Ramsey played some of his best matches for Arsenal and Wales in that position. After playing a few games in this position for Juventus already, Juve would really benefit from Ramsey finding his touch in Serie A, after an up and down start to his Serie A career.
Of course, this change in formation may not fix all the issues Juventus have been dealing with this season, however, it may help them get through the rest of this season without getting their below-average midfield constantly exposed.
Whether because they are playing too narrow, like many may have noticed against their loss to Napoli, getting beaten on the counterattack or the lack of being able to make constant positive passes, it seems like a change in their system could help them adjust their game for the better.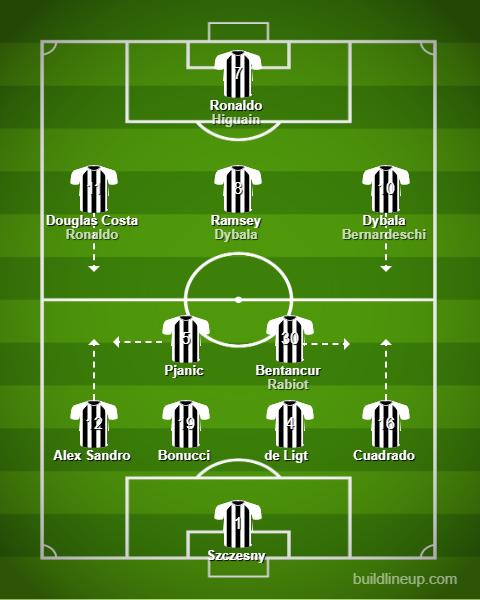 Although Sarri may be stuck in his stubborn 4-3-3 or variation of the 4-3-1-2 formation, with only 40 goals scored in 21 Serie A matches, it is clear some creativity is needed to spark this offence and an adjustment in their formation could better allow Sarri to play his best players, creating more attacking chances.
This would not be a long-term fix but more so for the short-term and simply put, it gives Sarri better player options. It would not force him to play three central midfielders who have all severely struggled this season, along with putting more attacking threats on the pitch.
Chances for a slight overhaul of this current team will take place in the summer, especially to the midfield, but if Juventus plan on lifting any trophies this season they better find their form and find it fast. Just one more slip up will have Inter and Lazio waiting to pounce on the opportunity to dethrone the reigning champions.