James Rowe spoke to former Watford, Stoke, and Burnley striker Gifton Noel-Williams for WFi. They discussed his life after playing football, playing for Watford, his love of Spain, and the coaches who shaped his career.
---
You retired in 2010. How have you enjoyed retirement from professional football and how is life for you these days away from the pitch?
"Retiring was a good thing for me because my body was telling me to stop. Some people know and some don't that I played with arthritis since I was 19, so by the time I got to 30 my body was telling me that it was time to stop because I could not get around the pitch or train often.
"It was a very interesting time for me. I was in the United States and I had many parents ask me to train their kids. I did not really want to do it, if I was being honest, as my mind was still used to playing.
"All of a sudden within a three-month span I went from playing, to coaching, to opening my own training business. Things were just exploding in the United States so I went straight into coaching from playing and I did not have time to sit down.
"Some players after they retire have a lot of downtime and they have to consider what they going to do next. I never had any downtime because I was seven days a week 10-12 hours a day doing my club and my academy, and that was a great journey for me.
"I have been back in England since 2014 and it has been a case of reeducating myself outside of football and obtaining my coaching badges. I am up to date with my badges, and that was my first target.
"I am now working with the PFA and I am a coaching educator, and for me, that is a really good opportunity to be able to up-skill and educate the up and coming coaches, and also educate myself as I am around some great coaches. Everyday is a learning day for myself and it has been really good for me.
"I have been working really hard I have done a governance course. I am on the board of the Isthmian League, and on the board of a few other companies because I also thinking about business and helping other people through diversion and equality."
---
You played seven seasons for Watford FC. Do you have any highlights and memories and what does the club mean to you?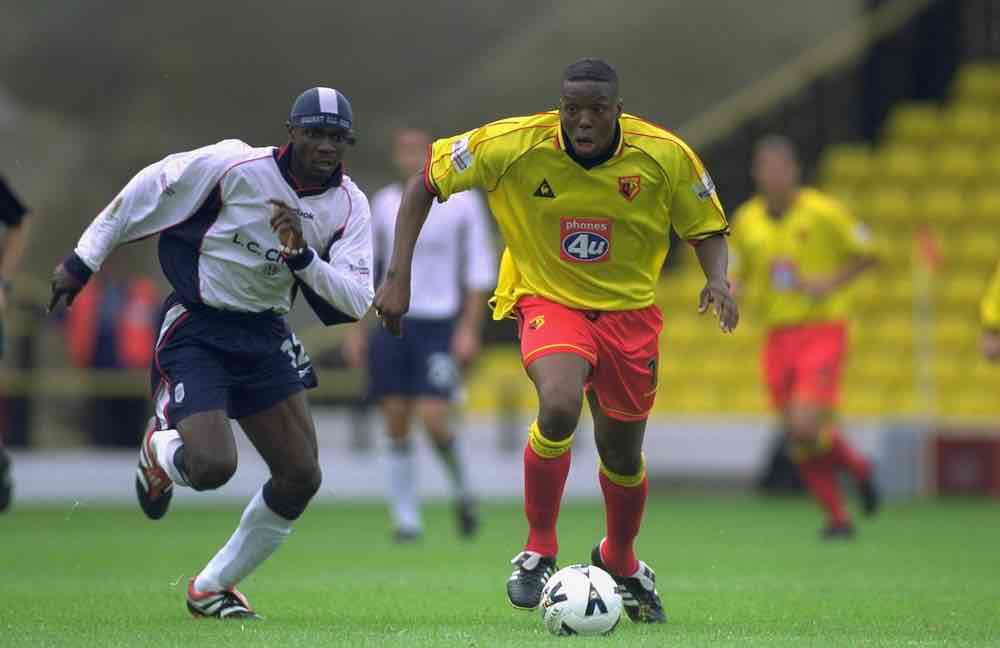 "Watford FC means everything to me. When I go back to Vicarage Road it is almost like my home. It is where all the magic happened and it is where I first saw Bruce Dyer and Paul Furlong play and when I first saw David James play in goal I thought wow! These guys are amazing. Before I joined the club I watched these players on television and then I was able to touch these guys and be close to them.
"I was 16 when I broke into the first team and I am still Watford's youngest goalscorer. I have memories of Kenny Jackett and Graham Taylor and all the lads that won promotions and the relegations.
"It was such a whirlwind time, and the injury that I had it was a time where I really learned football and I was growing and enjoying my football, and I mean enjoying, no pain no swelling or stiffness, just going out every day and enjoying football.
"That was what I experienced during my first three years at Watford and nobody can take that away. After that, the injuries and the Arthritis came and I still enjoyed my time at the club but it was not as great as the first three years, but I still enjoyed my time because the fans understood me. They knew that I was not lazy, that I had arthritis, and that I was trying my best.
"They showed me a lot of love even now when I go back the fans still show me such much love and Watford FC is a club that is really close to my heart."
---
You played abroad for, among others, Real Murcia and Elche CF. How do you look back on your time in Spain and do you have any special memories or highlights?
"My experience in Spain was bittersweet, in that I went over there and Real Murcia won promotion to La Liga and I had a great time. The games were good and I really enjoyed my time there.
"We had a good team and I started to learn Spanish. When I arrived at the club I did not know any Spanish and I threw myself into learning the language. I had a teacher that came to my house three times a week.
"It was the first time that I was the other guy, and what I mean by that is that in my lifetime we have had a lot of foreign players come over to England and they can't speak English, we would make fun of them and make them say rude words, and I found that was me when I was in Spain. It really humbled me to realize how hard it was for those players that came to England at the time, and trying to pick up the English language and now I appreciate how hard it was for them.
"What I loved is, because I threw into the language and the culture, the players saw that and they saw that I was really trying, so they started to speak to me in broken English, so what we started to do was I would teach them English, and they would teach me Spanish. So by the end of my time there, my Spanish was really good and my teammates with their English, so it became something that we did together and it was something that was really good for me.
"Then I went to Elche CF and I viewed it as a really good move for me. I went back down to the Segunda Division and I thought that I would be playing regularly. It started off ok and then the club did not pay us so I did not get paid for nine months and it took me five years to get that money back.
"That is what I mean by bittersweet in that I had a great time at Real Murcia and I wish that the football part of it had lasted a little longer. It was around the time the construction economy went bust in Spain and a lot of the money in football was from the construction, so when the construction went bad, the funding went from Spain at the time.
"So, unfortunately, I had to come back because there were not enough Spanish teams out there that could promise the money. They could give you the contract but they could not promise that you would get paid. So my time in Spain got cut short, but I love the Spanish people and culture, the way they live and see life is something that I love. It is a country that I could go back to coach right now if the right opportunity arose. I love Spain."
---
You have accrued experience in England, Spain and the United States. Could you say who were among the best players you played alongside during your professional career?
"Wow, yes. The most recognizable players are from my time with England such as Michael Owen from our time together at England under 18 level, and that England team, in particular, was stacked with an abundance of talent such as Wes Brown, Michael Ball, Kieron Dyer and Kevin Lisbie. They all went on to have good careers.
"On a day to day basis, Kevin Phillips was the best striker I played with and I learned a lot from him, and Jason Lee too, about how to be a number nine.
"In Spain I played with some great players such as Jofre [Mateu] and Ivan Alonso and they were really top players."
---
I can imagine in your position as a striker that you came up against some difficult opponents through the years, could you say who stood out?
"There were a few. Rio Ferdinand was ahead of his time in my opinion and I believe that he could play now in the modern game. He was also a big part of making the English mould of that kind of defender. He was really good.
"Wes Brown was really good back in the day at reading and anticipating the game, and sometimes I would face a physical challenge when I came up against Darren Moore, and Joleon Lescott who I often had good battles against.
"The one team that stands out is my childhood team and the team I supported, Arsenal. They were the hardest team to play against. I loved it, and the challenge to play against them, but it almost like chasing shadows for 90 minutes at that time.
"The way they moved the ball; they were quick, strong, aggressive and technical, they just had it all at that moment in time and that was the one team that I did not want to play against.
"They were also a team that I could never win against. I remember we played them in the FA Cup 3rd Round in 2002 at Vicarage Road. I scored but we lost 4-2 and I got hammered by my friends.
They told me: "you should have not scored against Arsenal even though they won," so that was a bit of banter for Arsenal."
---
Finally, Gifton, when you look back on your career could you say who were the coaches and managers that meant a lot to you and played a key role in your development as a professional footballer?
"Well, first of all, I have to talk about my cousin Michael who is not a manager nor a coach but he played a great part in my development as a footballer. He made it as a YTS at Ipswich Town and then he got released.
"He got to a good level but he just never had the support behind him and he was the biggest person that, from a young age, always took me to the park and made me not leave the park until I had hit the crossbar ten times and encouraging me to use both feet.
"He was the young from a young age that really had a major influence on my career and he would say: "if you want to get something out of it you have to put yourself into it."
"When you talk about technical and tactical stuff in the game now, then you have to go to Kenny Jackett. He played a massive part in that and he taught me a lot about being a striker and what the minimal requirements are to play the game and about using my body as an attribute.
He told me: "you have to use your size but also use your brain as well," so he switched it on me a little bit and he made me more aggressive as a player. He would also move me one or two years above my age group, and he gave me my debut at Roker Park away to Sunderland in the Coca Cola Cup, so Kenny Jackett was an instrumental part. People laugh when I say he is like "my football Daddy!"
"Graham Taylor also played a big part when he became manager and the things that Graham Taylor told me then I still talk about now.
"People talk about statistics now and Graham Taylor was telling us that stuff in 1996/97. I was speaking to my former teammate Richard Johnson recently and we just started laughing as we would say: "that is what Graham Taylor used to say," and the stuff that Graham Taylor told us in 1996 is still relevant now.
"As a coach, Tony Pulis was massive for me, and what I mean by that is: the way I would like to play and that way that Tony Pulis's teams play are quite different, but what I realized it does not matter what kind of football you want to play, you can be successful you just have to have a plan and be organized.
"When I went to Stoke City, the way that Tony Pulis had us set up as a team was remarkable. We were so successful even though it was not how I like to play as a player, it was successful. As a coach, I have come to realize that you must be well drilled and well organized and that everyone understands what is happening with different things in the game and in different areas of the pitch. Once everyone knows that, your style of play is irrelevant.
"When I played for Tony Pulis I never understood this as a player. I have only come to understand it since I have been coaching over the last decade."