By Jordan Villagra.
Paraguay are looking to steal three points at La Bombonera as they seek to build on their promising start to their Qatar 2022 qualifying campaign.
Prior to the 2014 World Cup in Brazil, the Paraguayan national team qualified for every World Cup going back to France '98, reaching the knockout stage on all but one occasion.
During this period, whenever each World Cup draw was made, you expected to see the small landlocked nation being announced alongside the likes of South American giants Brazil and Argentina, with a squad full of underrated players who knew how to claw out wins.
Those days feel long gone, and players of the caliber of José Luis Chilavert, Denis Caniza, José Cardozo, Nelson 'Pipino' Cuevas, Salvador Cabañas, and Roque Santa Cruz have yet to come through the ranks. 
When coach Eduardo Berizzo was appointed to lead La Albirroja in early 2019, he looked to rejuvenate Paraguay into one of the continent's top sides. However, the Argentine has only managed four wins since his arrival (against Guatemala, Jordan, Bulgaria, and Venezuela), leaving much to be desired.
Looking to break that mold, Paraguay's new core of players have had a decent start to their qualifying campaign. Currently sitting on four points after a disappointing 2-2 home tie against Peru and a dogged 1-0 away win in Venezuela, the country will be hunting for only its fifth win in the past three years when it takes on Lionel Messi's Argentina at La Bombonera this evening.
"When facing a high-level rival like Argentina, the priority is to match them one against one, finding defensive answers for the quality of their attackers," said Berizzo in a press conference.
"We do not ignore the stature of the rival, but we also know that we are a very dynamic, aggressive team.
"We have to take the game at the speed at which we like to play, enjoying long and deep periods of possession. We need to feel like owners of the ball and play with the conviction that what we do will allow us to win."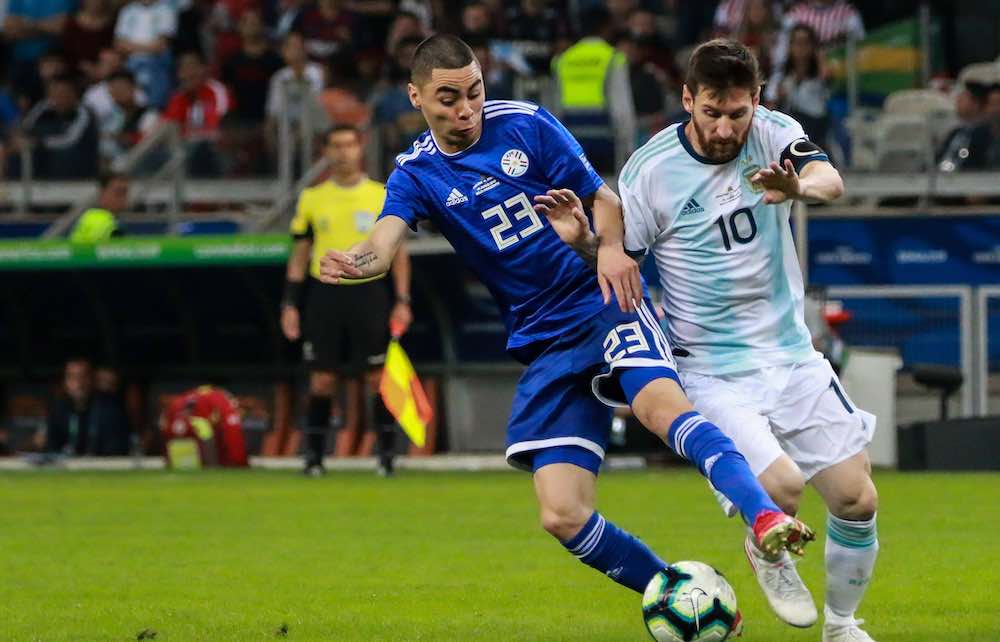 Paraguay's attack has been very predictable up to this point and lacks creativity when heading into the final third, as their lacklustre win against Venezuela showed. But all things considered, Paraguay still has a very good shot at getting a favourable result in the Argentine capital.
Usually, such an encounter at La Bombonera would be seen as a tough task for any squad, as the famous Boca Juniors stadium would be packed to the brim. But owing to Covid-19 restrictions, the game will be played behind closed doors and Paraguay can take advantage of an Argentina side that hasn't been a convincing offensive threat in these qualifiers and has an exploitable defence.
Lionel Scaloni's players only produced five shots on target in their opening games against Ecuador and Bolivia; if that trend continues, it will be to the benefit of Paraguay, who have a decent backline.
At last year's Copa América in Brazil, La Albirroja tied 1-1 with La Albiceleste, after Richard Sánchez's goal was cancelled out by a Messi penalty. Much like in that game, in Buenos Aires, Paraguay will have opportunities to find weaknesses on Argentina's flanks as the hosts like to push their fullbacks up the pitch in attack and leave only one holding midfielder as cover for the rest of the defence.
This tactic will leave a lot of space down the wings for players such as Miguel Almirón, Hernán Pérez, and Ángel Romero to cause some damage when cutting in towards the box and in one-on-one situations.
Paraguay has a great chance of heading home — where Bolivia will await — with a huge win, but it will ultimately come down to whether or not they can get a rhythm going offensively.
Berrizo's men are unbeaten in their last three matches against Argentina, and they won't need much extra motivation against their neighbour and fierce rivals.