By Mike Rice.
Alianza Universidad has started the 2021 Liga 1 season with two wins from two games, both by one goal to nil, with the most recent coming against Cesar Vallejo
Recent history has seen the side rely heavily on its defensive performances and counter-attacking football.
Alianza had just 23% possession versus Cesar Vallejo, scoring from one of just four shots (only two of which were on target).
Cesar Vallejo struggled to turn possession into clear cut opportunities, and when they did, their composure in front of goal let them down.
Alianza Universidad In Possession
Right from kick-off, Alianza looked to keep the ball and build an attack, almost leading to an under-hit back pass which was close to providing Cesar Vallejo with a goal-scoring opportunity within 15 seconds.
Of their 148 passes in the match, only 16 of these went backwards. The defence immediately looked to find a midfielder ahead of them, or a long ball through to their striker.
Their average possession time was just seven seconds, with attacks limited but rapid. Generally, their forwards have little to work with and must make the most of the chances that come their way.
Alianza delivered just two crosses during this match, both of which failed to reach their target. Carlos Neumann, the centre forward, received limited opportunities on the ball and was left isolated for long periods.
Play often passed him by and he was required to chase across the field for long passes forward from defence, looking to get the ball into space to find time to get support upfield.
When Neumann was able to collect the ball, his options were limited. He made 14 passes in his 71 minutes on the field, with only nine of these completed. At times his passing was loose and he struggled to hold up play while under pressure from defenders.
With limited possession in the final third, it is vital for Alianza to make the most of the opportunities they have. In this game, they did well once more to take the chances that came their way.
The goal came when Neumann was able to win the ball and win a throw, allowing his side to get up the field. They did this quickly, and a second header on from Neumann to Sebastián Cavero saw them get in behind Cesar Vallejo full back for the first time. His cross was met by a defender, but Damián Ísmodes arrived late and put him under enough pressure to force a mistake.
From here, the goal came. A cross into the area where no Alianza player was attacking until late. It was well taken but required a mistake from the opposition defence to allow the opportunity.
To rely on this will continue to make it difficult for Alianza to take pressure off of their own defence. They had an xG of 0.22 for this match, all from the first half. The average position of their players throughout (right, below) shows only one player in the opposition half.
Alianza Universidad Out of Possession
Jose Soto's side adopt a mid to low block out of possession, giving opposing defenders ample time to bring the ball out from the back.
Alianza filled the centre of the pitch and force play wide. Cesar Vallejo, with 77% possession, were forced to move the ball from side to side, looking to disorganise the defence and bring players out from their positions.
Below we can see how Alianza block the area around the box and force play out wide. When the ball is moved into the centre of the field, players are quickly closed down and forced away from goal, wide and backwards.
This way of playing slowed the game and limited the threat of Cesar Vallejo. 251 of their 582 passes, almost half, were lateral.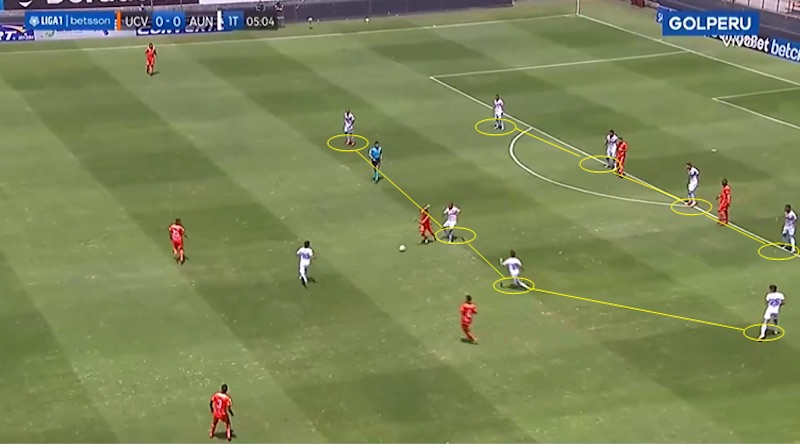 When the ball is central, the defence and midfield move closer together to limit passing lanes, setting up almost within the width of the 6-yard box and always within the width of the penalty area.
As the play goes wide, the wide midfielder will press the ball and the full-back will support. Alianza's defensive midfielder is then responsible for filling the space left open and trying to maintain numerical superiority in their opponent's attacking areas.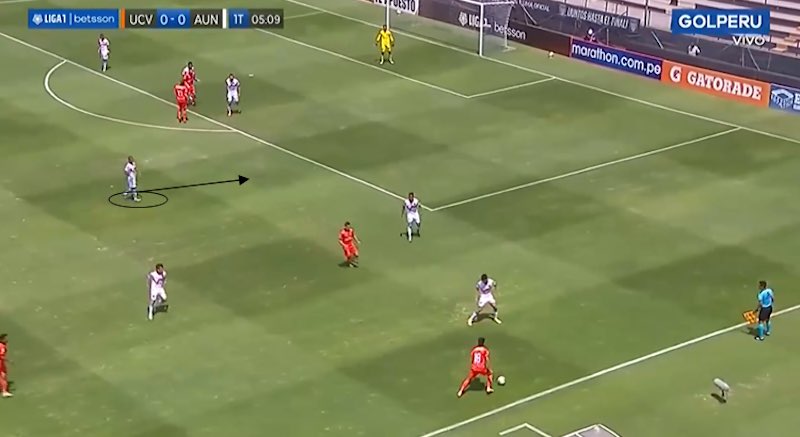 From set-pieces, Cesar Vallejo created two big chances in the first half from corners. Alianza's defenders lost attackers which lead to two opportunities in the first 10 minutes. Reactions to the second ball were slow from the outfield players, though the goalkeeper, Morales, was quick to react and close down the angles.
This will be an area of concern in an otherwise organised defence that operate well as a unit through long periods without possession.
There was little pressing in the opponent's half, except for a period after the goal where the two wide midfielders pressed the full-backs when the opportunity arose.
This may have come from the confidence boost from the goal and was shortly stopped for a more pragmatic mid/deep block which Alianza used for the rest of the game.
José Soto's side show real passion and determination to win the ball. Their defence work well as a unit, maintaining a deep position and restricting the space between them.
In front of them, Morales had a fine game in defensive midfield. Filling the spaces well when required. If Cesar Vallejo tried to play through the lines he was quick to react and close down his opponent.
If full-backs were drawn out to close down wide players, he ensured he was in a position to support. If ever a Cesar Vallejo player was able to beat his marker, another Alianza player was there providing cover.
Cesar Vallejo had 70 attacks during this game, with 21 ending with a shot. 12 were from outside the box, where Alianza had organised themselves well, slowed down the opposition attack and blocked all routes into the box.
Alianza made 60 interceptions and 31 clearances compared with their opponents 18 interceptions and eight clearances.
They managed to stick to their game plan throughout, frustrating Cesar Vallejo who at times looked to force a final ball or shoot from distance after long periods of possession.
Conclusions
Soto will be proud of his sides start to Liga 1. A win against Cusco in their first match, coming after a sending off for their opponents; this match went along with how they had prepared.
Cesar Vallejo are a talented side who will carry a threat going forward throughout the season, but were frustrated and nullified by Alianza's organisation and concentration.
They will need to look at how they approach their counter-attacking play. Their forwards often wasted opportunities by rushing into loose passes or decisions to run with the ball when passing may have been the better option.
When trying to keep possession and exchanging passes from defence to get forward, they found it difficult to get to the halfway line. Passes ended up coming backwards before launching a long ball forward due to the lack of options in the opponent's half.
In order to carry more of a goal threat, Soto will need to look at how he can get his wide forwards more involved in the game and try to get more support for the centre forward.
They work hard out of possession and any changes would affect the way they defend, but relying on clean sheets will be tough and, at times, Alianza Universidad will need to come out and play slightly more expansive football to win.