Interview by Callum McFadden.
You started your career at Grasshoppers and won the league title with the club. What are your memories from your initial breakthrough years there?
"It was a dream come true for me because this is what you work very hard to achieve as a youngster in the youth sides.
"I am a Grasshoppers fan, so to join the club at 15 and progress to the first team means a lot to me and my family.
"My hero as a youngster was Stéphane Chapuisat and to go on and play alongside him for my club was also an unbelievable feeling. Playing with my idol is a feeling that I'll never forget.
"I was level headed when I made my debut as I knew that the hard work was only just beginning if I wanted to have a substantial career in the game."
You attracted interest from a number of clubs following a successful start to your career. How did the move to Freiburg happen and why did you choose to move to Germany?
"In Switzerland, there is a lot of interest in the Bundesliga and German football as a whole and it felt like the logical next step to challenge myself in a major European league.
"I agreed to sign for the club midway through the season when they were in the Bundesliga and looked like they were safe from relegation.
"Unfortunately, in the second half of the season, the club's form dropped dramatically and they were relegated to the Bundesliga 2.
"This meant that I was not joining a Bundesliga club as I had hoped for, but I still wanted to join the club to prove myself and help the club return to the Bundesliga at the first time of asking.
"Thankfully, we were able to win promotion back to the Bundesliga in my first season, which was a relief. As a group of players we knew that if we performed well that we'd be back playing in the Bundesliga and that was a great motivating factor for us.
"Bundesliga 2 is a very demanding league and very similar to the English Championship, as I learned later in my career."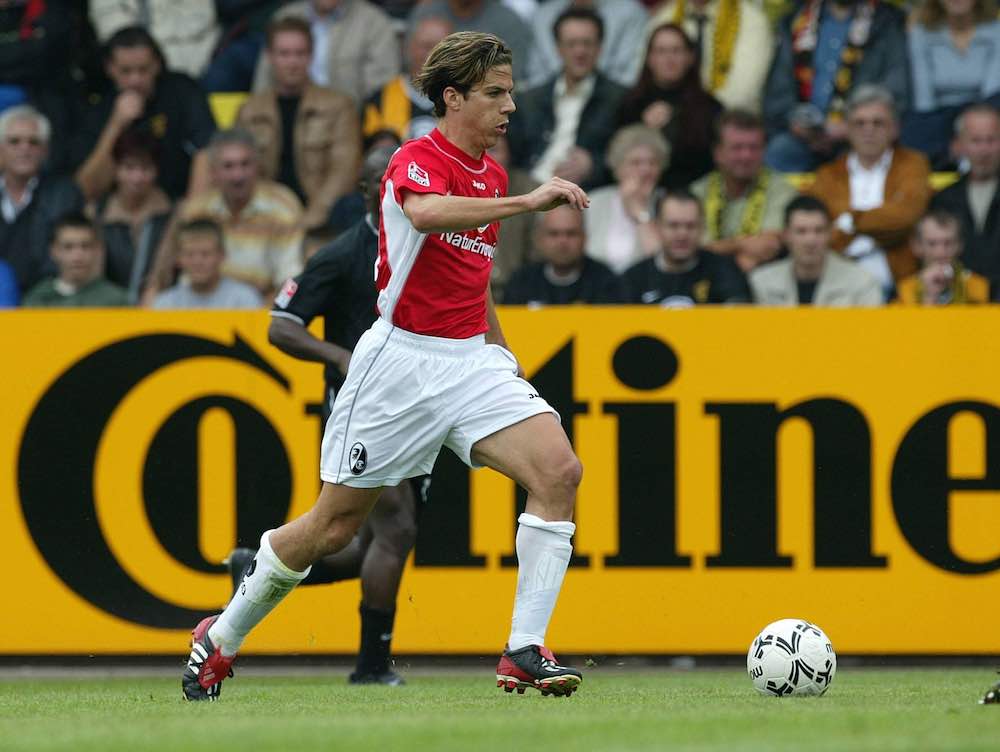 After winning promotion back to the Bundesliga with Freiburg, you then established yourself in the Swiss national team and were a part of the Swiss team at Euro 2004. How would you sum up your memories of the national team?
"It was the best feeling ever. Representing my country meant everything to me and to be a part of the squad at Euro 2004 was an amazing experience.
"Unfortunately, after Euro 2004, my opportunities for the national team were limited due to injury but I still look back with immense pride at the caps I received."
You returned to Switzerland in 2006 with FC Basel. What was it that attracted you back to Swiss football?
"I felt like I had lost my momentum in Germany, and I was looking for a new challenge. I could have moved to Austrian football, but I felt that I had unfinished business in Swiss football and they were the dominant force in the league at that time.
"I had a great time at the club and enjoyed playing in European competition too. It was strange playing against Grasshoppers as I had played there for a decade, but I always gave my all for Basel during my time at the club."
Your next move was to the Premier League with Blackburn Rovers under Mark Hughes. Was a move to English football something that you had on your mind as a career goal?
"I always wanted to play in England as it is the major league in world football. I love the English football culture and to have the opportunity to join a top ten Premier League side was something that I relished.
"I had a one-week trial initially which led to me being offered a contract. In all honesty, I didn't play as much as I'd have liked to, but I had a fantastic time with the club.
"Mark Hughes was very honest as a manager. If you didn't perform to his standards, then you did not feature on a Saturday.
"He was always very upfront about that. I had a very good relationship with him and I'm very grateful that he brought me to English football.
"We had a superb team and the completion for places was fierce.
"I played with some great players at the club, including Tugay and Benni McCarthy who was a Champions League winner with Porto. It is something that I'm also very grateful for."
You stayed in English football with Leicester City following your departure from Blackburn. You won League One with the club. How do you reflect on your time with the Foxes?
"Some of the best memories of my career are with Leicester under Nigel Pearson. The club had dropped into League One and Nigel galvanised the club to win promotion back to the Championship.
"The fans were phenomenal and I still have a strong attachment to Leicester. Nigel Pearson is a great human being as well as being a top manager. I learned a lot from him, and he has had a strong impact on my coaching career to date.
"I was absolutely delighted to watch the club lift the Premier League trophy and the FA Cup trophy in recent years as everyone behind the scenes at the club gives their all.
"King Power bought the club when I was there, and their ambition was clear to see from day one. They had an ambitious vision for the club, and they delivered on it too."
Finally, you are an aspiring coach. How would you describe your coaching philosophy and what do you hope to achieve in your coaching career?
"I have very strong values and forming a positive culture is of high importance to me. It's important to remember that everyone you work with is a human being first and foremost as well as a footballer. Therefore, I would say that empathy is at the heart of what I do especially when working with younger players.
"It is important to work with players rather than always being an authoritative coach, like I had in my development as a young player, because society has changed.
"I listen to my players and get them fully involved in my way of working. I demand a lot from them, but empathy and communication are at the heart of everything I do.
"I am employed by a football club just as the players are, so it's vital that we all work together to prove to the board or the national organisation that employs us that we are the right fit for that club or country.
"Winning games is the best way to prove that and striving to win every match that I'm involved in is what I strive to do as a coach."