By Jerry Mancini.
It has been an illustrious career for Brazilian midfielder Lucas Leiva, who has overcome several hurdles along the way.
He started with Gremio back in 2005 where he had three successful seasons. His second season being his most memorable, as he became the youngest player to receive the Bola de Ouro (Golden Ball) given to the best player in the Brazilian league.
Leiva joined a group of well-recognized players who have won this award, including Zico, Falcao, Careca, Romario and Kaka.
His form in 2006 caught the interest of several clubs, however, he decided to make the leap from Gremio to Liverpool in the English Premier League.
Shortly before his move to England, in July 2007, Gremio had advanced to the two-legged final in Copa Libertadores where they were defeated by Boca Juniors 5-0. During his three seasons, he appeared in 75 games and scored eight goals.
When Lucas joined Liverpool there was a period of transition as he gradually adapted to a more defensive position than the more attacking or segundo volante role he has played in Brazil. On occasions, he became the scapegoat for Liverpool and in his first three seasons, he was competing against the likes of Xabi Alonso, Javier Mascherano and Steven Gerard for playing time.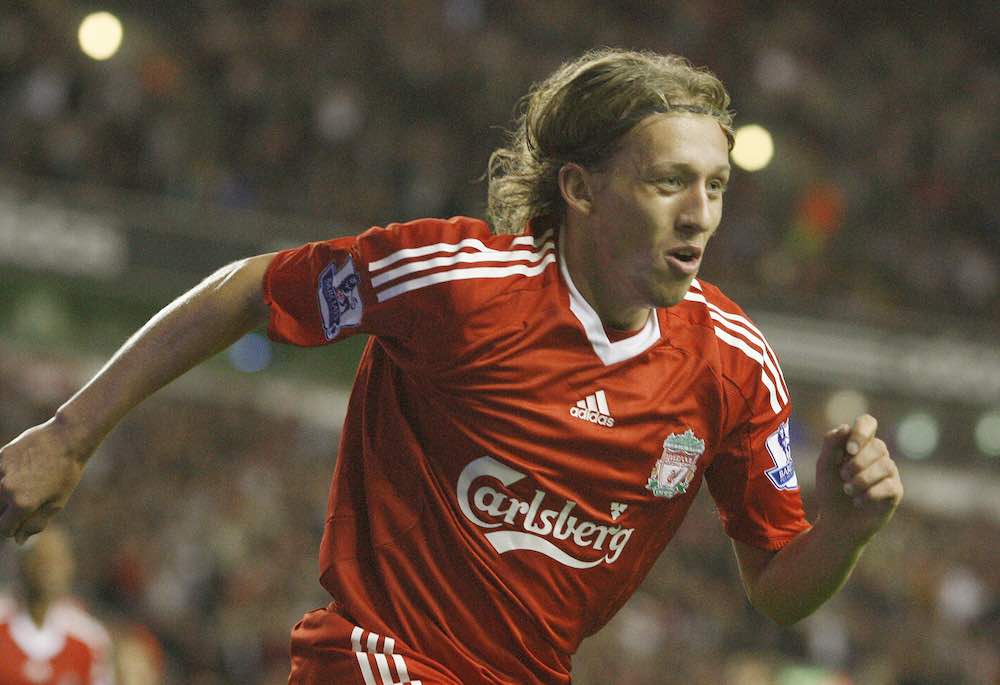 Although there were some struggles, Liverpool manager Rafa Benitez stood by the midfielder when he was criticized.
When the 2010/11 Premier League season was done, Leiva was voted Liverpool's Player of the Year. The Brazilian won over the fans that season with his leadership and his vastly improving game. He was moving faster, covering more space, marking tighter, intercepting quicker, tackling harder and passing better.
Lucas was adjusting and finally finding his form with Liverpool. The 2011/12 season was difficult for him as he played 15 games due to injury, but he did play some part in their 2012 League Cup run as the Reds won their first major trophy since 2006.
Lucas played for four more years with Liverpool before moving to Lazio. He played ten seasons in the Premier League in total, where he amassed 346 appearances and seven goals in all competitions, and was Liverpool's longest-serving player at the time of his departure.
In July 2017, Lazio purchased the Brazilian for £5m and on August 13 he made his debut in a 3-2 win over Juventus in the Supercoppa Italiana.
Before his arrival, Lucas Biglia left to join AC Milan and this left a hole in Lazio's squad. Since joining Lazio, Lucas has been remarkable and has filled the void admirably.
In the past four seasons with the Rome club, Lucas has scored four goals and contributed seven assists across all competitions. During that time, he proved to be an integral part of the 3-5-2 formation under former manager, Simone Inzaghi.
What has made Lucas effective in recent seasons with Lazio has been his hard-tackling, great work rate, good stamina and his tenacity.
His tactical intelligence and professionalism as a footballer shouldn't go unnoticed, either, as he's been a good presence in front of the defence. While his minutes played need to be better managed, he's proven to be a valuable player to this team.
In two of the past four seasons, Lucas has been voted Lazio's Player of the Season.
He could be seen as an upgrade on Biglia as he's provided good leadership and has been vocal with his teammates.
Luis Alberto and Sergej Milinkovic-Savic have worked well with Lucas who has helped them to be more pivotal in their roles and more attack-minded due to his ability to cover space behind them. His defensive cover allows teammates to play further up the pitch.
Lucas is entering his fifth season with Lazio and is in the final year of his contract. Lazio has begun a new era this season under new manager, Maurizio Sarri, who has implemented a change in system and uses the 4-3-3. The Italian has introduced new tactics and a philosophy that will take time to adjust to.
It has been a tumultuous 17-year career for Lucas so far, and during it, he has been resilient and shown great character to get to where he is today.
While Lazio are ready to embrace change and a massive overhaul under Sarri, it seems Leiva is ready to accept this latest challenge.
Although he is 35 years old and in the twilight of his career, he's still one of the most underrated defensive midfielders in football.