By Mike Rice.
Columbus Crew missed out on the playoffs last season, and it cost Caleb Porter his job. A strong roster kept conceding late goals and saw leads turned into draws or defeats.
With the likes of Lucas Zelarayán and Cucho Hernández, the team have stars in attack who can deliver. They also have some experience in players like Darlington Nagbe and Eloy Room, though a young core is emerging.
Mohamed Farsi is one of those players who has made the step into the first team proper this season after a handful of appearances towards the end of 2022. Farsi has started each of Columbus Crews opening six matches and become a key part of the first team at the start of the 2023 calendar.
Farsi tells WFi: "I wasn't expecting it to be honest, but I was ready. It's a bonus and we are doing well. I'll keep going and I'm so happy to help the team."
The season started with a tough loss to Philadelphia Union, but since then they have climbed to fourth in the Eastern Conference and are playing like a team who are gelling and finding their rhythm in Major League Soccer, but that doesn't mean it's time to get complacent for Farsi.
"It could be better, especially the away game against Toronto and the Red Bulls, we could have got more points in those two games, but it's been decent."
It certainly has been decent. The movement and passing interchanging have been slick and they have become the joint leading goal scorers in MLS on 15 goals alongside St. Louis City. Their previous two matches have been incredibly fruitful with a 4-0 win over a struggling Real Salt Lake and before that a 6-1 win against Atlanta.
The Atlanta game saw some rotation to the squad and both sides lost key players, but the significant win and the domination Columbus had in the game speaks of the strength they have on their roster.
"Yeah, I think we have good depth, we may be young but all hungry and everybody thought we brought in more intensity to the game. We came to score and attack and managed five goals. We have a great mentality."
These young players were almost all part of the Columbus Crew 2 side in 2022 who won the inaugural MLS Next Pro championship. The tournament was set up to give young players a more professional and competitive environment to play in to aid development and get players 'MLS ready'.
"It was very nice; a brand-new championship and we didn't know what the expectations would be. Getting the chance to train with the first team too helped but you still have a full season with the second team to play regular games."
Getting that chance to play week in, week out in a competitive environment has helped players like Farsi, Jacen Russell-Rowe, and Patrick Schulte transition into the first team and have the confidence to go out and play their game.
While these players worked hard last season, they knew that options were limited in the first team last year. Several senior players, as well as the head coach, have departed. Captain Jonathan Mensah, Artur and Derrick Etienne Jr. have all moved on and a new system has been introduced into the first team by new head coach Wilfried Nancy.
Porter preferred and 4-4-2 but Nancy was incredibly successful with CF Montréal using a back three and wingbacks. He was brought into the club to reignite their team and bring his philosophies with him.
Nancy earnt a reputation of bringing young players into the first team in Montreal and the likes of Ismaël Koné has now gone on to move to Watford due to the opportunities and the coaching he received under Nancy.
Farsi is one of those players in Columbus who have benefitted greatly from the new head coach's arrival so far. I asked him about the excitement around the young group of players after hearing of Nancy's appointment.
"Yes, a little [bit of excitement], but not too much. He did that there but at the same time, we knew he wasn't just going to give places away. He is a manager who is open to giving young players the opportunity, but you still must earn your spot. We knew we had to fight, but there may be a chance, sometimes you don't have a chance with some managers, but we have that [with Nancy]."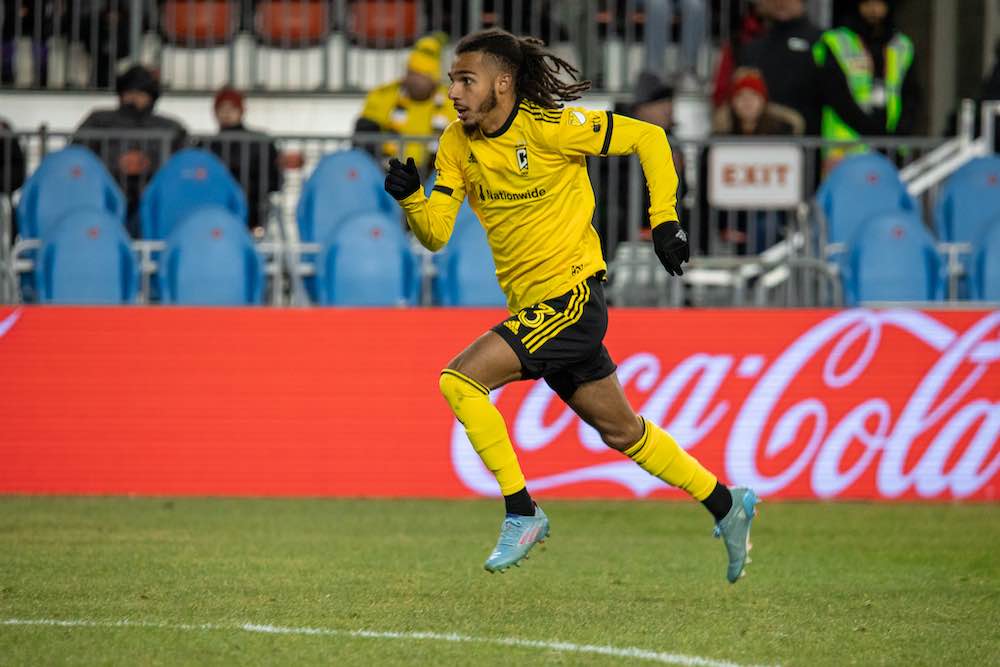 The immediate impact is beginning to show and Nancy has ensured his side are adopting his style of play and understanding the instructions he delivers. He was a coach in high demand over the off-season and Columbus Crew worked hard to ensure they got the man they believed was the perfect fit. But what makes Nancy such a good coach
"Firstly, he is a great human being, he has a good relationship with his players, and we all want to fight for him. Secondly, tactically he is very good, he knows exactly what he wants to do, he gives you a lot, but if you don't understand he is always happy to speak to you and ensure you are learning and developing. He provides you with confidence with his way of speaking to you. Even if you miss something he knows you'll get it next time and it really helps as a young player knowing he has belief in you."
Farsi arrived in Columbus through a less-than-common route, having gone out to Algeria to trial before coming back to Canada and representing Cavalry FC.
While he was playing alongside players who arrived after playing in College, Farsi believes that the route he has taken has helped him in becoming the person he is today.
"I think it really helped me mentally. I never was just given anything, I always chased and worked for what I have got. Mentally those experiences have really helped me as it was a tough pathway, but I was grateful for the opportunities as they made me who I am today."
 He was lucky, the Canadian Premier League is entering just its fifth season of existence. Without this league, who knows where Farsi would have gone with his career.
"It's a great thing, I feel bad for the generations before me who didn't have a professional league in Canada. The league is growing fast and there are more opportunities for Canadian players. With more media too, it's great for players to become more noticed."
The season is young but there is now a lot of buzz around the team. They have lots to play for in MLS and without Concacaf Champions League to compete in, the Leagues Cup is offering clubs the chance to compete with Liga MX sides later in the season.
It exciting for us to see how the tournament takes shape later in the year, but for young players, this can be a great opportunity to come up against new sides in a competitive environment.
"Yeah, we are all excited. You're going to play Mexican sides and its always good to have new opponents and we know they have a different style of play and a new challenge."
For now, though, keeping those first-team minutes up is vital for Farsi, who is growing with every game. There have even been some rumblings that maybe he is beginning to earn himself consideration for the national side in the near future, but speaking with him, he is down to earth, humble, yet incredibly determined. Having worked so hard to get where he is now, he is not going to start letting his focus waver.
"I'm not thinking about it right now, I'm focused on the short term, I've just played five games, to be honest. I just want to be effective for Columbus Crew but after that then yeah, why not, it's always a dream to represent your country. If that day is going to come and I earn it, I would be glad, but I have to focus on now."
And he is right, we are only six games into the season and while his and his side's performances have been impressive, there is still a long way to go.
But, under Nancy, and with the dominant way they have been playing in recent weeks, confidence is high amongst the group and Farsi is determined to be a big part of what he hopes will be a very successful season.
"It's just the beginning, I want to keep starting and be effective to help us win on both sides of the ball."