An interview with Rene Meulensteen, by Callum McFadden for WFi.
---
You have just released your autobiography called 'United, Sir Alex and Me' about your career in football and at Manchester United. What was it like to work at a club the size of Manchester United as first team coach?
"It was wonderful to work for Manchester United and under Sir Alex Ferguson. Both of them gave me the most memorable and enjoyable times in my coaching career.
"I arrived at United in 2001 as skills development coach working in the youth system eventually moving up to the reserve team where I got to integrate my tactical approaches on a more senior level.
"Then, in 2007, I was promoted to be the first team coach alongside Sir Alex Ferguson which was a privilege.
"The fact that he put so much trust in me and his other staff by delegating to us on the training meant a lot to me and I learned so much from him."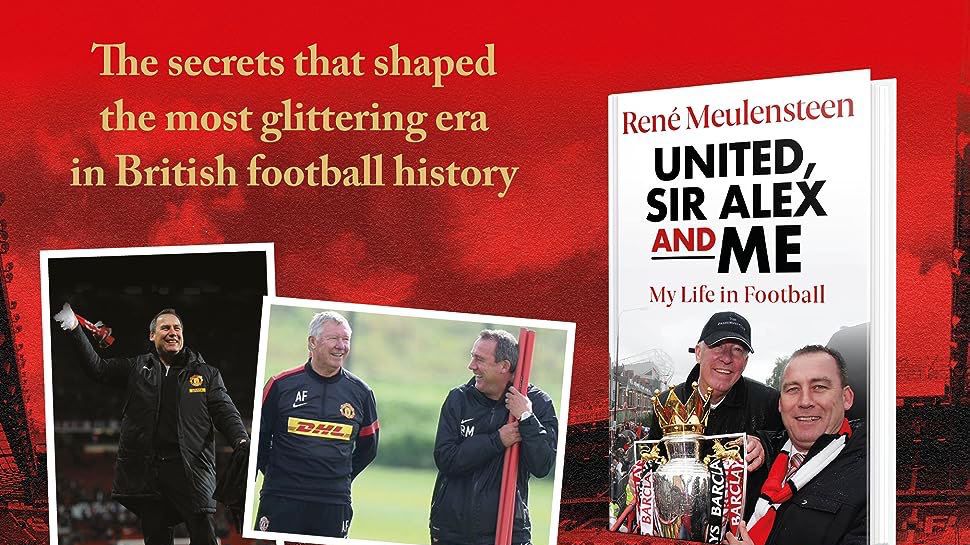 ---
During your six seasons as first team coach from 2007 to 2008. The club won four Premier League titles and a Champions League while reaching another two Champions League finals. What do you believe was the key to that success?
"We had an incredible belief in ourselves as a team and we built a squad that had strength in depth.
"The talent was clear within the squad and it was balanced well too.
"We approached every season with the attitude that we were going to win. We set out in every year with the aim of winning every competition that we entered.
"It did not matter if it was the Community Shield or the Premier League. We wanted to win it all.
"Every trophy was important to us.
"It is a testament to Sir Alex Ferguson that he was able to instil that ethos throughout the club and win as many trophies as he did throughout his twenty six years as manager of Manchester United.
"The senior players at the club such as Edwin Van Der Sar, Rio Ferdinand, Paul Scholes and Ryan Giggs set great examples for the younger players approaching their peak such as Cristiano Ronaldo, Wayne Rooney and Nemanja Vidic.
"Tactically those players were flexible and could alter their approach depending on the condition of the game that we were set to play in.
"That was something that opposition coaches have remarked to me over the years. They have told me that they struggled to know how to beat us because we had so much variation in our play that they never knew exactly how to try and set up against us."
---
You mentioned that Sir Alex was no afraid to delegate to staff. As such, how strong were his man management skills with players and staff alike?
"He was brilliant and on another level.
"He knew every single person at the club from the ladies on reception to the kit men to the chefs to the players and staff and their families.
"His attitude towards the players and staff was one of collective responsibility. Our standards had to be the highest of the high and he would not accept second best even in a training session.
"He was relentless in pursuit of success and with that comes pressure.
"However, his ability to always say the right thing and be personable with you meant that you never felt overwhelmed by pressure as a staff member or as a player.
"He had a skill of keeping you focused on the job at hand while also making you feel confident whenever you stepped out on to the training field or during a match day.
"He trusted his players and his staff while always being in control and knowing when you needed arm around the shoulder and when you needed a stronger conversation.
"He created a family at the club where everyone pulled in the same direction bound by a desire to achieve success."
---
---
You are currently the assistant manager of the Australian national team working alongside Graham Arnold. The team reached the knockout phase of the World Cup in 2022. How would you reflect on your time in international football so far?
"I am enjoying my time working with Australia immensely because it is a new challenge for me.
"I always had an ambition to work at international level and I knew Graham from his time coming into Manchester United when he was working towards his pro license.
"He admitted himself that calling me and asking me to become his assistant felt like a long shot but I did not hesitate when he made the call.
"He told me that his ambition was to build the most successful Socceroos team ever that would go into every game believing that they could win.
"I found that to be inspiring and I wanted to be a part of it.
"Furthermore, I also believe that international football is the purest form of football in the modern game because money is king at club level whereas at international level, you need to produce your players organically to compete.
"Since we started the job in 2018, the progression has been nothing short of incredible.
"In addition to coaching the senior national team, we also coached the Australian Olympic football team in Japan at the Olympic Games defeating Argentina along the way although narrowly losing out to Spain.
"From that Olympic team, we took ten players to the World Cup in Qatar and gave seven of them their World Cup debut.
"Taking the Olympic team was about creating a level of progression and a pathway to the first team which we successfully achieved.
"Then, in Qatar, we lost our first game in the World Cup group phase to France 4-1 which led to everyone saying we would be going out.
"However, we defeated Tunisia and Denmark in our next two games to progress to the last 16 of the World Cup.
"In doing so, we became the most successful ever Socceroos team which is what we set out to do.
"Despite that, our work is not done and we look forward to the challenge of striving to progress even further with the Australian national team in the years ahead."
---
You have also worked as a manager in your own right at clubs such as Anzhi Makhachkala, Fulham and Maccabi Haifa. How do you reflect on your time in management?
"I would say I feel unfulfilled when I look back at my time in management and disappointed because I was not given the time in certain jobs.
"The lack of time from clubs is a massive problem for managers in the game at the moment however with the amount of money being spent by clubs, time is non existent because everyone wants success overnight.
"I took over from Guus Hiddink at Anzhi Makhachkala during a time when things were up in the air at the club so there was nothing that I could really do in regards to that job.
"Then, at Fulham, I went in as an assistant to Martin Jol before being taking charge of the team in the Premier League.
"I was frustrated with my time there because I was only given a matter of months to work with the players rather than the time to build something at the club.
"It was a similar situation at Maccabi Haifa too which was another frustration.
"I know that I gave every club my all and I know that I could have done some things better but I do not lose sleep over those times in management because I did my best.
"I am now enjoying what I do as assistant to Graham but you can never say never in regards to returning to club football one day or returning to management in the future.
"However, my full focus is on working with Australia and doing all that we can to continue our progression."
---
Finally, Rene, your children are all working within professional football. Your daughter Pien is a successful commentator on Premier League football, your youngest son Melle is playing for Vitesse in the Eredivisie, and your older son Joppe is working at Stockport County. How proud are you of their achievements to date?
"Pien has done magnificently well in the media and she was worked so hard to get to where she is now.
"She prepares meticulously for every game that she covers and she enjoys her work which is also important.
"My youngest son Melle is playing for Vitesse and progressing well by playing at a strong level which is pleasing to see.
"Joppe is the head of first team analysis and a coach at Stockport County in the English Football League which he is really enjoying too.
"I am proud of all of them and their achievements. It is funny that my kids have all followed me into working in professional football but as a family we love the game and I hope that they all will continue to succeed long into the future."