With the European Championships in full swing in France at the moment, I find myself one of a select few Irish football fans not caught up in the hysteria that my country are competing.
In fact, I don't follow my national team at all – sacrilege, I know. But I would rather watch England or Wales play than Ireland.
I don't consider myself a traitor or anything like that.  Actually, I'm a massive advocate of the League of Ireland, or as some know it #TheGreatestLeagueInTheWorld. I regularly attend League of Ireland matches and report on them consistently.
No, my gripe with the Irish football team is the clowns that are in charge of it, and one clown in particular: John Delaney.
I have a reawakened love affair with my local League of Ireland team Sligo Rovers over the last number of years, and our romance is now on a par with my love for Liverpool FC.
I have seen the good times at Rovers over the last number of years as well as having to endure the bad times of Owen Heary last season.
I haven't had to endure as much heartache not as the true die hard fans, but give me a few years and hopefully I'll be able to classify myself as one of them.
The League of Ireland is the national governing body's dirty little secret. They leave it to run on its own, with little or no input in it, apart from when the European campaign starts or when the FAI Cup final (our version of the FA Cup) is on.
But during the rest of the season, the FAI (Football Association Ireland) just ignore the league. Moreover, the head honcho, John Delaney, would rather sit in a bar and get pissed on the company credit card than attend a match. Clubs don't even get money from live matches shown on TV.
Then there's the argument from fans that the players in the league are shite and because of that there's no reason to attend a game.
This reasoning is, well, shite of it's own accord. Out of the current Ireland squad at the Euros, eight of them are ex-League of Ireland players.
The league boasts many U-21 players, including the likes of ex-West Ham player Sean Maguire and current Sligo Rovers playmaker Kieran Sadlier. Not that I'm biased (well, maybe a touch), but current Rovers goalkeeper Michael Schlingermann is as good as if not better than who's in the Ireland  squad in France. But, if he were just good enough, he would be playing in England, and therefore in the Ireland national squad.
It shouldn't matter who you play for, players should get into the squad on merit.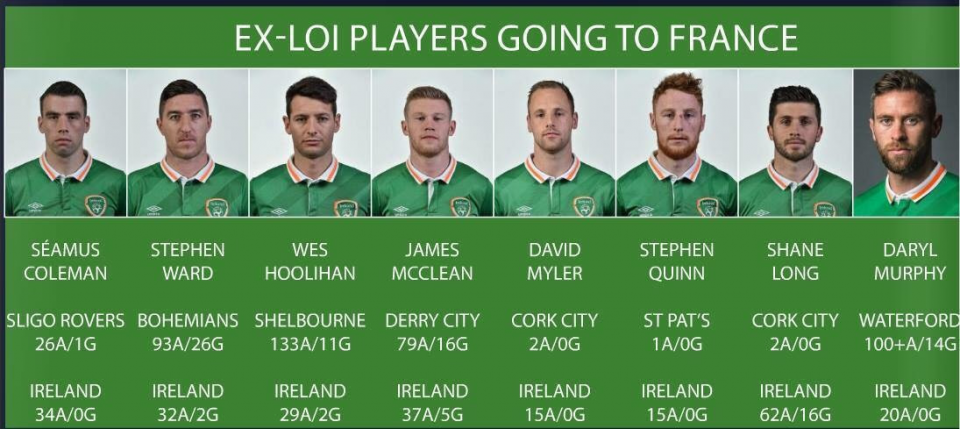 I regularly get flak on Twitter over my views on Ireland and not supporting my country in international games.
I'm called unpatriotic, that I should go support England and leave the rest of the Irish fans in peace and to a certain extent I do.
But I'll continue to boycott the national team until my league gets the respect it deserves from those in charge at the FAI. Can I see that happening in the near future? You're having a laugh.
The FAI, and John Delaney in particular, have proven time and time again that they don't care about the league.
They regularly let clubs who are in a difficult state of affairs go out of business – happens every 5 years or so.
The prize money in the League itself isn't enough to buy toilet paper for a week, yet Delaney gets paid a ridiculous amount of money yearly.
So now you know why I don't support my national team when it comes to the international competitions.
Yes, Ireland fans are great craic and a laugh to be around at these tournaments, but for a lot of them it's time they jumped off the Ireland bandwagon. And when the FAI start to look after its league, the greatest league in the world might just be a bit better.
Maybe, just maybe, I might start jumping on the Ireland bandwagon.