John Steen Olsen has a keen eye for talent. The scout has been employed by Ajax for a number of years now as their eyes in Scandinavia, and he has already been responsible for identifying Zlatan Ibrahimovic, Viktor Fischer and Christian Eriksen.
Now he seems to have repeated the trick with the emergence this season of Kasper Dolberg.
The combination of the Dane's natural talent and the elite coaching on offer at Ajax's De Toekomst youth academy, where he moved to a seventeen year old, has possibly produced the perfect modern forward.
He is a tall, angular central striker with a capacity to hold off defenders coupled with the agility and technique to beat a man in a one on one situation.
There are definite echoes of the great Ajax forwards of the past in his game but instead of mirroring a single player he draws together aspects of the likes of Zlatan Ibrahimovic, Dennis Bergkamp and Patrick Kluivert to create his own player profile.
The young forward has also already proven that he has the capacity to not only score goals, but to score a wide variety of goals against varied opposition.
He has displayed a ruthless edge to his finishing that belies his young age.
When through one on one facing the goalkeeper he is rarely phased and is capable of finding either corner. When the defensive line stands off and gives him too much space then Dolberg is confident enough in his own ability to finish from long range.
There are still weaknesses to his all round game but a greater sense of tactical knowledge and positioning will come with experience. His decision making, whilst already at a high, level should continue to develop with prolonged exposure to first team football.
Ability to play with back to goal
In modern football the traditional target man centre forward tends to be undervalued.
The likes of Diego Costa and Mario Mandzukic lend value to their side but their lack of athleticism and versatility makes them a poor fit for many tactical systems.
Kasper Dolberg is very much a modern player in that he is comfortable operating in wide areas or even deeper areas of the field as required.
With that said, however, he has retained the ability to play effectively with his back to goal and to hold the ball up, bringing players in to the game as they run forward from deep.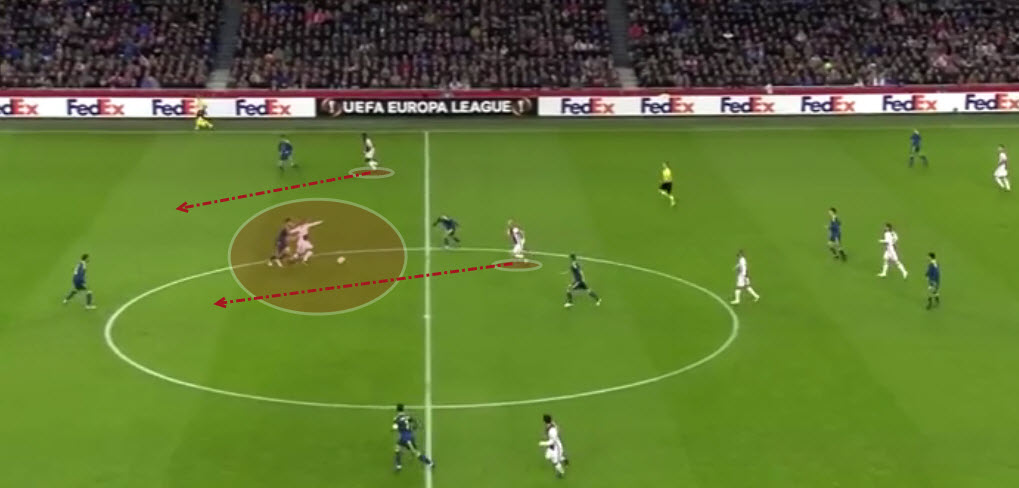 Here we see the ball played up to the feet of Dolberg in a central striking position with a defender in close attendance behind him.
Whilst Dolberg is tall he does not look overly powerful, but he's extremely effective in manipulating his own body to shield the ball from defenders.
Often with young forwards their self confidence dictates that they will look to roll a defender in this situation to attack the space in behind.
Whilst Dolberg is capable of performing this movement he is equally capable of waiting for support to arrive and choosing the correct pass to move the side in to more advanced positions.
In this example, as Bertrand Traore runs from the right hand side, Dolberg is able to play him through and in to the final third of the pitch.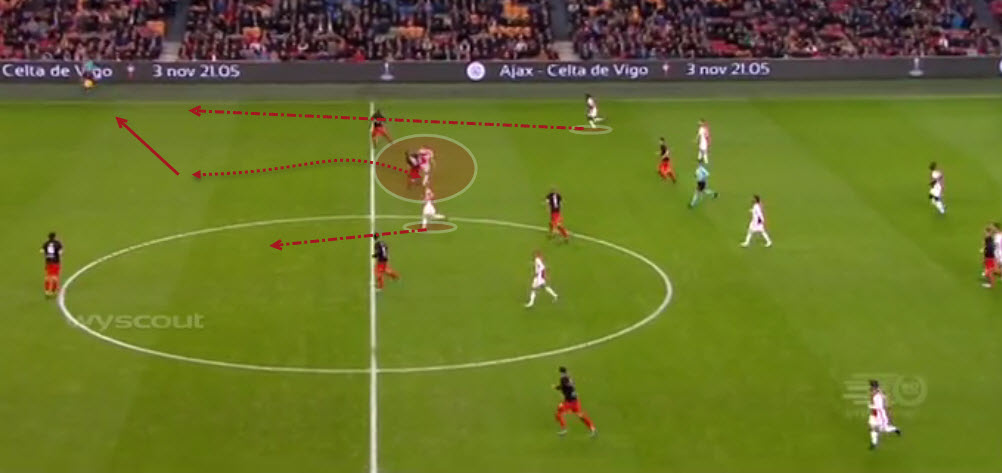 On this occasion Dolberg does choose to roll the defender and move into the emptied space behind him.
As a striker is shielding the ball it is easy for an over eager defender to become unbalanced in his attempts to either win the ball back or force the attacker to give away possession with a full touch.
In this instance Dolberg is able to turn the defender as he over-commits and then move in to the space.
He still chooses to connect with one of his advancing team mates, but in doing so from a more advanced and better established platform there is more pressure put on the defending side.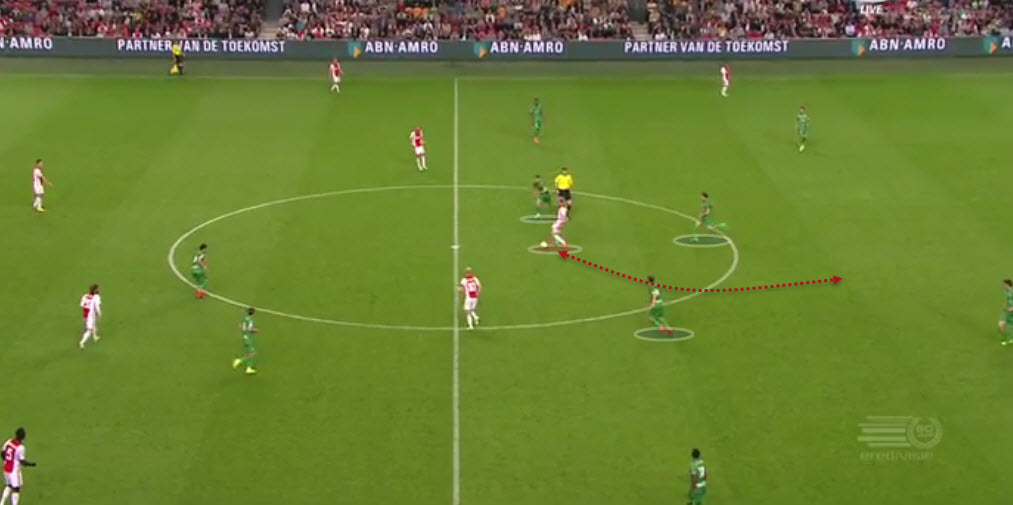 What makes Dolberg especially dangerous for defenders is his capacity to perform more than one movement in this situation.
Whilst we have already seen how effective he can be with his back to goal and a defender pressing him tightly, it is equally dangerous for teams to leave him in a pocket of space as he takes possession of the ball in this area.
With no pressure applied Dolberg is capable of turning and running at speed between the gaps in the oppositions defensive structure.
His pace and explosiveness over short distances make it very difficult for teams to defend against him in this situation.
Dribbling and Movement
With his tall frame and deceptive pace Dolberg is a dangerous dribbler of the ball.
This does not necessarily mean that he has the touch and control of Lionel Messi, but that he has the ability to identify the weak side of an opponent and to quickly attack that weakness.
He still has a tendency to push the ball past a defender on the outside before using his physical capacity to burst past, but he has shown a number of instinctive skills and tricks to beat an opponent already in his short career.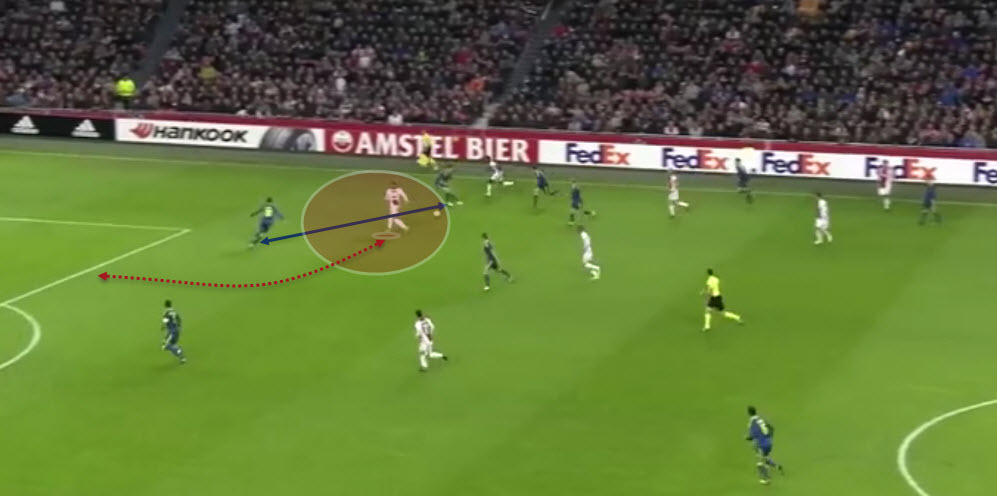 In the Europa League match against Celta Vigo, Dolberg scored a goal from this position.
As the attack was built down the right hand side, Dolberg drifted off of the touchline and in to the half-space between the defensive players.
As the ball is cut back to him he has the confidence to receive the ball on his back foot and push the ball past the overbalanced defender before moving quickly in on goal.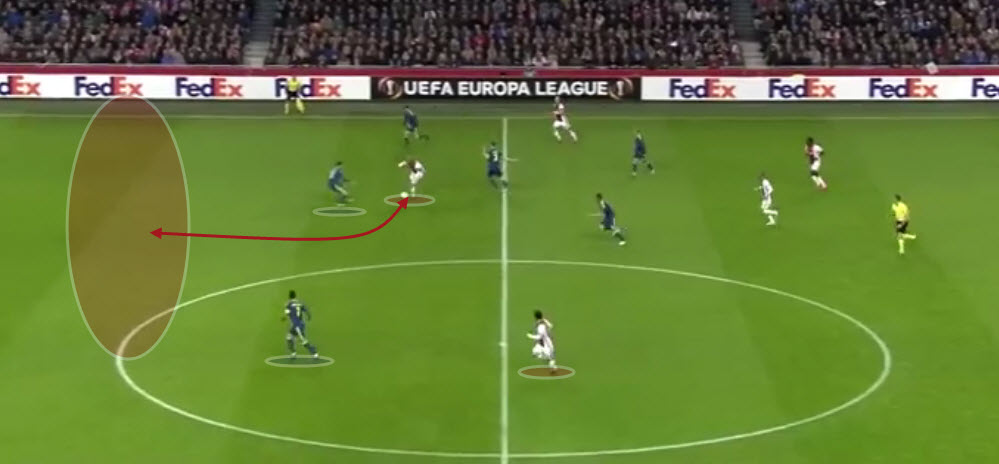 As Dolberg takes the ball in an advanced area he has the ability to attack the defensive player down either side, making it difficult for a defensive player to take up an appropriate position or body shape when defending the Dane.
Here Dolberg beats the defensive player with ease and moves the ball in to the more advanced position highlighted.
As he moves through to the final third he attracts the covering player towards him and is able to slip through a free team mate in on goal.
Awareness and vision
It often takes a young forward player time to develop a level of awareness that allows him to see and connect with team mates, instead of being blinkered in his pursuit of goals.
Dolberg already seems to have an advanced sense of when to play the ball out to a team mate and when to drive towards goal himself.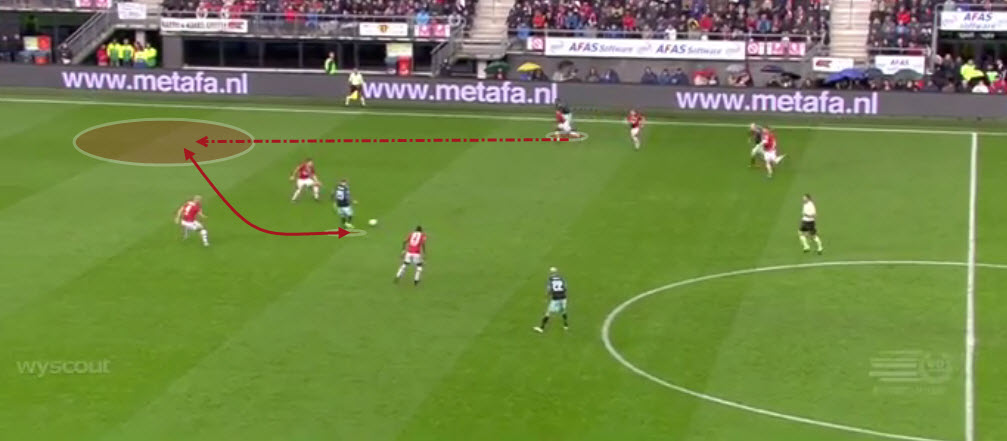 In this example Dolberg has received possession of the ball in an advanced position with a pocket of space around him.
Instead of turning and heading straight towards goal he has the awareness to identify the space in an advanced area.
He plays the ball through into the wide area with his first touch for the wide player to attack from deep.
In playing this pass instantly instead of holding the ball up, Dolberg has forced the defensive structure for the opposition to react and try to cover the space in behind them.
Any time that an attacking team can force the opposition to run back towards their own goal gives the attackers a huge advantage.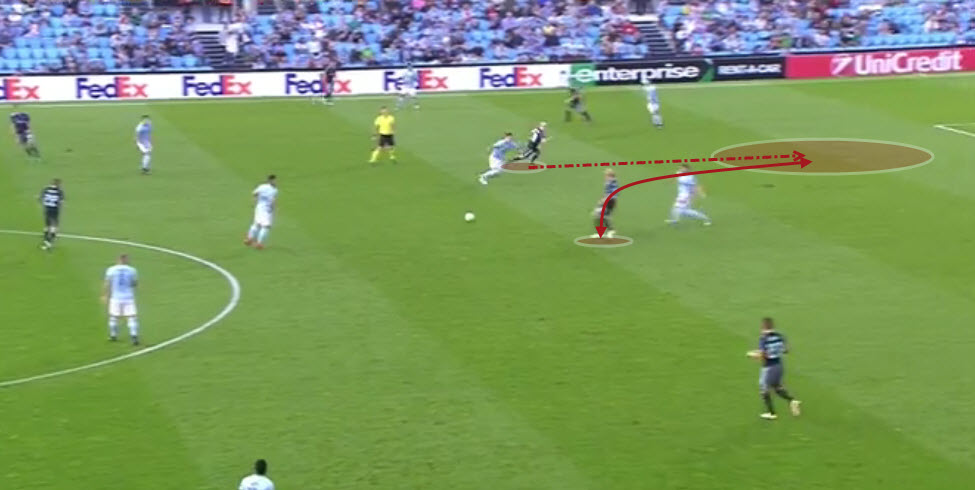 Once again in this example Dolberg is receiving the ball with his back to goal.
His appreciation of space and movement around him means that instead of trying to hold the ball up himself, or instead of turning and running at the defender, he is able to turn the ball around the corner with one touch. This touch plays the advancing midfielder through on goal.
The ability to see and utilise space in the attacking phase combined with the capacity to hold the ball up or to turn and run at defenders makes Dolberg an extremely difficult proposition for defending teams.
Conclusion
Ajax have unearthed another diamond in their lucrative Scandinavian market.
For a player so young, Kasper Dolberg has a surprising combination of physical and technical attributes which should lead to him becoming one of the best forward players in Europe.
John Steen Olsen has once again proven his worth to the club with his recommendation that they sign Dolberg.
Whilst direct comparisons to other players are neither useful or appropriate, there are definite signs that the young Dane is ready to follow in the footsteps of his predecessors at the club.