Olympique Lyonnais were favourites to take their second consecutive European crown when they faced Paris Saint-Germain in Cardiff – a match which was a repeat of the French Cup final two weeks previously.
Lyon managed to win that particular game on penalties, but PSG manager Patrice Lair was encouraged by his team's performance in the match and believed they could use it as a platform to win the big one.
It was a cagey, scrappy start to the game, but there was no sign that one team were far superior to the other.
PSG started the game in a 5-3-2 formation which morphed into a 3-5-2 when they had the ball. It may have been territorially even, but Lyon began to come into the game and before long left back Amel Majri was sending a shot just wide.
She was a regular threat down the left, teaming up with the more central, attacking player Dzsenifer Marozsan who had the crowd on their feet with a nice bit of skill around the PSG penalty area in the opening stages.
USA international Alex Morgan had sat out the domestic cup final due to a hamstring injury, but appeared here with the left leg heavily strapped. She lasted just 23 minutes before it gave way and she was replaced by Elodie Thomis.
Despite Lyon's ascendency, the first half's biggest chance fell to the underdogs when their captain Shirley Cruz latched onto a Marie-Laure Delie header. The Costa Rican bore down on goal but was thwarted by a fine save from Sarah Bouhaddi, and so it remained scoreless at half time.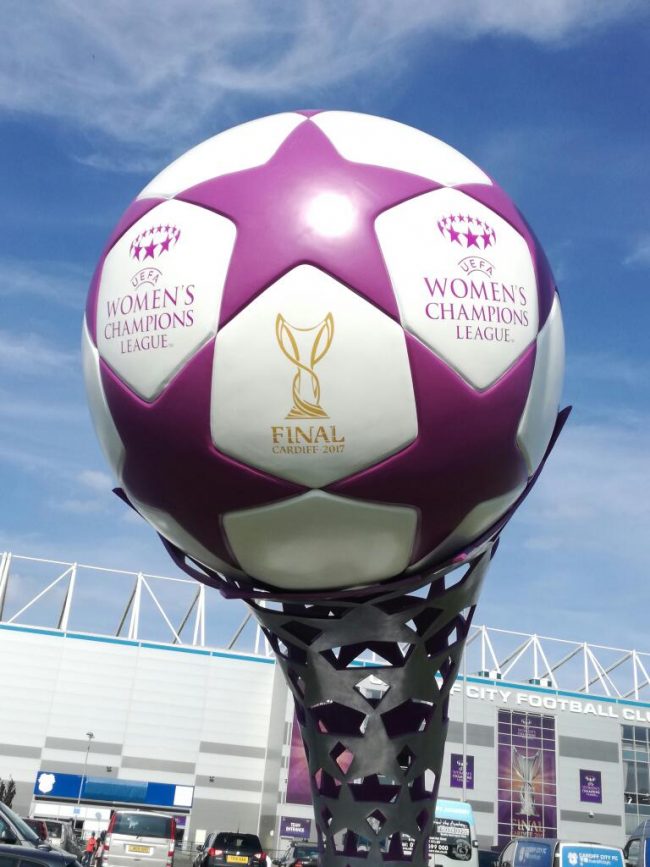 The second half started with a moment of drama when Lyon striker Ada Hegerberg looked to have got her foot to a Marozsan free kick, but the ball flew agonisingly wide of the post, and replays showed it might have come off Majri.
It was to become a common route for Lyon, and Hegerberg had a golden opportunity to open the scoring from one such situation but her initial shot was saved and the follow up was embarrassingly wide.
She was withdrawn shortly after, and though Marozsan continued to threaten, it was then PSG's turn to spurn a chance of their own. Cruz played a perfect ball through to Delie whose shot beat the keeper but couldn't find the goal. Another chance squandered.
As was the case in the French Cup, it seemed no one wanted to win. Half chances came and went and extra time arrived to the beat of the PSG fans' drum.
Majri remained a bright spark in the Lyon side, sending a blistering shot straight at Katarzyna Kiedrzynek but it was from too far out to be truly testing.
Lyon had a shout for a penalty when substitute Perle Morroni looked to have fouled Thomis in the box, but referee Bibiana Steinhaus waved away the appeals.
Marozsan continued her good display too, firing a left footed shot just wide of the angle of the goal, but apart from a couple of individual flourishes from the usual suspects the team play of both sides was fizzling out.
Penalties loomed, and with three sharp blows of Steinhaus' whistle, they arrived.
PSG's Brazilian No 10, Cristiane, dispatched the first one coolly enough, before Majri rounded off her impressive night by nestling her own spot kick into the back of the net.
Misses from Eugenie Le Sommer and then Grace Geyoro meant the scores remained even, and what followed was a supreme display of penalty taking.
But someone had to miss.
And it was to be the PSG goalkeeper Kiedrzynek, who then had the humiliation of having her opposite number Bouhaddi score the winner.
Penalty shootouts are a cruel business, but this seemed especially harsh on the Polish stopper who had stepped up before some of her outfield colleagues.
Marozsan was named player of the match for her standout display on the winning side, and though you couldn't begrudge her team the win, PSG didn't especially deserve to lose.
It marked an unprecedented double treble for the Lyon side, who claimed league, cup, and European honours for the second season in a row.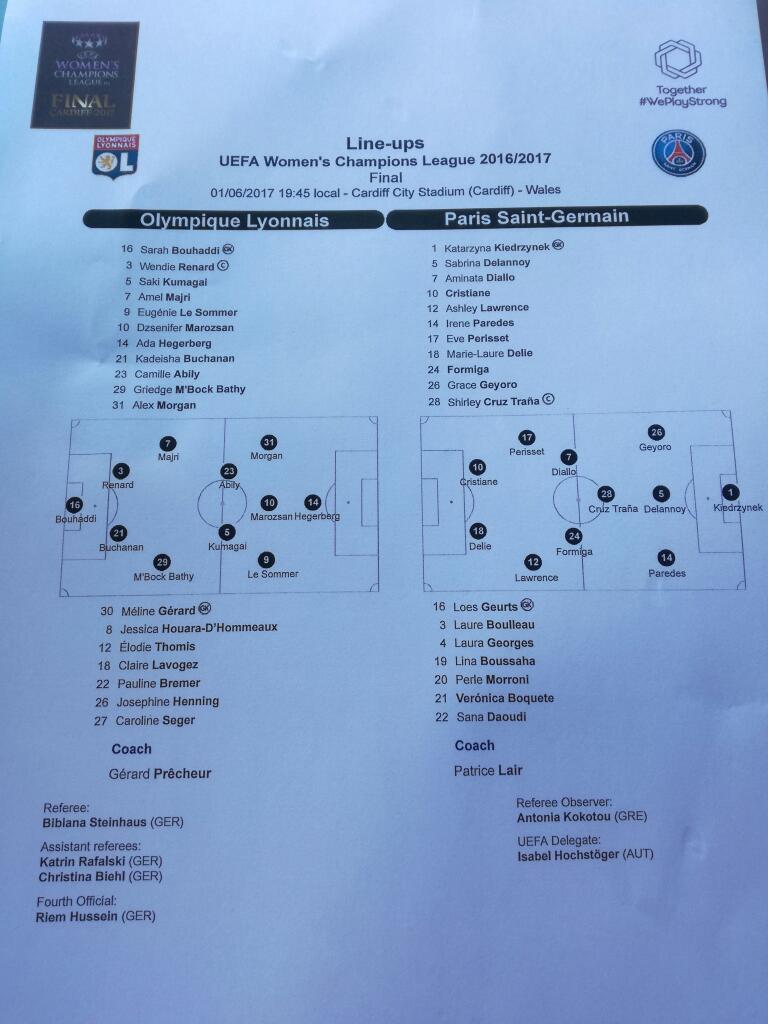 "I've always been proud of my squad," said PSG manager Patrice Lair
"We started early, working hard, but we didn't get the reward for that work this season and I'm very sad about that."
Lair's side were the only team to defeat Lyon this season — a 1-0 league victory in December — but they couldn't quite get over the line when it mattered.
"We were strong against Lyon two times in a row and we played the best football we could," he added.
"I wish things could change but we didn't have all the weapons we wanted."
He spoke about the unfortunate events at the end of the game, where Kiedrzynek stepped up to take a penalty before several of the outfield players.
"She did a great match and [the penalty] could have gone either way. It's just sad that that's the way it ended and she missed her kick.
"She had a big match and she was good I the air, maybe she lacked a bit of experience in her penalty kick. At least she went for it, and not every player did that."
Lyon manager Gérard Prêcheur was buoyant after the win, and took the opportunity to congratulate himself on his recent achievements.
"For once I would like to talk about my own case," he said.
"I'm extremely happy. I was glad I was able to respond to the challenges as it's tough to manage 26 international players.
"Alex Ferguson says it's impossible to win as a manager without the support or trust of one's president. I'm happy I did it as always said that only thing that counts is result, we showed it on the pitch and that makes me very proud."