By James Nalton.
"Didi looked like an African icon, standing at the centre of the field, where he ruled. From there he would shoot his poison arrows."
Eduardo Galeano's description of Waldyr Pereira at the 1958 World Cup in Sweden sums up the majesty and technical brilliance of a player who was one of the greatest of all time.
But Didi, as Pereira is more commonly known, is rarely listed among the game's greats and almost didn't go to that World Cup.
Despite having scored a free kick in a qualifying match against Peru which sent Brazil to Sweden, there were fears that the then 30-year-old's laid back style would combine with his advancing years to make him ineffective at the tournament.
But both his experience and his style were to prove vital.
"It would be funny if they left me out after I had paid for their ticket," remarked the midfielder.
Four years earlier, at the 1954 World Cup in Switzerland, Didi scored two goals in the group stages which helped Brazil to the quarter finals.
Brazil were knocked out after a fiery encounter with a Hungary side containing Mighty Magyars, Sandor Kocsis and Nandor Hidegkuti (Ferenc Puskas sat on the bench), in a game became
known as the Battle of Berne
.
Despite Brazil's exit, Didi now had his tournament experience, which he used to great effect in 1958.
Even with the presence in the squad of the legendary Garrincha and a 17-year-old Pelé, Didi wound up being named player of the tournament in Sweden, thanks to the midfield scheming which knitted this impressive side together.
Brazil won the World Cup for the first time and Didi was the star, and though Pelé and Garrincha remain the more revered players from this era, in terms of his physique, style, and game intelligence, Didi was ahead of his time.
"I treated the ball with as much care as I give my own wife," said Didi in an interview with Roberto Moura, reflecting the trend for Brazilians to refer to the football as a female.
This tendency is encouraged by the fact that a bola is a feminine noun in Portuguese, as pointed out by Alex Bellos in his book Futebol: The Brazilian Way Of Life.
"I had tremendous affection for her because she's tough. If you treat her badly she will break your leg!"
Didi's care of the ball was part of the reason, along with defensive midfielder Zito, that Vicente Feola was able to successfully introduce Garrincha and Pelé later in the tournament, and send his triumphant Brazil team onto the pitch in what was then an innovative 4-2-4 formation.
The Didi mould of midfielder is now back in fashion. He could have easily played further forward (which is where he would occasionally end up), but on top of the technical ability, skill, and physique (if not always speed) which would have allowed for this, he also had a good range of passing and an awareness of the bigger picture which all the best central midfield visionaries possess.
Midfield players who boast the skills of a forward are now some of the most sought after in world football, but there was another area of the game in which Didi paved the way for others, that had an even greater impact.
Free Kick Creator & Innovator
There is video footage of Didi, wearing the black and white stripes of Botafogo, practising free kicks with both feet.
With his right foot he drives through the ball with his bootlaces, occasionally applying some extra bend by cutting across the shot so the final point of impact is with the outside of his boot.
These curling efforts are even more pronounced with his 'weaker' left foot, as he bends the old fashioned heavy ball as if it were a lightweight plastic flyaway being carried by the wind.
The late fade he was able to get on these free kicks, as they bent in or out, up or down, as they approached the goal, gave the illusion he was in control of the ball even after it had left his boot.
One of his many magical after effects saw the ball dip or curl at the last minute, thus inventing the folha seca (dry leaf) shot.
The foglia morta (dead leaf) technique had originally been practised by Italian forward Giuseppe Meazza, who used the weight of those early twentieth century footballs to his advantage. But Didi's shots took this to the next level, and he incorporated a range of free kick styles with both feet.
The strike against Peru which helped Brazil qualify for the 1958 World Cup brought his unique technique to a wider audience.
"From that point such kicks became a sort of trademark of mine and everyone asked me, to the point of driving me to desperation, exactly how I did them," he said.
These techniques have been applied more famously in recent times by the likes of Cristiano Ronaldo, Gareth Bale, Didier Drogba, David Beckham, Andrea Pirlo, Roberto Carlos and the greatest of them all, Juninho Pernambucano.
Nowadays, the players have the advantage of modern lightweight balls and expensively engineered boots, but Didi was the pioneer in much tougher conditions.
Born 150 miles up the coast from Rio de Janeiro, in Campos dos Goytacazes on the banks of the Paraíba river, Didi grew up playing football on the makeshift dirt pitches surrounding his home.
"As a kid I had to work as a peanut seller to help my parents," he said.
He saw football as a way to make money for himself and his family, as gifted players from poor backgrounds, especially in South America, still do to this day.
"A man can speak lightly of poverty, only if he has never experienced its terrors."
These rough street games on rough street pitches were the making of him, but they almost saw his football career end prematurely.
At the age of 14 he picked up a routine scrape in one such kickabout, and though initially not serious, the wound became infected and doctors even feared that his right leg would have to be amputated to stop the infection spreading.
Luckily, such drastic measures weren't required, and after spending six months of his teenage years in a wheelchair, Didi's leg healed fully.
The experience spurred him on, and may explain his determination to play the game with both feet, and also his ability to help others overcome adversity.
Pelé's Mentor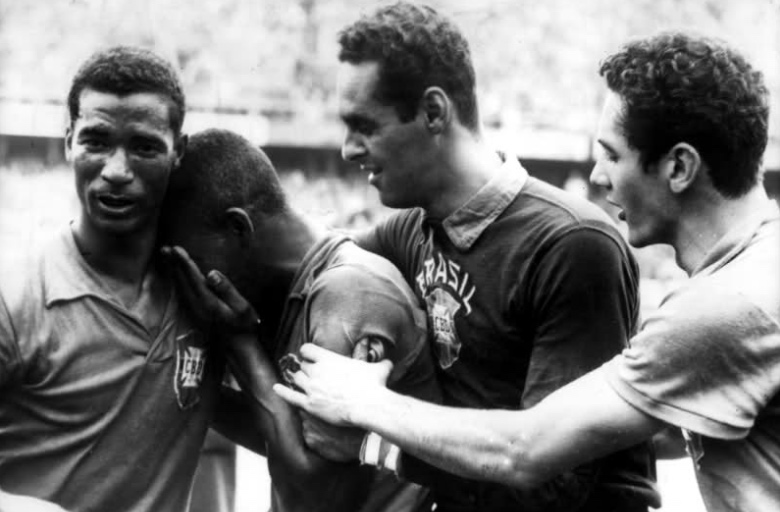 "He invented a lot of important moves, like the dry leaf and the three-toe pass," said Pelé, who went on to explain his team-mate's influence during his first World Cup.
"Didi was very important for me in 1958. I was only 17 and he was like an older brother. For him, playing football was as easy as peeling an orange."
In his book, Why Soccer Matters, Pelé discusses Didi's influence at length, explaining that in the quarter-final against Wales, the midfielder kept him fresh during the first half so he could exploit the opposition later in the game.
"The first half ended scoreless. I didn't really get many chances with the ball. But Didi later said that he had been saving me during the first 45 minutes of the game," recalled Pelé.
"He believed that, because of my age, no one would really pay attention to me — they might even forget about me entirely.
"I was a boy no one needed to fear; and sure enough, the defenders' attention seemed to fade as the game went on."
Pelé scored the winner in the 66th minute.
"Didi's experience and demeanour were precisely what our excitable group of novices needed," continues Pelé.
"He was so cool, unruffled, and poised that many people compared him to a jazz musician.
"Another one of his nicknames was 'The Ethiopian Prince', which was far cooler, by like a million degrees, than 'Pelé'."
The respect Pelé has for a player that, reading these accounts, could be described accurately as his mentor, is there for all to see.
Didi had instilled a psychological steel within a player who would be the best Brazilian footballer of all time, and this mentality would be a big asset during Pelé's rise to the top of world football.
Calmness Personified
The then Botafogo man possessed a powerful shot in open play, as well as from free kicks, and this was demonstrated by his goal in the 1958 World Cup semi-final against France.
But he was to be overshadowed again as the teenage Pelé bagged a hat-trick.
This saw his side reach the final, and Brazil and Botafogo team-mate Mario Zagallo
tells a story
of Didi's reaction to going a goal behind early on in the match against the hosts, Sweden.
"I was already in position out on the left wing, ready for kick-off, and I saw Didi walking slowly with the ball in his arms.
"I ran over to him, shouting in desperation: 'Come on Didi, we're losing!'
"He just said: 'Calm down lad. We're still a better team than they are. Don't worry, we'll turn this game around soon enough.'
"Once we heard that, everybody suddenly calmed down. We equalised five minutes later and the rest is history. That's what Didi was like: he made everything seem easy."
In Why Soccer Matters, Pelé also remembers the incident:
"After that first Swedish goal it was Didi, of course, who picked up the ball and walked very slowly with it back to midfield, speaking very calmly to each Brazilian player he passed along the way. 'Very good, that's over,' Didi said cheerlily. "Time for us now!'"
They went on to defeat the hosts 5-2 in the final thanks to two goals apiece for Vava and Pelé, plus another from Zagallo.
Didi was named player of the tournament for his consistent contributions throughout, and telling performances in the latter stages.
Madrid Malaise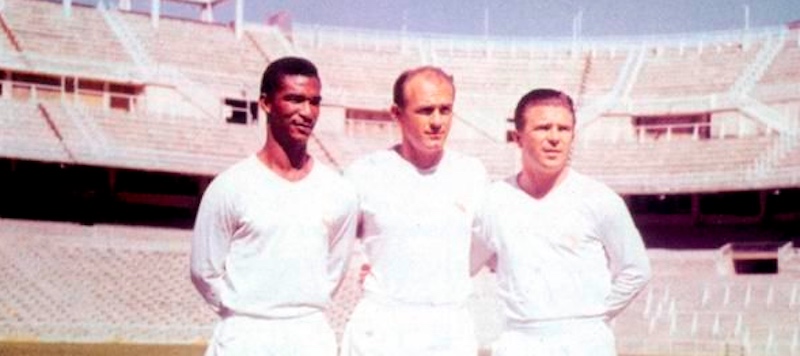 These performances alerted Real Madrid, who had been dominating the newly established European Cup, winning every final in the 1950s from its inception in 1955.
They signed Didi in 1959, but his talent, and therefore his performance level, was stifled by the ego and authoritarian rule of Alfredo Di Stefano at the club, who accused the Brazilian of being lazy.
"They say you've come to replace me. Well, you're too old and you're not good enough." said the Argentine, who by this time was playing his international football for Spain.
Despite his own physique, which was impressive for a player in this era, Didi wasn't impressed with the style of play in Spain, which he believed was unnecessarily physical.
"Human intelligence and reasoning ability divides us from the animals, so what is a football player who depends solely on his physical strength," he said, later describing his time there as "the greatest disillusionment in my life."
Agne Simonsson, Sweden's centre forward and a goalscorer in the '58 final, joined Real Madrid at the same time as Didi, but suffered the same fate under the rule of Di Stefano.
Simonsson ended up being shipped out on loan to Real Sociedad, before returning to Sweden with his hometown club Örgryte IS.
Once realising the situation there, Didi didn't hang around for long either, and by 1960, after a short stint on loan at Valencia, he was back at Botafogo.
The Brazilian Ministry of Sport tells Didi's side of the Madrid story, referencing the 1962 World Cup in Chile where Didi's Brazil faced Di Stefano's Spain.
"Although Spain had been a tough nut to crack, the most anticipated match[-up] ended up not happening. In 1959, Didi had left Botafogo to play for Real Madrid.
"The Argentine-born Spanish Alfredo Di Stefano, captain and sort of owner of the team, in an act of jealousy, boycotted the Brazilian player.
"Didi went back to play for Botafogo. Di Stefano said that the midfielder 'could not play for Real Madrid' because he 'had failed to embody the spirit of the team.'
"In Chile, however, he fled the duel with Didi, claiming an injury."
Second Cup & Coaching Cubillas
The 1962 World Cup win in Chile is one of Brazil's least celebrated, but it remains the last time a nation won back to back World Cups.
An injury picked up by Pelé during a group stage game against Czechoslovakia ended his tournament and Garrincha went on to be its star, but Didi was again present in the side throughout.
The group stage game against Spain should have given him the chance to outshine Di Stefano on the big stage, but the Real Madrid man pulled out of the clash.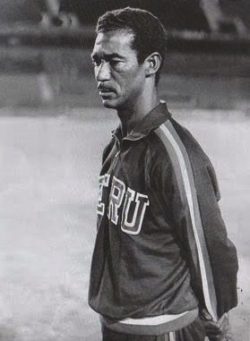 After this second World Cup triumph, Didi went on to pursue a career in coaching, first at Peruvian side Sporting Cristal and then with the Peru national team, whom he took to the quarter finals of the 1970 World Cup only to be knocked out by a Brazil side managed by Zagallo.
Pelé respectfully kept his name off the scoresheet against his old mentor, but went on to open the scoring in the final against Italy as Brazil won their third World Cup — their first without Didi.
21-year-old Peruvian, Teófilo Cubillas, who would go on to become his nation's greatest ever player, scored five goals in the 1970 tournament, and praised Didi for honing the shooting technique which would drive his future success.
"Didi was responsible for my free-kicks, shooting, and for making me, a right-footed player, into a two-footed player," said Cubillas, who won the Best Young Player award in 1970, just as Pelé had done in 1958,
The Peru legend took the Brazilian's advice on board, and went on to score five in the 1978 tournament eight years later, after which he was named in the competition's All-Star Team.
Didi deserves recognition for his tutelage of Pelé and Cubillas alone. The two players are held in the highest of regard in their homelands, globally in Pelé's case, and Didi had a big influence on both early in their careers.
When adding the success Didi had as a player and the innovations he made on the pitch, he merits the highest of praise and should be considered among the greatest footballers of all time.