Bundesliga Zeitung, by Andy Wales.
Bayern München against Borussia Dortmund, or Der Klassiker as it's come to be known in recent years, is the Bundesliga's showpiece event, its biggest game.
It's perhaps become something of a cliche, but it really is true that if you are outside Germany, it can be difficult to fully comprehend just how huge an institution that FC Bayern München is. For decades, they have dominated German football, on and off the pitch.
The transfers of Mario Götze, Robert Lewandowski and Mats Hummels from arch-rivals Dortmund only added to the powerful reputation of Bayern and the needle between the two clubs.
The incredible treble-winning 2012/13 season under Jupp Heynckes was followed by Bayern being almost untouchable domestically during Pep Guardiola's three-year reign. Since then though, their invincibility has gradually begun to be eroded.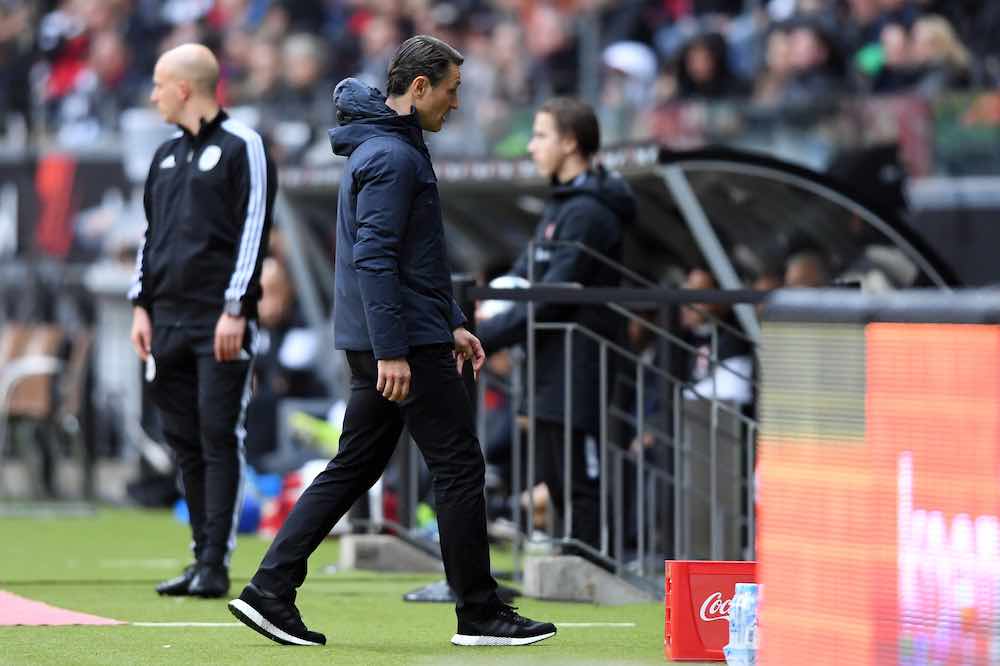 Under Niko Kovac this season, the aura that once surrounded Bayern had practically evaporated. The machine had been reduced to a collection of mere mortals.
This already high-profile game had its focus further intensified this past week due to Bayern and Kovac parting ways after last week's humiliating 5-1 defeat in Frankfurt.
Following a closed training session and a meeting with his bosses, news broke that Kovac had offered his resignation. Bayern released a statement to announce his departure.
This is from Bayern's official press release. pic.twitter.com/yBeDpO44rL

— James Nalton (@JDNalton) November 3, 2019
At that moment, the build-up to the game changed.
Any talk of dressing room unrest and rumours of players lacking belief in Kovac became of little consequence. Coach Hansi Flick was placed in temporary charge of the team and oversaw a 2-0 midweek win over Olympiakos in the Champions League.
Despite speculation linking the likes of Arsene Wenger and Ralf Rangnick to the job as a short-term option, and Ajax's Erik ten Hag or PSG's Thomas Tuchel as long-term appointments next summer, Flick clearly set about the task at hand.
The disheveled and beleaguered Bayern on show in Frankfurt were quickly transformed into a more organised unit and physical presence at the Allianz. What a difference a week makes.
How Lucien Favre, who has come under scrutiny himself this season, must rue the fact that Bayern and Kovac parted ways last Sunday. That confidence-sapped Bayern team would surely have struggled to impose themselves upon their rivals.
Instead, Bayern were more combative in the middle of the pitch and used the time and space they were afforded in attacking areas. Robert Lewandowski was allowed the freedom of Munich to make a simple run and head home completely unmarked to give Bayern an early lead.
The defensive fragility that has too often haunted Dortmund this campaign was on full show and only Roman Bürki prevented things getting worse for the visitors before half-time. Flick's game plan was working well as his side dominated a Dortmund team that was too static in possession and too slow in transition.
Other than a forced first-half substitution of the injured Jadon Sancho, Favre did nothing to change what was happening in front of him. That failure to respond meant the pattern of the first-half continued and Bayern doubled their lead soon after the restart. It took a VAR review, but Serge Gnabry finished off a move that again exposed how slow Dortmund were to react in transition.
In attack, Dortmund lacked a cutting edge and were crying out for some control and creativity in midfield. Eventually, Favre introduced Paco Alcacer and Marco Reus, adjusting the team shape, spreading the midfield. But it only gave Bayern more space, and as Dortmund pushed for a way back into the game, the hosts were able to pick them off.
Another Lewandowski goal ended the contest and an unfortunate own goal for Hummels compounded the misery for those in yellow and black.
In all, this game was too easy for Bayern. Easy to find spaces, easy to create chances and Dortmund were just too easy to play against. The 4-0 final score did not flatter Bayern, if anything, it flattered Dortmund.
It is no exaggeration to suggest that relegation favourites Paderborn threatened Bayern more than Dortmund did in this game. Even more damning when you factor in that Bayern played a makeshift back-four.
Heavy defeats at the Allianz are not new to Dortmund, now conceding 25 goals in their last 5 visits there, but Favre has to find a way to respond to this non-display. Dortmund were many people's title favourites in pre-season and seemingly have the players to warrant such lofty expectations, but they look anything but title-winning material at the moment.
This win moved Bayern into third place in the table, two points ahead of Dortmund. As much as Favre will be questioned, once again, for his tactical approach and gamble on Sancho, credit should go to Flick for everything Bayern to expose Dortmund's weaknesses.
Late night #FCBBVB post-game analysis.

⚽️#BVB miss opportunity

⚽️#Bayern's Alphonso Davies nullified Jadon Sancho and Achraf Hakimi

⚽️Hansi Flick to remain coach pic.twitter.com/O17IId0EWc

— Manuel Veth (@ManuelVeth) November 9, 2019
Young Canadian winger Alphonso Davies was rightly praised for his performance at left-back, but the final word must be reserved for Lewandowski.
At the age of 31, he looks as good as he ever has and his two goals took his Bundesliga tally to 16 for the season, with 23 in all competitions. Incredibly, he has now scored in each of Bayern's 11 Bundesliga games this season, a new record.
He is due to have minor surgery during the international break and Bayern will hope that he's ready for their away trip to Düsseldorf in a couple of weeks as they look to defend their crown and chase down leaders Borussia Mönchengladbach.