From Kenny Dalglish's title-winning Blackburn team of 1995, through to Pep Guardiola's band of 'centurions', the history of the Premier League is rich in teams that can be considered truly iconic.
However, the Manchester United squad of 1998/99 (hereafter, 'United 1999') is still untroubled at the top in terms of pure silverware. More than twenty years have now passed since that magic night in Barcelona, where the treble was won inside just two short minutes of football, and it is a team that will never be forgotten in the annals of history – even a hundred years from now.
Without further ado, we look at why 'United 1999' could still survive in today's uncompromising, laser quick and pin-sharp Premier League.
Strong Leadership
It all starts with the manager, and the mentor of United 1999 was Sir Alex Ferguson. Those three words still personify what it is to dominate a league for an entire decade, and then come back stronger than ever after a testing transitional period. It is also no coincidence that United never finished any lower than third during the 21 Premier League seasons that Fergie ruled the roost, and dropped six places in the first season after his retirement.
One of Sir Alex's most famous quotes is also his shortest, and it came mere minutes before his men completed the first leg of their 1999 treble, coming from behind to beat Tottenham and recapture the Premier League title. His final words before kick-off were, simply: "Lads. It's Tottenham" – nothing more, nothing less.
That alone underlines the expectation that players would act on their own initiative and treat the opposition with nothing but contempt. The Premier League has no such iron-fisted rulers these days, and that alone provides reasoning for the belief that United 1999 would have just as much mental strength as any other team in the current Premier League.
While there can never be absolute certainty about what goes on behind dressing room doors, there is general consensus that Jurgen Klopp and Pep Guardiola have a more refined way of channelling their frustrations, yet still achieve the same effect.
Thus, for now, United 1999's hypothetical 'derby day' with either of last season's top two is a dead heat, with neither side inwardly wilting under the pressure.
Tactics and Personnel
It seems as though there is a distinct line between 'then' and 'now' where Premier League tactics are concerned.
'Then' is characterised by men of all shapes and sizes lumping a ball towards one of two centre forwards, with a quagmire of a pitch making slick 'tiki-taka' football impossible. The midfielders of 'Then' were either central-midfield growlers or nimble wide-men who could do nothing but cross a ball.
'Now', of course, is all about the multinational side, and how the best talents from the four corners of the globe hit hard and fast on the counter-attack. These days, wingers become impromptu defenders or forwards, displaying astronomic levels of fitness – often twice a week. Midfielders and centre-halves are also required to be more sophisticated, especially in the era of VAR, where any 50/50 can immediately be scrutinised.
Where exactly that dividing line between 'then' and 'now' exists is debatable, but the period around the time of United's treble seems to be a worthy breakwater, with the growth of the foreign influence over the league accelerating distinctly after the millennium.
Naturally, Ferguson was an old-school champion of 4-4-2, which can still work today with a reliable, aggressive midfield captain who can use his vision to overcome the formation's perceived rigidity. Yet, he knew just how much of a surprise the likes of Ryan Giggs and Andrei Kanchelskis – and later David Beckham and Cristiano Ronaldo – could spring in advanced positions.
Reputation alone can provide edge
Though advancements in every aspect of the game over twenty years put United 1999 at a perceived disadvantage, the mere presence of certain players is often enough to force certain teams to drop deeper than usual. This has been a growing element since the emergence of an elite core in the Premier League, of which Manchester United have always been a part.
Statistically, that growth is reflected by the emergence of a 'top-four', which has now morphed into a 'top-six', who will always command a favourable bias, especially within the mainstream markets described in any football betting guide. Thus, United 1999 would be treated with reverence by perhaps every team currently in the bottom half of the present-day table, and while this may lead to a few frustrating blanks for United, defeats would still be a relative rarity.
Club Culture and Coaching
Mental resilience vs physical disparity aside, another perception is that present-day players are coached too much, protected with an excess of junior league divisions, and given unrealistic ideas by greedy agents. Ultimately, the talent required to reach the very top cannot be coached – only refined by coaches who have themselves used natural talent and god-given tenacity to win silverware.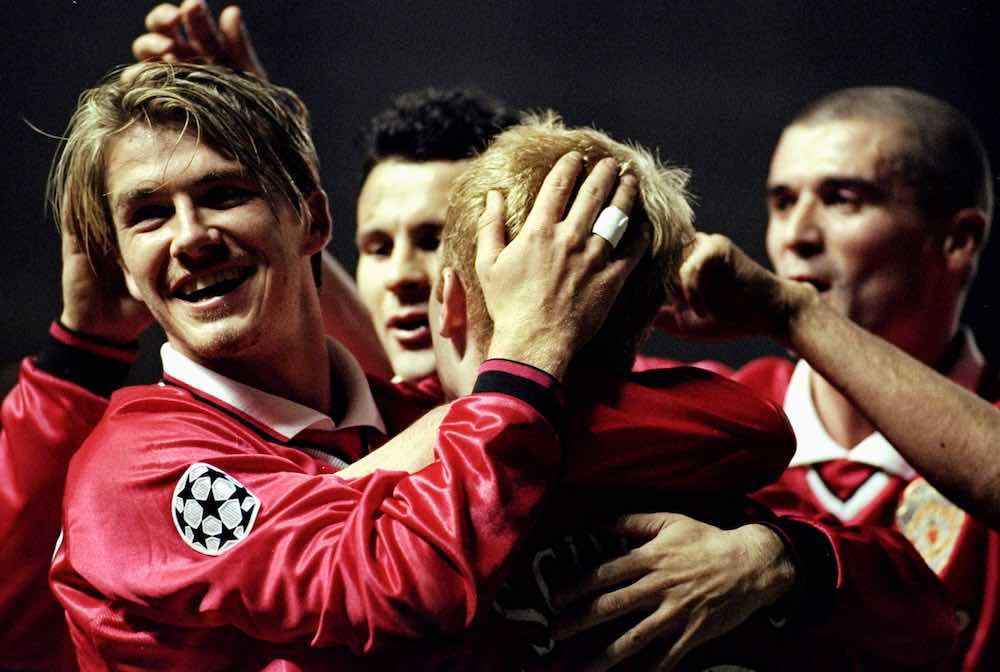 Players like David Beckham, Paul Scholes and Ryan Giggs were born to be footballers, and were precocious talents long before they reached the long arms of scouts and agents. While the Ryan Giggs of 1999 would lose a footrace with, say, the Sadio Mane of today, Mane would still do well to consistently re-enact some of Giggs' finest efforts.
Indeed, goals like the solo run against Arsenal in the FA Cup semi-finals of 1999, or his one-man demolition of Tottenham as an 18-year old in 1992, come only to those who are born with that talent. Even some experienced Premier League players in the league today would be incapable of such feats, ensuring that United 1999 could avoid relegation from the current Premier League at the very least.
Winning Breeds
Teams can have all the pace and fitness in the world, but if there is no serial winner amongst them, then the situation is invariably bleak. Exceptions do exist of course, and the Premier League was rocked in that regard three years ago, when Leicester won the title. In doing so, the Foxes underlined the power that unity can still have, even in an era where most teams are seemingly incapable of achieving dreams of such magnitude.
United 1999, in a very similar way, had a sense of brotherhood on top of the winning mentality and natural ability to go that yard further. While Chelsea would eventually have their spell of dominance after a spending spree on top mercenaries, the success was still relatively short-lived. Chelsea had no legacy like United, and with the older components of United 1999 guiding the relatively newer United players in the default XI, it was inevitable that United would wrest back control of the league.
A haul of five further league titles (between 2007 and 2013) underlines the power wielded by a team with players that are willing to both learn and teach, rather than simply turn up and do their job well (or otherwise) and collect their wages. The desire to play for United 1999, buy into a dream, and self-impose with the knowledge that an agent is not necessarily going to do everything, will always create a more purposeful player.
No title, but a top half finish
While United 1999 would struggle to match the likes of modern-day Manchester City and Liverpool over the course of a two-pronged domestic and European battle, matches against them would be highly intriguing. The likes of Jaap Stam and Roy Keane knew well how to deal with the danger-men boasted by their title rivals back in the day, and any meetings would likely keep us guessing for a surprisingly long time.
Perhaps based on evolved training practices alone, United 1999 would lose narrowly to City or Liverpool. However, they would more than compensate for that in other games, having punctured even the most resolute, conservative, possession-focal of defences week after week, during their title winning seasons of the 1990s and 2000s.
With Manchester United currently underachieving in the Premier League, a significant number of fans would gladly see the current crop swap time periods with United 1999. If nothing else, they would at least see a Red Devils team that dared not show anything less than 100% consistent passion and pride in the shirt.
Overall, a good, solid Europa League place would likely await United 1999 if transported to 2019. At any rate, the Old Trafford faithful can at least be sure that they would school the current Red Devils side, and show them what it really means to play for Manchester United FC.