James Rowe spoke to English manager Tommy Wright for WFi. They discussed his time at Darlington and his move into management.
---
You spent two seasons as manager of Darlington. How do you look back on your time there and what are your highlights?
"When I arrived at Darlington it was off the back of a very successful manager in Martin Gray, who was assistant manager when I played for the club, and he achieved four promotions in five years..
"The club is now at a crossroads. They came to a point where they need to step up to the next level and I believe the long term goal for Darlington is to get back to being a Football League club.
"It meant a lot to me to return to the club as I played there twice as a player, and in my first spell I became top scorer and went on to play for Aberdeen.
"In my second spell, I won the FA Trophy at Wembley. So as a manager I was immensely proud and I felt very privileged to be the manager of Darlington.
"We managed to get players back into the Football League. Josh Heaton (St Mirren), Harvey Saunders (Fleetwood Town).
"We also managed to make a lot of revenue and we managed to build a young squad that was getting a lot of recognition. That was a massive highlight for me and I managed to leave the club in a better financial position and helped improve the structure of the club by creating the academy.
"Darlington now have their own full-time academy, which also generates revenue for the club and gives local youngsters the opportunity to play for the first team. I am proud to have left a legacy at the club."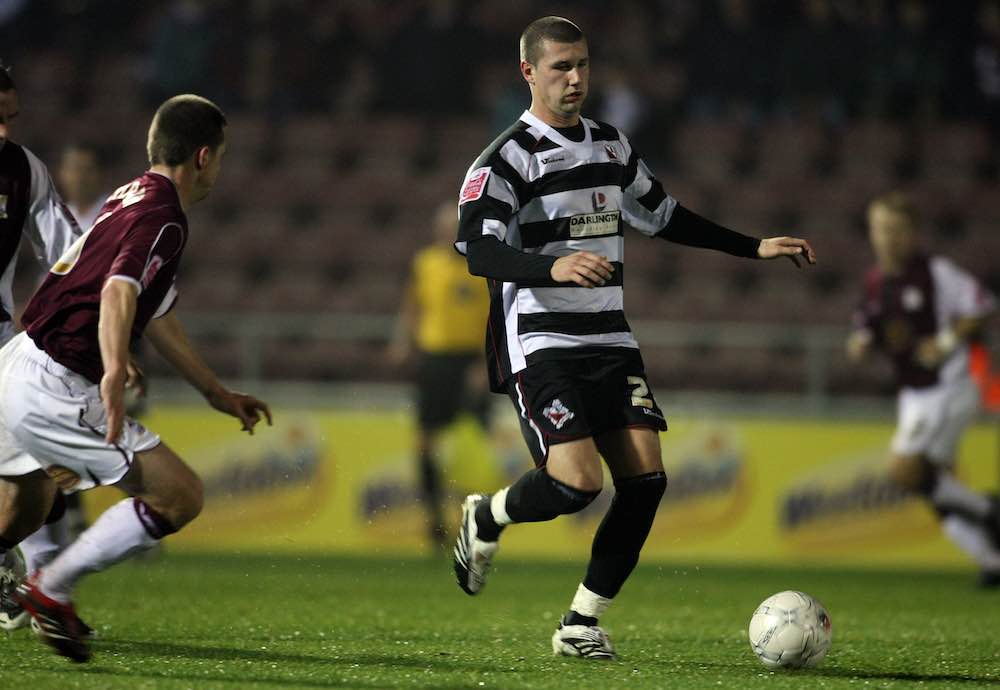 ---
You touched on your time at Aberdeen. You also played for clubs such as Leicester City, Barnsley, and Brentford. How do you look back on your playing career, and do you have any highlights or special memories?
"I have plenty of highlights. It was my goal growing up as a ten year old Leicester City fan, as well as my whole family, to play for Leicester City, and I managed to do it, debuting at Filbert Street in the last season before they moved to the King Power Stadium.
"I made my debut as a 17-year-old at home to Leeds United, which was a massive thing for me. To play in the Premier League at any age is an achievement, but to do it as a 17-year-old fresh out of school was very special.
"I scored my first goal off the bench for Leicester, and then the winning goal against our local rivals Nottingham Forest on my first start for the club was probably my best highlight during my time at the club, as well as gaining promotion to the Premier League.
"I also represented England at under 19 and under 20 levels, playing in a European Championship and World Cup.
"I have to mention playing in Scotland for Aberdeen at Celtic Park and Ibrox Stadium because you do not play in front of 70,000 football fans every week. Those are the matches that you never forget."
---
How do you look back on representing England at youth international level?
"When you are a kid and you start out in football, you get in your school team and you are proud, and then the pride continues in the county team and then the weekend team, but once you become a professional you start to get bigger goals and the biggest one for any footballer is to play for your country at any level.
"I look back on my career and the words I would use are proud and content, although I probably should have achieved more to be honest with you because I had a lot so young.
"Playing in Premier League at 17, scoring in the Championship at 18, and playing youth level for England. I should have not really been out of the professional game at 25 years old.
"I will always have that bit of frustration in me. You need a bit of luck along the way but I think everything happens for a reason, and a lot of the time it is your own fault, but there are also outside factors to consider — a change of manager, for example.
"In terms of England, I am immensely proud and I remember my first goal in my first game when we beat Moldovia 8-0.
"I scored the 6th. I remember scoring two goals in a friendly away in Germany in which Robert Huth played. I had a great forward line around me in Wayne Routledge, Stuart Downing, and David Bentley. I was surrounded by unbelievable talents.
"We went to the under 19 European Championships in Lichtenstein and Wayne Rooney and James Milner had to pull out due to playing for their clubs.
"I remember the under 20 World Cup in the United Arab Emirates, and you go and experience the heat. We had tough games against Japan, Colombia and Egypt but it was an amazing experience."
Tommy Wright shows his appreciation to the travelling Corby fans #MatchAction pic.twitter.com/i6UagcINIY

— Corby Town FC (@corbytownfc) December 27, 2014
---
You played under some very good managers. Were there any that encouraged you to go into management and were you studying them as a player?
"To be honest I think I have taken traits, beliefs and morals from different managers, and training techniques too.
"I reached a point in my career at the age of 26 when the PFA reps come in and encourage you to start going on courses such as accountancy and personal training, but the main one that stuck out for me was coaching.
"I wanted to do my badges and after doing my level two course I was invited on a UEFA B course and it went from there.
"I can see it now, because I am probably at the age now where I would be naturally retiring, but I probably should have not knocked football on the head as such at the age of 28.
"But I got offered a player-manager job at Corby Town, and I found it really hard to turn down at the time. I picked up the management thing really quickly, winning the Southern League and being the last four in the conference North.
"But the one manager that I have kept in touch with throughout my whole playing and management career was Micky Adams. He was the one that gave me my debut and he is the one that I always go to if I need advice.
"Steven Beaglehole who was my Leicester under 19's manager, and is the current under 23 manager. They are the two people that I have looked up to my whole career and they both managed to get the best out of me and they pushed me hard.
"I have worked with great coaches such as Howard Wilkinson, Stuart Baxter, Nigel Pearson, and Les Reed at England under 20 level."
---
Finally, Tommy, you are still very young and you have accrued a lot of managerial experience so far. What would you ideally like to achieve in your career? '
"When I was a player I always had that burning desire to play at the highest level and I was lucky enough to be at the club that I particularly wanted to play for, so for me it was playing for Leicester City who were actually playing in the Premier League.
"I am a long way off managing in the Premier League and I understand that, so for me I did not have that pressure of managing in the Premier League but I think I would like [to] and I will give it my all.
"I would like to get the opportunity to manage a Football League club in future and see where that takes me.
"That would be my desire and at the moment, and I feel further away than six months ago. I left an ex-Football League club and a big club in Darlington, and now I have taken a step back."