James Rowe spoke to former England defender Viv Anderson exclusively for WFi. They discussed his time with Nottingham Forest, Arsenal, and his move to Manchester United, as well as his England career and the work he now does to help former players with Playon Pro.
---
You played ten seasons for Nottingham Forest where you managed to win, among other trophies, the European Cup two times in a row, and played under such a tremendous manager in Brian Clough. How do you look back on your time there?
"I look back on my time at Nottingham Forest obviously being a Nottingham boy, I managed to get into the first team and to go on to achieve the things that we did, makes me very proud.
"I am honored to have been in the right place at the right time with the players that I ended up playing with at Nottingham Forest. So I look back on a fantastic time at the club."
---
You moved on to Arsenal from Nottingham Forest. How do you look back on your time playing at Arsenal?
"At the time I had just got married and everybody had left Nottingham Forest and I was the last one to leave. I got the opportunity to go to Arsenal and to go and live in London and try a new club and have a new adventure.
"I went there with a bit of trepidation after being at Nottingham Forest for all those years. When you go to a new club it can be treacherous but I was made to feel very welcome.
"I had the likes of Tony Woodcock there who I played with at Nottingham Forest and Paul Mariner who I played with when representing England, Graham Rix and Kenny Samsom, and I throughly enjoyed my time at the Arsenal.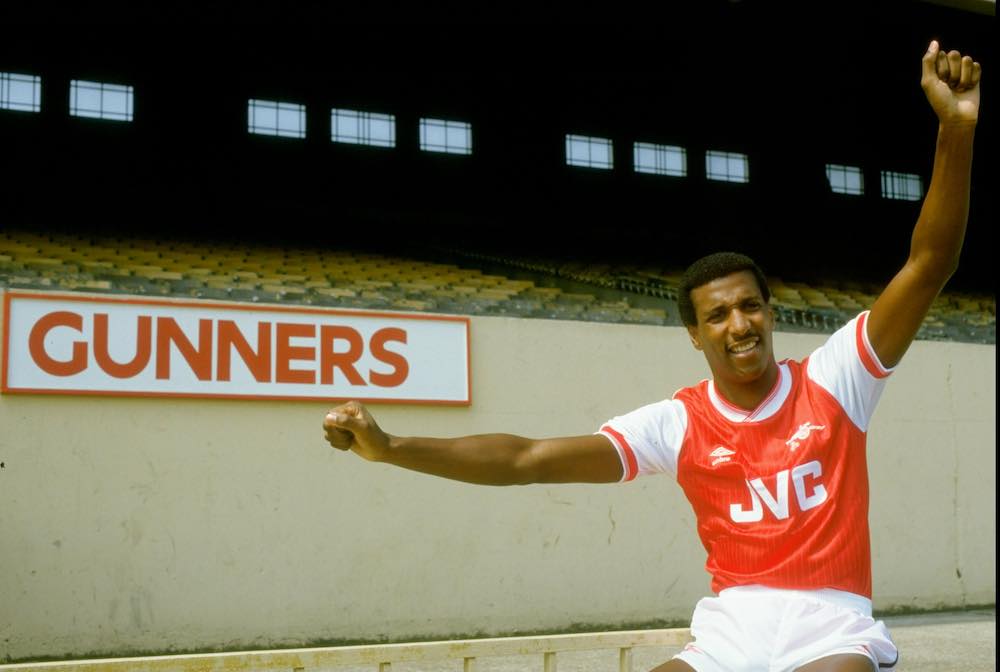 "I would never have left Arsenal had I not been offered a contract by Manchester United. I was offered a contract extension by George Graham at Arsenal and the case went to a tribunal and Manchester United paid £250,000.
"There is a bit of history between me and Manchester United,. I used to train with the schoolboys every summer holiday and over the years I was told that I might not make it at Manchester United, so I returned to Nottingham and got a job. After that Nottingham Forest approached me if I would like to sign for them.
"Manchester United were one of my first loves and provided an opportunity to return to the club. If it was any other club I would have stayed at Arsenal."
---
You were the first Black player to play a full international for England. How do you look back on representing your country and what are your memories of playing international football?
"Yes, I was the first full international and Laurie Cunningham the first black U21 international. My memories of international football are very varied.
"When you start off on the journey of being a professional footballer the last thing that you think of is playing for your country. I never thought that I would end up with 30 caps and going to two World Cups, although I did not play.
"There are frustrations of not playing in World Cups but if I look back now I had a fabulous time playing for England, and to get 30 caps has made me more than happy."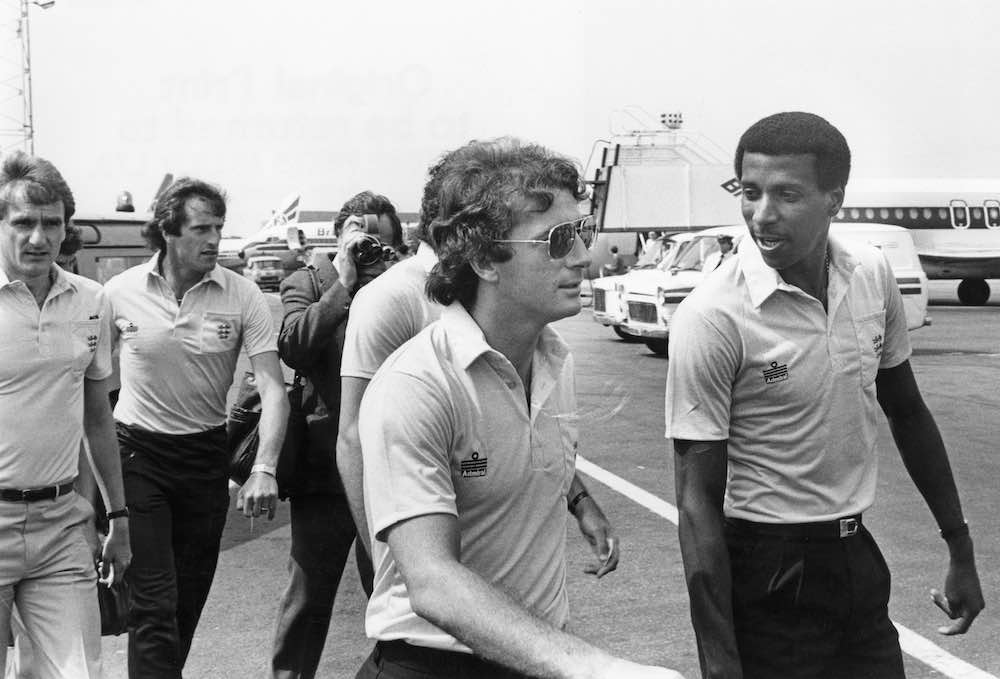 ---
You have played under some tremendous managers: Brian Clough, Sir Alex Ferguson, and Sir Bobby Robson to name a few. Did they ever give you any specific advice or guidance during your career?
"I believe the three managers that you mentioned: Brian Clough, Sir Alex Ferguson, and Sir Bobby Robson — Terry Venables was also my England under 21 manager and I played under Ron Atkinson at Sheffield Wednesday — all those managers mentioned played football the right way and football that I like.
"I can't recall anything specific that they said to me but they were clear in their message of how they wanted to play football.
"Playing and moving and getting in advanced positions, and that has been instilled particularly with the Manchester United ethos for many years.
"They wanted to entertain the fans in the stadium and that rang true with all the managers that I just mentioned."
---
Finally Viv, how do you feel that the game has changed in comparison to when you played?
"The game has got quicker but if I was playing now I would just train that little bit harder than I did before and I think people that question if players from my era could play in the current day, of course we could.
"You would just adapt to the circumstances and the flight of the ball, and training more. I look at my position as a defender and I always remember Brian Clough saying to me: 'Your job before anything else is to stop the ball going in my net. Anything else that you can do going forward is an absolute bonus because I pay you to keep the ball out of my net.'
"Many full backs these days are known for how good they are going forward as opposed to how good they are at stopping wingers, crosses, and keeping the ball out the net, and that has changed a lot.
"I think it has gone more to how many times can a defender get forward in the game opposed to how many times can you stop the winger from crossing or scoring.
---
"I would also like to elaborate Playon Pro, which is what I do now. We look after retired players in their 'next life' as we say.
"I started Playon Pro because the statistics are phenomenal — 75 percent of ex-footballers, in the first year that they retire, get divorced. One of the reasons is that they are used to being in a male dominated environment and going for lunch after training, so when a career stops, what do you do?
"So they are looking for things to do in the next phase of their lives, and we have an app called the Playon Pro App where they can text and speak to one another. We try to give ex-players work opportunities too in the next stage of lives where they do not know what to do and they are waiting for the phone to ring.
"We try to bridge that gap from playing to now when you go into the real world, and we try to help players in as many ways as we can.
"Some might have mental, financial or gambling issues and they can use Playon Pro as a self-help group to text one another on the ap.
"[While] Playon Pro is for the ex-players, we are also going to launch a platform to get the supporters in touch with the stars asking the players to pass on birthday wishes to their family or friends. We want to try to bring the supporters closer to the ex-players."