By Cain Smith.
Kylian Mbappe has quickly become one of the best players in Europe, he is currently Paris Saint Germain's star player and is lighting up Ligue 1.
It feels like Mbappe is still a new talent, and in many ways the 21-year-old is still in the early stages of his career, but at the same time he has already been around for a little while now, having played five seasons of top-flight senior football.
Here's a look at his story so far.
Academy Star
Mbappe started his youth career at semi-professional club AS Bondy where he was coached by his father, Wilfred.
He always played at a level above his own age as there was 'no point' in him playing against children his own age, according to AS Bondy's President Atmane Airouche.
Antonio Riccardi, one of Mbappe's youth coaches stated:
"He was the best player I've ever seen in 15 years coaching here. In Paris, there are many talents but I'd never seen a talent like him. He was what we call a 'crack' (the best)."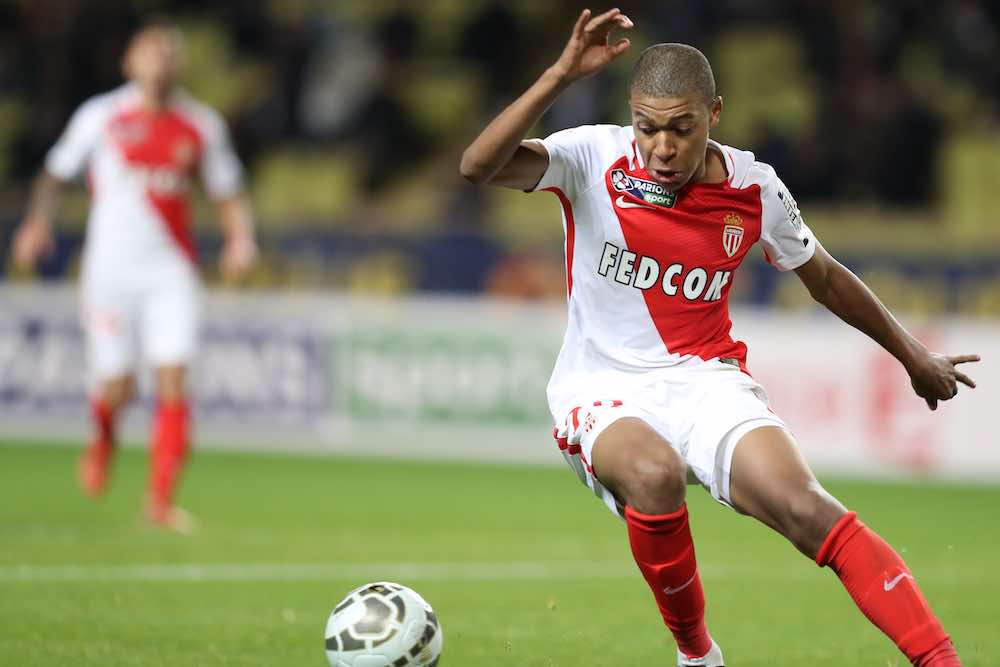 Eventually, Mbappe moved to Clairefontaine academy which is famous for training many of the best players France have produced over the years.
This gave him the opportunity to showcase his ability in front of scouts and his performances alerted many clubs in France and across Europe.
Real Madrid, Chelsea and Bayern Munich, to name just a few, were after Mbappe, and the young Frenchman even travelled to London to trial for Chelsea at 11 years old, playing in a friendly match against Charlton Athletic.
The youngster ultimately decided to stay in France and signed for AS Monaco in 2013.
Making A Name At Monaco
Mbappe worked his way through Monoco's academy and made his first-team debut for the club on December 2nd 2015 in a 1-1 draw against SM Caen. He went on to make 13 more appearances for the first time throughout the 2015/16 campaign.
It was a year of transition for the youngster. He scored his first professional goal that season against Troyes, but it was the only time he found the net.
Considering he was still only 17 years of age, it was expected that Mbappe would need at least a couple of years before being able to thrive in the professional game.
No one could have predicted how quickly Mbappe adapted to senior football, and the following season the French wonderkid made 40 goal contributions (26 goals, 14 assists) in 44 games — absolutely staggering numbers for a teenager.
Not only did he relish his chances in Ligue 1, but he also showed his talent in the Champions League where he scored six goals in nine appearances. Impressively, all of his goals came in the knockout stages of the tournament.
His incredible season helped Monaco top Ligue 1. It was the first time Paris Saint Germain had not won it since the 2011/12 season. The team also reached the semi-final of the Champions League but were knocked out by Juventus 4-1 on aggregate. Mbappe scored Monaco's only goal in the tie.
This stellar season by the Monaco side led to many of their top players being taken. Benjamin Mendy and Bernardo Silva both moved to Manchester City, Tiémoué Bakayoko chose a move to Chelsea and, ultimately, the exciting Mbappe moved to his hometown, Paris.
Moving To PSG
PSG signed Mbappe on the 31st of August 2017, initially on loan with an option to buy for around €180 million (including add-ons). This was done so that the club wouldn't breach financial fair play rules.
Mbappe eventually became the most expensive teenager ever and the second most expensive player ever behind teammate, Neymar.
The extremely high transfer fee after only one full year in the professional game could've been seen as a risky move by Les Parisiens. but this idea is constantly being proven wrong by the French star.
Since joining PSG Mbappe has 90 goals from 122 appearances. In the 2018/19 season, he won Ligue 1 Player of the Year and Ligue 1 Young Player of the Year, after scoring 33 goals in 29 appearances.
He has been integral to the side's domestic success, winning Ligue 1 in 2017/18 and 18/19. They also sit top of the table in the current campaign, but it is yet to be decided due to the Covid-19 pandemic.
He also has one Coupe de France, a Coupe de la Ligue and a Trophée des Champions with PSG, yet the club is yet to repeat this success in Europe, which is why there has been speculation surrounding a move to Real Madrid
World Cup Glory In 2018
His performances for PSG were impressing everyone across Europe, but 'it was only Ligue 1'. His performances in the Champions League and the World Cup would be analysed more intensely.
France had a stellar World Cup in Russia, eventually emerging victorious. Mbappe won the World Cup Best Young Player award as well as netting four goals in the competition.
Two of his goals were crucial in the 4-3 win against Argentina in the Round of 16, and his fourth goal came in the Final against Croatia where he became the second-ever teenager to score in a World Cup Final (the first was Pelé is 1958 — good company).
His performances during the tournament certainly showed the entire world that he was already one of the best players in the world.
The Future
In 2018, Mbappe placed fourth in the Ballon d'Or rankings and then sixth in 2019; but he will be striving to win the award in the coming years.
The 21-year-old is still yet to win the Champions League and PSG have been unable to reach the semi-finals of the competition since 1995. It's for this reason Mbappe could look for a transfer to find success elsewhere in Europe.
Real Madrid is the obvious candidate, and being able to prove his worth in multiple countries will be something he would look to do in order to replicate his idol, Cristiano Ronaldo.
Mbappe is already one of the best players in the world, and at only 21 he can only improve further.
Whether he stays in Paris or not, he will clearly be a world-class player for years to come and we should expect many more awards and trophies to come his way.