By Chris Smith.
Since joining Bayern Munich from Vancouver Whitecaps in 2018, Alphonso Davies has adjusted brilliantly to life in Europe. 
Not content on working his way through Bayern's youth ranks, Davies has already established himself as the Bundesliga champions' starting left-back and in the process, he's become the talk of European football right now.
Of course, it isn't just in Europe where Davies is being watched and revered. Back home in Canada, fans are keeping a close eye on his progress, with his potential success in the Bundesliga possibly holding the key to national team prosperity, as well as opening up further soccer markets in North America as a whole.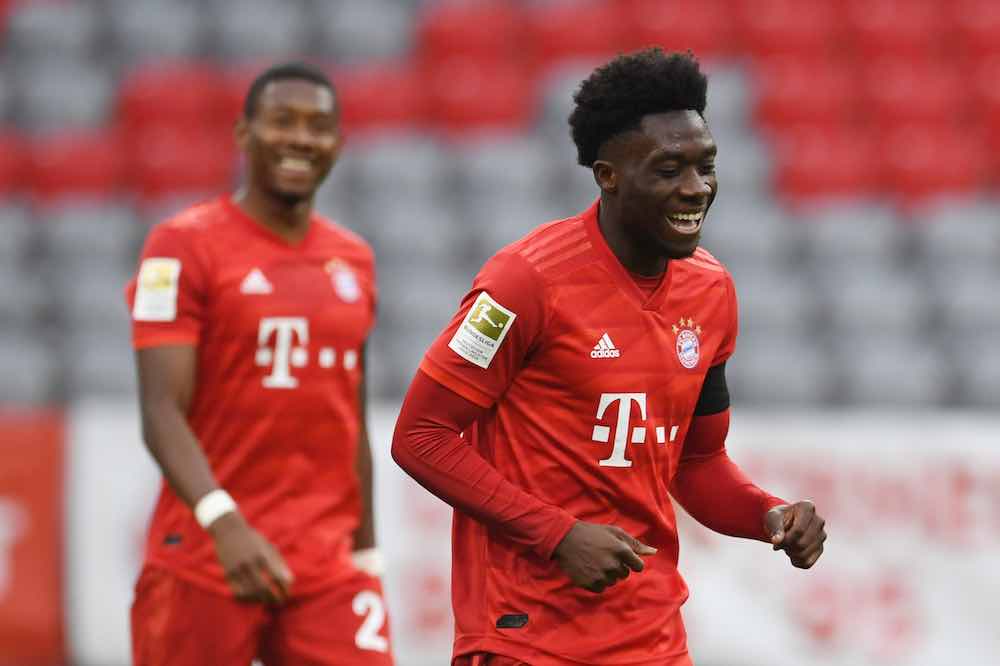 Speaking exclusively to WFi, former Ipswich Town, Chelsea and Canada national team goalkeeper Craig Forrest tells us of his admiration for Davies' journey from a Ghanaian refugee camp, fleeing war in his parents' homeland of Liberia, to one of the world's biggest clubs.
"Just the story of Alphonso, where he and his family came from and the hardships they had before they got to Canada, it's incredible," he said.
"Really, within 15 or 16 years, he finds himself at one of the very biggest clubs in the world, playing with a smile on his face."
Opening Up New Markets
As is the battle faced throughout the North American soccer market, Canadian sides have to compete with the giant NHL (Ice Hockey) and NBA (Basketball) teams in the region.
But Forrest believes Davies' emergence could elevate soccer to a national audience, while also inspiring the next generation of young talent in Canada.
"It's been pretty exciting here," Forrest adds. "Obviously, in Canada, we have Ice Hockey that's the number one spectator sport. We also have basketball — the [Toronto] Raptors won the NBA title last year — so there's a lot of competition for sports and the sporting entertainment dollar.
"In Canada — even going onto apps like The Zone — unless you're a real soccer fan, you're not going to get that platform. It's difficult to just fall upon soccer on TV.
"So the Alphonso Davies situation is great because it exposes him to the general public here at a limit that we've not seen for a really long time and that's great for development and inspiring young players in Canada.
"I'm delighted for him and Canadian soccer, and the national team is going to benefit having him in the team during World Cup qualifying."
"There was lots of interest in Alphonso but a lot of teams were wondering if he could make the step from MLS to the Bundesliga"
This season alone, Davies has netted two goals and seven assists across Bundesliga and Champions League play, most notably impressing in Bayern's 3-0 win over Chelsea at Stamford Bridge in February, shortly before Coronavirus put a halt to top-level football. Davies hasn't let up since the return of the Bundesliga, grabbing a goal and an assist in Bayern's 5-2 win over Eintracht Frankfurt recently.
Alphonso Davies é um MONSTRO!pic.twitter.com/S1FaadTMyw

— Sala12 (@OficialSala12) May 23, 2020
This quality of end product may seem rather impressive for a 19-year-old still transitioning from MLS but, despite there always being a certain level of caution afforded an emerging talent, Forrest says Davies' abilities were there for all to see during his Whitecaps days.
"He's an exceptional talent, incredibly quick and settled right into Bayern Munich," said Forrest. "Obviously, I watched him at the Vancouver Whitecaps and knew that there were people talking about him.
"There was lots of interest in Alphonso but a lot of teams were wondering 'can this young player make the step from MLS to the Bundesliga or Bayern Munich?' We thought he could but he had a long way to go.
I can confirm Alphonso Davies has been the fastest player on the pitch so far, clocking a top speed of 33.83km/h 🇨🇦🏃‍♂️

He's also made the joint-highest number of sprints (20) of any player on the pitch 💨#Bayern #BundesligaIsBack pic.twitter.com/hjWdCUw2LO

— Chris Smith (@CJSmith91) May 17, 2020
"Well, for him to do what he's done so quickly, getting into the team and establishing himself in a side that had arguably the best left-back in the world in David Alaba, and then the way things worked for him to get into the side, he hasn't missed a beat and he's looked incredibly good. Dangerous and way beyond his years, so it's a terrific story all around.
"His delivery in the box, he's done it consistently where he gets down the line with incredible pace and looks constantly dangerous."
"Some people were questioning what he was doing putting Alphonso Davies at left-back"
During his MLS days, Davies was a lightning-fast winger, using his speed and skill to glide past full-backs before both scoring and creating goals. But as much as that makes his transition to left-back for Bayern impressive, it is important to remember this is the position Davies has most often found himself playing at international level with Canada.
This, as Forrest alludes to, might be the key behind Davies' remarkably short adaptation period which has not only seen him emerge as an elite attacking threat, but also a fantastically reliable defender as well.
"For the Canadian national team, he was actually put at left-back by the manager [John Herdman] and some people were questioning what he was doing putting Alphonso Davies there," says Forrest.
"Now, left-back for Canada and left-back for Bayern Munich are two different things. How does Canada get the best out of him, where do they play him? Well, in that Bayern Munich side, he pushes on and with the talent that they have, he's fit right in and he really is something."
"We have to think we have a shot for the 2022 World Cup"
Canada will host the 2026 FIFA World Cup alongside the United States and Mexico and, as a host nation, should be afforded an automatic qualification spot to the tournament, although that is not yet set in stone.
However, no matter what the outcome is for Canada's participation in 2026, Forrest believes sights should be firmly set on Qatar 2022.
"When I talk to the players involved at the moment, 2022 is what they're looking at," he said.
"I always say as a professional, 2026 is something that is at the corner of your mind if you're going to be of age, but they're all thinking of 2022, and they should be because who knows how this qualifying is going to go? What kind of tournament or system will there be? That might play well into Canada's hands."
The World Cup qualification process in the Concacaf region is long and, for the layman observer, extremely complicated. The top-six ranked teams in the region qualify for what is known as "The Hex", while every other nation would go into a long series to earn the right to play-off against the fourth-placed team in The Hex — an incredible amount of games to play for what is essentially a one-off chance for World Cup qualification.
Canada's place as a top-six Concacaf team hasn't always been assured but with coronavirus having a serious effect on the global game, World Cup qualification might now have to follow a very different route.
However, regardless of which way it goes, Forrest believes young talents like Davies — who scored the opening goal as Canada beat the United States for the first time in 34 years in October 2019 — and Gent's Jonathan David can finally make Les Rouges enough of an attacking threat to get over the line and qualify for a first World Cup since 1986.
"Is Canada one of the top three in the Hex? At the moment, that would be a push but they could possibly be," Forrest tells us. "Then the conversation has also been whether it's better to go through all the 'punch-bag' small island nations in the Caribbean to come in with momentum against that fourth-placed team that has been beaten up against the likes of USA and Mexico.
"I don't think that's the way qualifying is going to go now with what's happened so having the likes of David and Davies, and the extra talent of Jonathan Osorio from Toronto FC, who is a little bit older with a good head on his shoulders, we have never seen anything in Canada before with that attacking force.
"We've always been strong defensively and had players in the UK and Europe in defensive positions, but only ever had attackers in lower divisions. So the chances of scoring now have never been greater in our history. That's exciting and with that, we have to think we have a shot for 2022.
"It'd be nice to qualify. You don't want to come to 2026 never having qualified for a World Cup since 1986 and being gifted into the tournament. It's nicer to have qualified for one before so we're coming in with some merit.
"These guys are only around 20 years old. It's amazing that we've got this going on all at one time."
At club and international level, and on the domestic viewership front, it's clear to see Davies' move to Bayern Munich and subsequent success has and will continue to have a huge impact on soccer in Canada.