By Jerry Mancini.
It had been a while since Timo Werner last scored a goal. The forward's recent 'drought' dates back to February 22nd against FC Schalke 04, a span of four games across just over three months.
The scoring drought came to an end Sunday afternoon, though, as RB Leipzig won 5-0 against FSV Mainz 05 with Werner leading the way with a hat-trick.
Back to winning ways and very happy about my hattrick! ⚽️⚽️⚽️💪 @DieRotenBullen pic.twitter.com/5VjU3mOJq7

— Timo Werner (@TimoWerner) May 24, 2020
The Bundesliga's current leading goalscorer, Robert Lewandowski, has Werner breathing down his neck.
The forward looks set to overtake the top scorer as he's now just three goals behind. In the recent two Bundesliga seasons, Lewandowski was the league's leading marksman and Werner seems to be on a mission to end that streak.
The 2019/20 Bundesliga season has been the best in Werner's career and he continues to impress as he increased his tally to 24 goals — beating his previous best of 21 in the 2016/17 campaign.
The forward's play has been outstanding as he's displayed great pace and versatility, operating anywhere along the front line. Werner's ability to play in many positions on the pitch proved difficult for Mainz to defend against.
The build-up to Leipzig's first goal had Werner playing as a No.10. The forward played in the hole behind Yussuf Poulsen when Leipzig were in possession. It allowed the forward to make the late run for the goal, while not being tracked, and execute a nice shot following a cross from Konrad Laimer.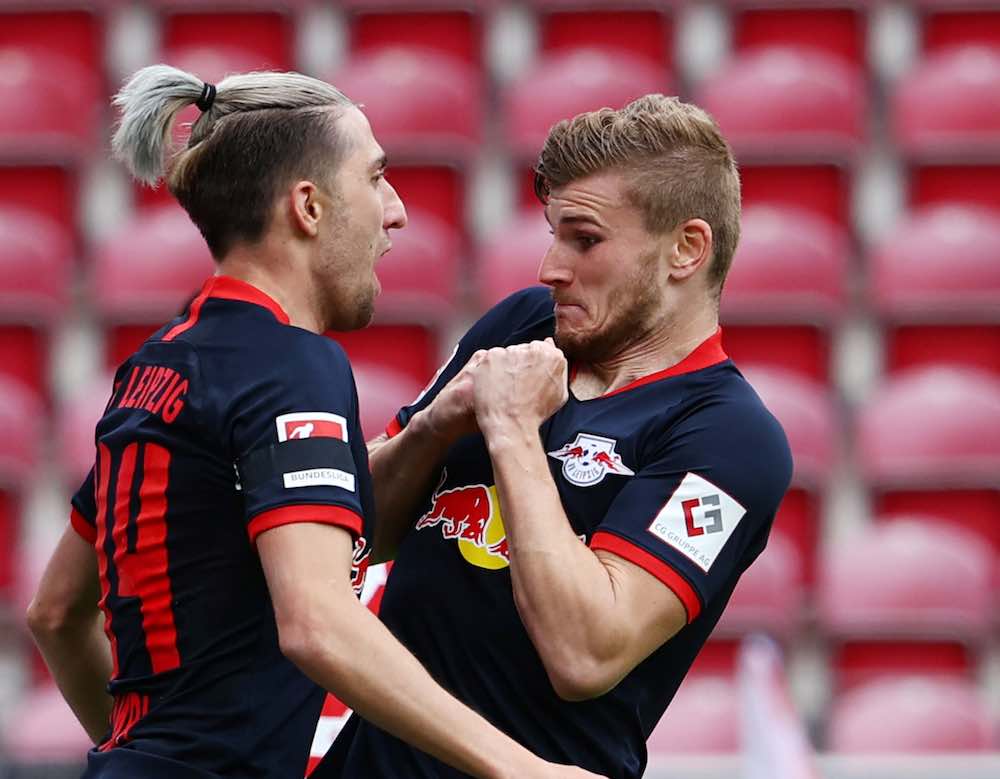 His ability to read the play and use the space which is given to him, in addition to his intuition of when to make a run, poses a threat which makes it very difficult for opponents to defend against him.
Aside from finishing with three goals, Werner had a total of eight shots on goal and made two key passes. He also attempted 42 passes, with a success rate of 76% – not bad for a forward.
Staying an additional season with Leipzig has been vital to Werner's development. Last season, Bayern Munich decided not to make a move for the German striker, who seems very happy to have remained at Leipzig anyway and has spoken highly of the way he has been able to develop under his current manager, Julian Nagelsmann.
"I can't answer what motivated Bayern back then," he told Bild. "I am happy and satisfied that I extended my contract here and played in Leipzig this season.
"In my eyes, I have developed further under Julian Nagelsmann and have matured as a person and take on more responsibility."
Nagelsmann has allowed his star man free roam of play in each match and this has really worked to Werner's, and the team's, advantage.
In their match against Mainz, he picked up space on the left, right, through the middle, as well as dropping off the forward line. What was fascinating, was that the forward never looked out of position or uncomfortable in this flexible Leipzig attack. Instead, he thrived, making great first touches, dribbling past opponents, or setting up his teammates.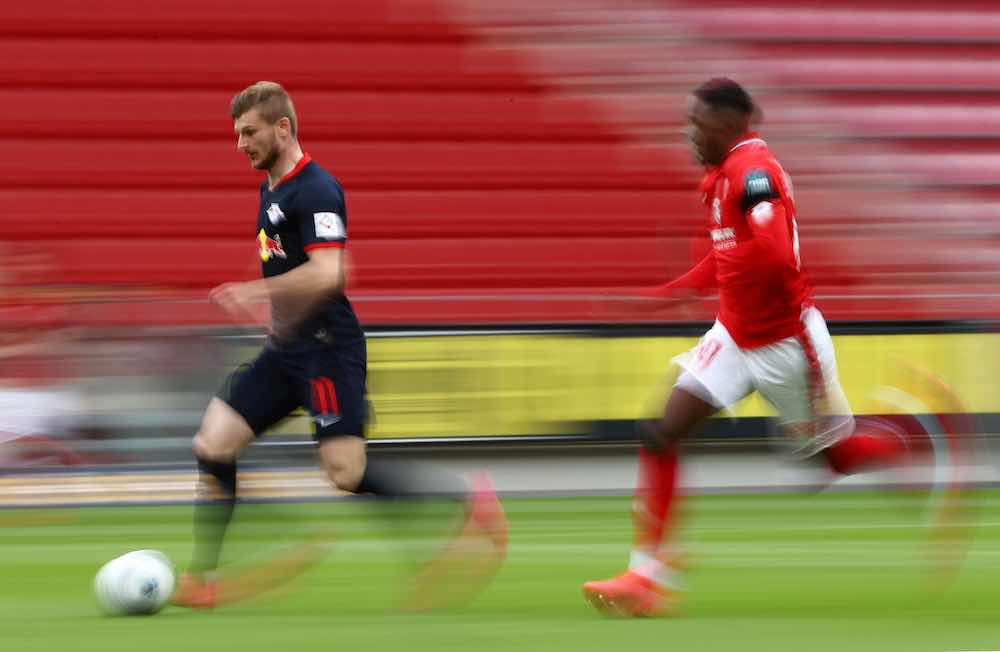 "I've become more versatile under Julian Nagelsmann, and have already played in a number of positions," Werner said earlier this month.
"I haven't just played out on the left or right… but also as a No. 10 or lone striker."
His partnership up-front with Poulsen should not go unnoticed. The two have thrived in Nagelsmann's system, which has allowed them to develop great chemistry and help Werner develop in various roles. Other players, such as Christopher Nkunku and Kevin Kampl, have contributed to his success as well.
With rumours of Werner moving to Liverpool in the summer, it would be a shame to see the young forward leave the club as he's been able to flourish under manager, Nagelsmann, and the team have launched a title challenge on the back of this good play.
The 24-year-old continues to show great consistency and has had an appetite for goals this season using his great movement, accuracy, and powerful shot to regularly find the back of the net.
"Since Timo has made progress under Julian Nagelsmann, his most important weapons are the quick switching movement and his powerful finish," former Leipzig boss Ralf Rangnick told Bild.
"Therefore, he would rather fit a club like Liverpool, which is similar to our style of play, but I would prefer him to stay here."
Let's not think of where he may be going next season, but continue to enjoy his career year with Leipzig. At a time when fans may need football the most to ease their minds away from other things, Werner is doing exactly that.
Aside from playing some fluid football at the moment, he also has his team in contention for a spot in the Champions League once again, as well as a Bundesliga title.