By Louis Smith.
Could you imagine a 14-year-old playing for your local amateur team on a Saturday afternoon? it would seem crazy, right?
But in November 2018, Paraguayan forward Fernando Ovelar did something more remarkable, making history by becoming the youngest player to feature in Paraguay's top-flight, aged just 14, as his Cerro Porteño side took on 3 de Febrero.
"At the beginning when the coach called me to tell me that I was playing, I was very nervous, I couldn't believe it," Ovelar tells WFi.
"However, when I got on the pitch and the game started, I felt more relaxed and very calm, trying to do my best for the team."
Only six years old when Paraguay made their famous World Cup run in 2010, Fernando Ovelar scored for Cerro Porteno this weekend despite only being 14. Tim Vickery reports https://t.co/e9BcEf3sAo pic.twitter.com/vxLHurVovF

— World Soccer (@WorldSoccerMag) November 5, 2018
A week after his debut, Cerro Porteño took on Olimpia — a game known as the Paraguayan Superclásico.
Ovelar was selected to start the match, giving him a chance to test himself against a side featuring Paraguayan football icon, Roque Santa Cruz, and the solid Olimpia back line of Jose Leguizamon and Juan Gabriel Patino Martinez.
"The coach spoke to me and told me to play with calmness, doing what I know on the pitch and to have fun," Ovelar adds.
"Before the game, I was nervous, but as soon as the game started those nerves went away and I was focused on the task at hand."
Just moments into the game the 14-year old gained worldwide attention and wrote his name in the history books once again.
"When I was one on one with Alfredo Aguilar, I thought about putting the ball close to the post because I know that he's a great goalkeeper and my shot needed to be perfect," he recalls.
"Thankfully I did just that. It was the greatest moment of my life.
"The Clásico in Paraguay is the most important game and every player dreams of playing in it from a young age.
"With 40,000 people in the stands, I wanted to score a goal, that was the dream, and luckily I was able to fulfil it."
Es Fernando Ovelar, de Cerro Porteño. Tiene 14 años y este fin de semana marcó en el clásico de Paraguay. pic.twitter.com/ToUYzGumgS

— Victor 'El Niño' (@victor_deportes) November 5, 2018
After scoring the opening goal of the game, Ovelar and his side drew 2-2 in a classic Clásico encounter. Despite not getting the three points, it was still a special day for Ovelar and his family.
"After the game, my family was really happy that I scored," he recalls. "We had dinner at home and we all celebrated the moment together. They have always supported me in fulfilling my dreams of being a footballer."
In the following years, Ovelar has featured a further five times for Cerro Porteño, giving him a total of seven first-team appearances — pretty impressive for someone who only turned sixteen in January. And there's more…
He's also gone on to represent his country 11 times at U17 level. This included helping Paraguay reach the U17 World Cup by scoring twice during the qualifying rounds.
During the U17 World Cup in 2019, he made four appearances as Paraguay exceeded expectations by reaching the quarter-final stage where they were knocked out by the Netherlands.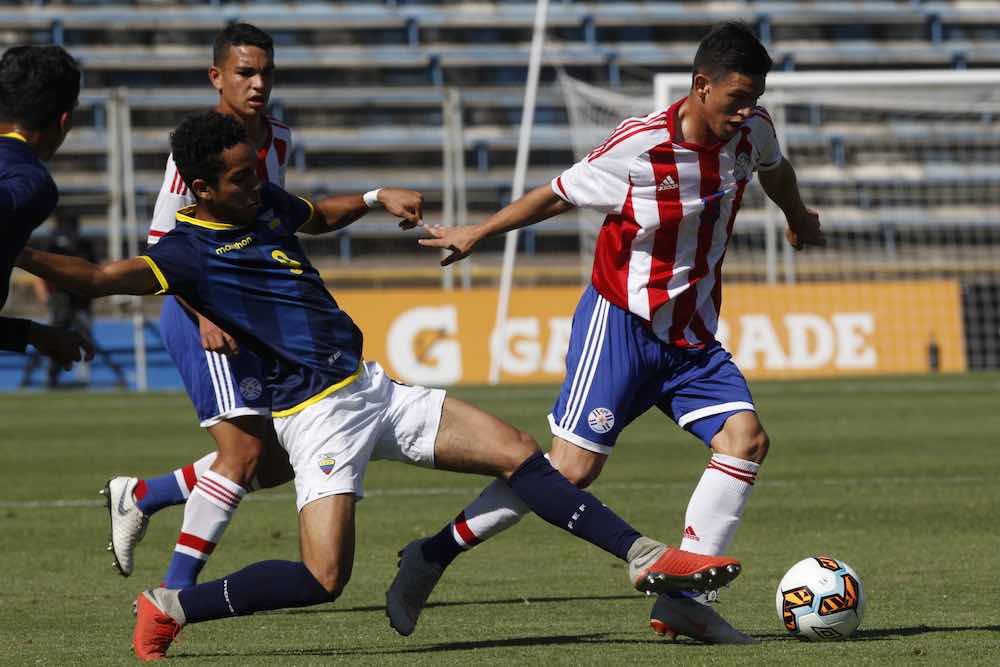 "Playing in a World Cup is special," says Ovelar. "It's a great feeling to represent your country. My dream is to win a championship wearing the shirt of my country."
Many players from South America have the dream of going to Europe to play in the top leagues and Ovelar is no different.
Ever since he burst on to the scene, he has drawn the interest of top clubs across the globe including Premier League sides who have been tracking his progress.
"One of my dreams is to play in the English Premier League," he admits. "I always watch the games and I really like the football they play.
"It's one of the best leagues in the world. There are high-quality players and I have many idols to follow. One player I like watching is Miguel Almirón at Newcastle, who started at Cerro like me.
"The country, the cities, and the fans åttract my attention. I would like to play there sometime and for an important team."
With his positive attitude desire to go far, Ovelar no doubt has a bright career ahead of him and it might not be too long before we see the precocious Paraguayan in European football.