James Rowe spoke to Harrogate Town forward Jack Muldoon for WFi. They discussed his current club, his time at Doncaster Rovers and Lincoln City, and the influence of the Cowley brothers.
---
You signed for Harrogate Town in 2018. How are you enjoying your time at the club so far and what would you say are the main strengths of this Harrogate Town team?
"I am enjoying my time at Harrogate Town and everything has been going well since I arrived. During my first season, we reached the play-offs of the Vanarama National League, which is a good achievement for a team playing in that league for the first time.
"The club are a family run club and if thrives off an attitude of hard work, and you can clearly see that around the club.
"They club do not accept anybody with a poor attitude, which goes without saying really, but here at Harrogate Town they do not accept a bad attitude. If they sense it in the group then that is soon filtered out and the player would soon find themselves out of the first team and starting lineup."
---
You played one season in the youth academy at Doncaster Rovers. How do you look back on your time there and did you learn anything in particular that stood you in good stead for your career as a professional footballer?
"Yes, I used to have to get a bus at five in the morning and then the train 6.15am and I would arrive to training at 8am, then the day would fly by. At the time I was earning £30 a week plus expenses. That sort of thing toughens you up and helps to prepare you for what's about to happen.
"The attitude I had with traveling stood my in good stead for the future in terms of getting on with things. Anything else that was thrown at me after that I took on the chin because it was easy in comparison. It was good to have gone through the hard part and things got easier over time."
---
You had a two year spell at Lincoln City. How do you look back on your time at the club and do you have any particular highlights or special memories?
"Yes, I left Rochdale and went straight to Lincoln City in 2015. At the time, under then manager, Chris Moyses, we were getting a home attendance of around 1300 fans.
"Lincoln City is a massive club and in my first season I managed to do quite well. I scored 10 goals and played every minute of every game that season. Then the manager moved on and then the Cowleys [Danny and Nicky] came and they just changed the whole identity of the city really.
"They got everyone buying into what they were doing and all of a sudden at Sincil Bank we had a home attendance of 9,000 to 10,000 fans every home game. Things started to happen and we were venturing into uncharted territory. It gave a massive boost to the club and everyone involved, which was absolutely brilliant.
"My best time was reaching the quarter-finals of the FA Cup. I played up front against Arsenal and we were only one game away from reaching the semi-finals at Wembley and potentially playing one of Chelsea or Manchester City.
"We did well to get so far in the competition and obviously gaining promotion was one of the proudest moments of my career. You want to win everything you play for so that was a great moment."
---
You have accrued a lot of experience in English football. Could you say who are among the best players you have played with so far in your career?
"Yes I could name a few. There is a boy named Josh Ginnelly who is currently at Preston North End. He was 19 when I saw him play and you could tell that he had raw talent and that he would go on to do good things.
"Danny Rowe who is currently playing for Oldham Athletic. He scored over 300 goals in over 400 matches at AFC Fylde where we played together. His record is a disgrace really. As a forward and there are not many people who have scored as many goals as he has.
"Another player is Serhat Tasdemir, nicknamed 'Tugay Tasdemir', who is a Azerbaijan youth international player now playing for Peterborough United. I am really interested to see how he develops as a professional footballer. I am always intrigued with the young players that I have played with how far they will go in their careers."
---
I can imagine in your position as a forward you have come up against some difficult opponents through the years. Are there any that stand out for you?
"Yes, he was a Premier League player and he is now a manager — Joey Barton. We played Burnley in the FA Cup and he just did all the ugly things right. He was like a perfect non-league footballer that played in the Premier League.
"He was a tough guy. I tackled him in that game, and I then helped him up, and as I helped him up he stomped on my foot behind the referee's back. He sort of did it in a malicious way, but the way the he applied himself on the pitch made you think as an opponent I wish him was in my team.
"It was very interesting to watch him on the pitch and I was quite in awe of him really. He was very strong and often did the right things at the right time.
"In that FA Cup match away to Burnley we were four leagues below at the time and I was quite mesmerized by him.
"Alexis Sanchez was another played when I faced Arsenal, and he was playing really well at the time and I would say that he is definitely the best player I have ever played against so far in my career."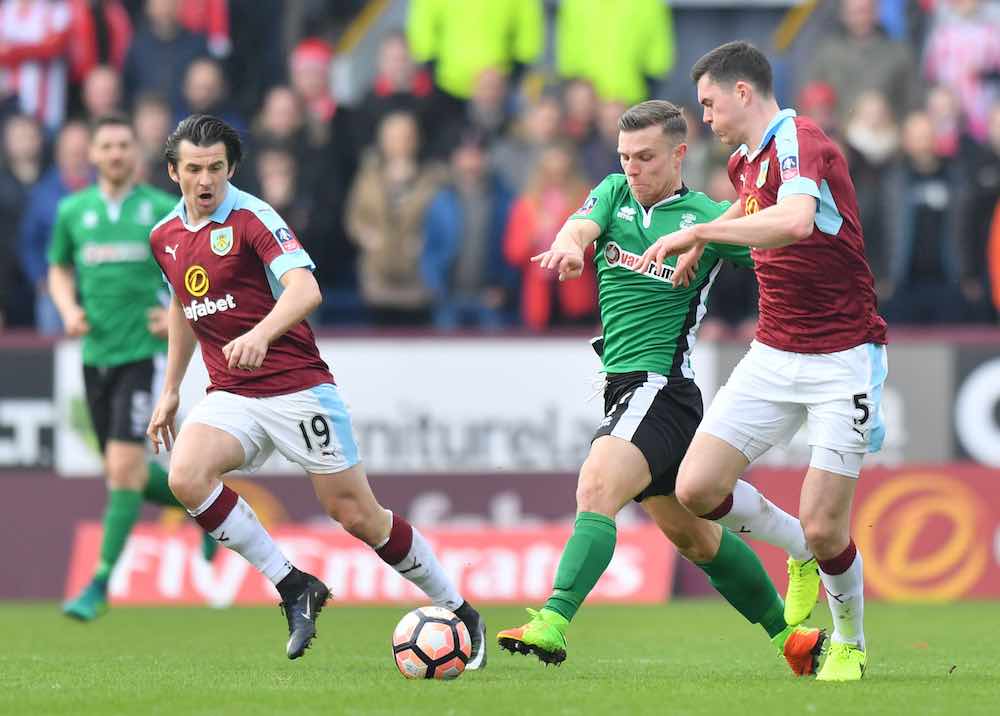 ---
Finally, Jack, could you say who are the coaches and managers who have played a key role in your development as a professional footballer?
"I learned a lot from many managers I have played under. Obviously the ones that stick out would be the Cowleys in terms of how they cover every blade of grass in terms of throw-ins, corners, free kicks, where you are meant to be as a player at a certain point in the game — things like that.
"It was a real eye-opener because we spent a lot of time in the classroom. We probably spent 50% [of our time] in the classroom. They were big on training, in that if you had played for 70 minutes in a competitive match, you could only train for 30 minutes and if you played 50 minutes you could train for 30-45 minutes.
"The fine details in their work has got them to where they are today, and I can see them carrying on their good work when they do a good job at Huddersfield Town.
"I have also had managers that literally acted like my uncle and put their arm around me and let me do what I wanted to do on a football pitch, and that in turn made me a better player. Many managers have got the best out of me during my career in that sense, but the ones that stand out are the Cowleys."