By James Nalton.
The trailer for the Bundesliga's official YouTube channel poses the question: "Do you like football?"
Before answering enthusiastically: "We do!"
For anyone who has managed to make their way to this article through the myriad of other articles on the same subject, it's very likely that this answer rings true.
As the Bundesliga returned omnipresently this weekend, we need to like football a lot to still be here a day later, wanting to read (or write) more about the Bundesliga.
There is more Bundesliga to come today and by the end of the weekend, we might have experienced so much Bundesliga that we could forget there is another Bundesliga match on Monday night. Or we probably won't, given how much we now like the Bundesliga. And don't forget the 2. Bundesliga. The only games in town. Bundesliga.
Having established that we all like the game of football, is it also safe to say that we expect a Dortmund vs Schalke Revierderby to be something more than just a game of football? Something more than those kickabouts in front of next to no fans we enjoy purely for the sport itself.
For example:
Ahead of an evening of high-profile Champions League action, some might turn up to that afternoon's UEFA Youth League game for an earlier football fix. Like arriving at a gig early enough to catch the first support band you haven't heard of before, just because you like live music.
Sometimes these games can themselves attract decent crowd, but attendances at youth football matches or those at a lower level can often be more like the ones seen at the behind closed doors matches in the Bundesliga this weekend.
Others might tune into the Youth League game on BT Sport ahead of the big evening kick-off and, as a result, will be familiar with that empty stadium sound on TV.
Though a love of the game is the reason for watching both these UEFA showcases, we still expect that evening kick-off under the lights in front of a full house to be different to the Youth League game, just as we expect a Revierderby to be something more than just a game of football involving 22 players and a ball.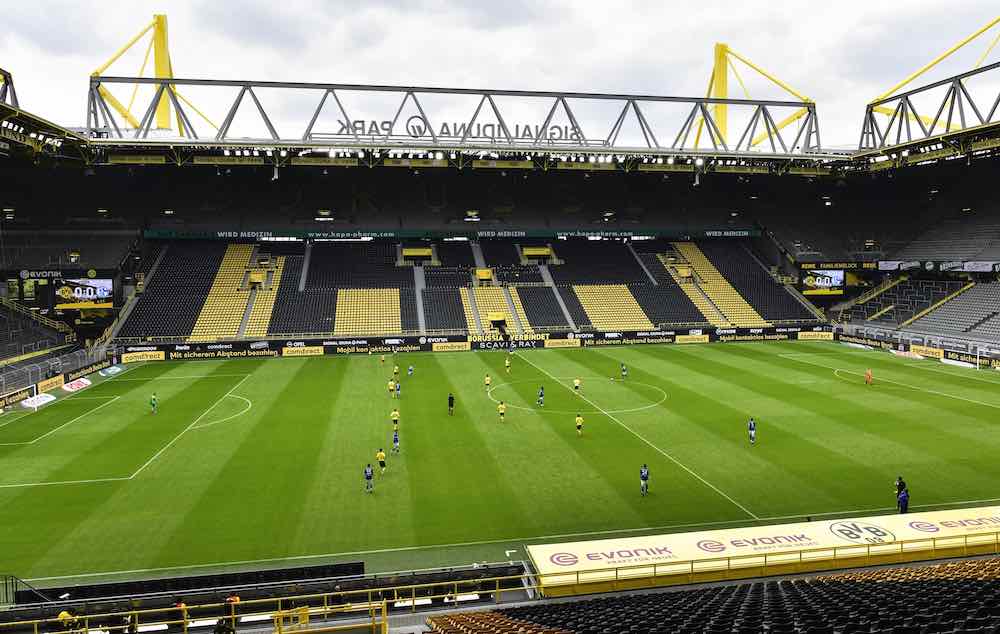 There was a passage in Daniel Storey's piece for this Friday's i newspaper which summed up this love of the game in it's purest, most stripped-back form.
"There are two types of people in this world," Storey writes. "When sitting on a bus and passing a grassroots football or cricket match, you either crane your neck backwards to see the corner being taken or the next ball bowled, or you stay facing forwards, oblivious to the action outside of the window."
"Despite having no prior knowledge of any individual involved, either team's identity or the match situation, the first camp is desperate not to miss the action.
"That camp has a deep-rooted desire to experience meaningless jeopardy. Even subconsciously, that yearning becomes extremely powerful in its own absence."
When watching the Bundesliga this weekend, you had to be in that camp. Once the whistle blew and the issues around whether football should or should not be restarting in this form at this time had been put aside for a moment, it was all about the game. Just football. Albeit occasionally high-quality football.
It was a real test for some who might not be bothered with those Youth League games or who don't have that urge to see what happened following that corner in some random game. Do we actually like just football?
Judging by the large amount of activity on Twitter during the game, not many people were giving the football their full attention, but still, the idea of it being back, seeing Erling Haaland guide Thorgan Hazard's cross into the net was of some comfort, even though the slightly tentative socially distant celebration shortly after was a quick reminder of the situation.
Elsewhere, data was still being recorded and moments were still being analysed to the nth degree whether they required it or not. Haaland was still not answering interviewers questions, rebelling against the broadcasters' requirement that footballers should be media savvy and need to have a personality in front of the cameras.
This club man! 😭💛@ErlingHaaland pays tribute to the Dortmund fans who couldn't be at the game today.

What an incredible bond.#beINBundesliga pic.twitter.com/5Lc2Pv7mWc

— beIN SPORTS (@beINSPORTS_EN) May 16, 2020
For Haaland and for everyone else this was all about what goes on inside a game. Many of the emotions were removed, even though they flickered briefly on the pitch, especially when Eintracht Frankfurt saw the slimmest of chances to get back into their game against Borussia Mönchengladbach in the late kickoff, or Topspiel as a featured late kick-off is known in Germany.
They may not have been Topspiele, but at least they were spiele.
Dortmund scored steadily and the game became a procession for the title challengers against meek rivals, Schalke. Similar could be said of Gladbach's performance against Frankfurt. There wasn't much competition in either of the day's headline games, but to paraphrase David Mitchell's football promo parody, they were still games of football which were definitely on this weekend, and that, at the moment, is something in itself.
In that sketch, Mitchell parodied the neverending football coverage which graces our television screens each weekend. "It will never stop, the football is officially going on forever," he said, but it did stop this year, and now we want some hope and reassurance that it will go on forever after this.
The Bundesliga provided us with that hope, and now something everyone will be hoping for, regardless of their views on these games, is that this weekend's experiment passes without any hitches and without any health concerns for those involved.
Not least because it would be nice to have more football back, but not most.
It was good to have the game back in some form, but at the same time, it's good to remember this isn't really the form we want our Topspiele to take.
The atmosphere and unique cultural flavour and identity provided by local match-going fans, as well as those from around the world who buy into this in an ideological sense rather than a purely commercial one, should not be artificially replaced by a TV company looking to enhance its product.
It's good to miss the fans at these games, as it makes us realise how important they are. If fans themselves want to contribute to these Geisterspiel (ghost games – behind closed doors) in some inventive manner, then it should be up to them, not the TV companies, to decide what they do and how they do it.
On top of this, there is the issue that many who want to play the game for the love of the game are still unable to do so. For those who used to play each week at any level in any format, and still can't due to the current restrictions, these live matches will have intensified that itch to get back on the pitch.
Maybe this version of the German Bundesliga will scratch the itch to some extent, but even though that rawest form of the game as a set of laws, regulations, and a group of players will outlast any TV deal, sponsor, and even many of the clubs themselves; football at this level, involving such historic clubs and their institutional support, isn't just about the game.
Jonathan Wilson ends his most recent column for SI with the line, "with or without fans, football is football," which is true when looking at football in its purest sense as a game, but football with fans is much, much more than just a game.