By Cain Smith.
Manchester United are notorious for giving youth a chance. Impressively, the club has had an academy product in every matchday squad since 1937; and they accumulated over 4,000 games between them. Marcus Rashford has been one of the recent successes coming from Carrington.
The 22-year-old has been a bright spark during a poor period for the club. The pacey and skilful winger has given United fans joy, especially throughout the 2019/20 campaign. However, it has not all been plain sailing.
Youth Career
Rashford began his football career at Fletcher Moss Rangers aged five. The club had previously offered United players such as Danny Welbeck and Wes Brown, and at seven years of age Rashford was another player taken from the club into the United academy.
Rashford entered the first-team at the age of 18, so his youth career was shorter than many others'. He quickly made his way into the U21 squad and scored his first goal against Leicester City U21s in December 2015.
Just three months later, the youngster was called into the first-team for his debut against FC Midtjylland.
Breaking into the First-Team 2015/16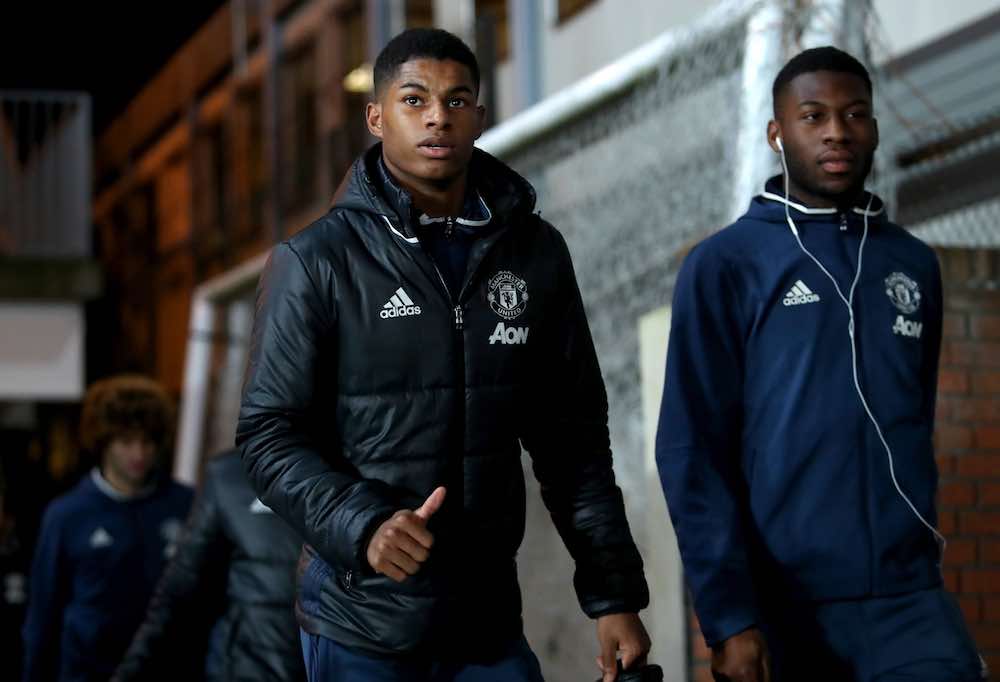 The young forward made it onto the bench for the first two games of the 2015/16 Premier League season but didn't manage to get onto the field for either match.
He didn't make the bench again until the February 25, 2016, when he was meant to be a substitute in the return leg against FC Midtjylland with United 2-1 in the tie after the first game.
But when Anthony Martial picked up an injury in the warm-up, Rashford was called upon to take his place in the starting XI.
The youngster ended up scoring twice, helping United through to the round of 16 via a 5-1 win, propelling his career to new heights in just 90 minutes.
Rashford then went on to get his Premier League debut the following game against Arsenal, scoring twice and adding an assist as United won 3-2.
After this amazing start, Rashford went on to become a regular in the side. In March he completely solidified his place in the first team after scoring the winner in his first Manchester Derby.
It was a great first season for the youth academy star as he scored eight goals in 18 matches, contributing to United's FA Cup win with a brilliant goal against West Ham in the quarter-final.
Development in the following seasons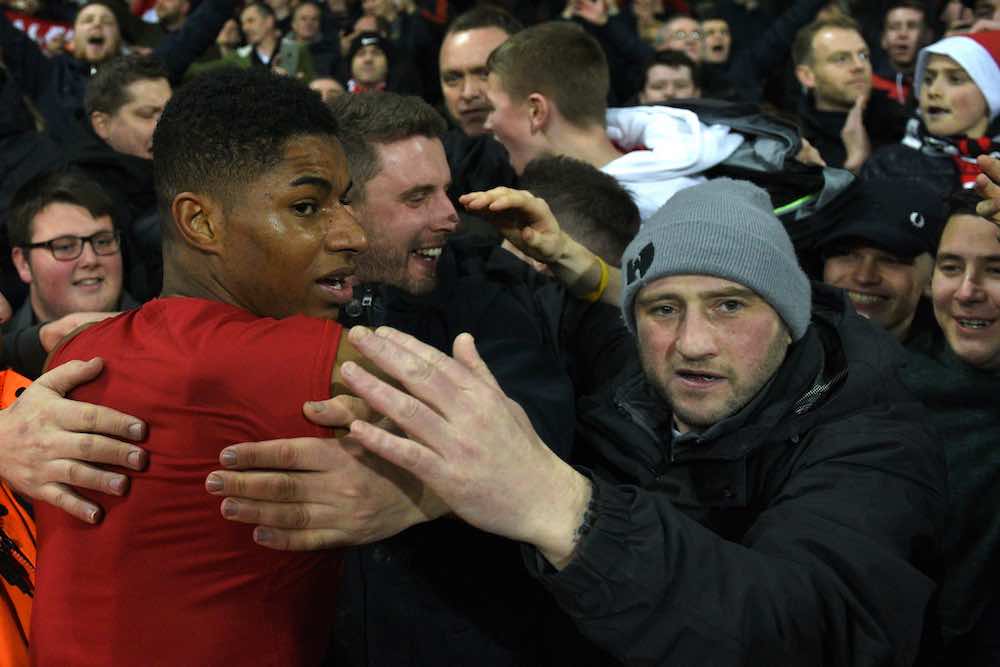 Once Rashford had got a taste of first-team football he was not ready to give it up easily. Although he was tall, Rashford had almost no real muscle and was very skinny. The Englishman began to bulk up and is now a strong and powerful force going forward.
He was heavily involved the following seasons, with the most appearances of any Manchester United player in 2016/17 with 53, going on to make 52 appearances in the 2017/18 season. However, he only started 56 of those 105 games across the two seasons, with almost half of them substitute appearances.
Rashford was desperate to become a regular in the starting XI. There were often problems in his decision making, but he was constantly looking to improve his game.
The 2018/19 season was the first in which Rashford was heavily trusted in the Premier League. He started 26 games and came off the bench only seven times. In return, Rashford gave United a respectable 10 goals and seven assists in the Premier League.
Ole Gunnar Solskjaer joined during that campaign, and the Norwegian boss has backed Rashford since he's joined, and the young Mancunian seems to love playing under Solskjaer.
"There's not a better person for the job." 👀🔴

Manchester United forward Marcus Rashford maintains Ole Gunnar Solskjaer is the best man to lead the club forward despite their struggles: https://t.co/gF43GbcEWg pic.twitter.com/OeCTzt7Pdv

— Sky Sports Premier League (@SkySportsPL) November 21, 2019
The 2019/20 season
This has been the season in which Rashford has really proven he is ready to provide the goals for United, with 19 in 33 appearances until his unfortunate injury in January.
He has been scoring them from a left inside-forward role, which seems to be the best position for him going forward.
He has clearly worked on his decision making, and this has led to an average of 1.1 key passes per game. He is making the decision to pass when the option is there. His assist to Mason Greenwood against Sheffield United being a good example of this.
With goals against Chelsea, Manchester City, Tottenham, Liverpool and Leicester; Rashford has shown his importance to the team in bigger games as well.
It seemed Rashford was on course for a very successful Premier League campaign until his injury in January, and United fans will be looking forward to the return of football with the Englishman on the field.
Without Rashford, United looked poor and were winless in three Premier League games after his injury.
The signing of Bruno Fernandes lifted the club, though, to the point where they have been on a 10 game unbeaten streak since the Portuguese joined.
Fans will be excited for Rashford to link up with Fernandes on the field, and Rashford has spoken of eagerness to play alongside Fernandes.
"He's a player that's creative, very forward-thinking," Rashford told Bleacher Reports. "He always wants to play forward and create opportunities. Hopefully we can make some good times together."
The Future for Marcus Rashford
There is no doubt that Rashford's ceiling is very high, and the 22-year-old seems like he has the drive and determination to achieve his ultimate potential.
It is clear that Manchester United see Rashford as their 'poster boy' for the years ahead, and he has already played over 200 games for the club. It is hard to believe that he is only 22 and still has room for improvement in his game.
Rashford's performances will be watched closely next season and if he is to continue to perform as he did for the most part of the 2019/20 season; you will see many more people starting to respect the young forward.
He has all the tools to play for United for many years to come, and it looks like the club are slowly beginning to make the right moves in the transfer market. Rashford will be keen to help the club win more trophies.