By Jerry Mancini.
In a wild MLS is Back affair, LAFC and Houston Dynamo played out a 3-3 draw late on Monday night.
Houston entered the second half with a 3-1 lead after a brace from Memo Rodríquez and another by Alberth Elis. Bradley Wright-Phillips scored LAFC's first goal in the first half.
With just under half-an-hour remaining in the match, the home side mounted a comeback. Diego Rossi and Brian Rodríquez each scored in a span of seven minutes to complete an unlikely comeback.
⚡️🇺🇾 ELECTRIZANTE 🇺🇾⚡️

What a way to open your #LAFC account. The first of many for @Brodriguez_16. 💪

Replay brought to you by @Heineken_US. pic.twitter.com/YZhevO3Ca6

— LAFC (@LAFC) July 14, 2020
For LAFC, it was a huge effort to rally for a point, while for the Dynamo, the game represents a wasted opportunity to leave with three points.
Without the league's MVP, Carlos Vela, there were clear questions to be asked about LAFC. So, what did we learn about the Black and Gold?
Here are three things.
1. LAFC Can Never Be Counted Out
Houston looked destined to win out against LAFC largely thanks to being opportunistic with their chances. They finished with a possession rate of just 28% and only managed five shots on target. LAFC, on the other hand, dominated the ball but in the first half, they struggled to convert their chances. Aside from Wright-Phillips who converted a Rossi pass in the box, they struggled to make the most of their chances.
In the second half, LAFC's relentlessness proved to be the difference once again. They have shown many times under Bob Bradley that they could never be counted out with the amount of talent they have in their line-up. Houston struggled to advance the ball past midfield as LAFC's speed posed a problem along with their quick movement and adventurous passing.
With just over a 30 minutes remaining, the Black and Gold made a quickfire comeback with goals from Rossi and Rodriguez to help secure a draw. Ahead of the game, Houston would likely have taken a point against one of the best teams in MLS right now, but the reality is they will be regretting throwing away three points that were in their grasp.
2. LAFC Can Score Goals Without Carlos Vela
Before the tournament started, Carlos Vela announced that he wouldn't be participating in MLS is Back.
"I would like nothing more than to be with my teammates in Orlando," the Mexican said.
"However it is in the best interest of the health of my family to stay home and be with my wife during what is a risky pregnancy."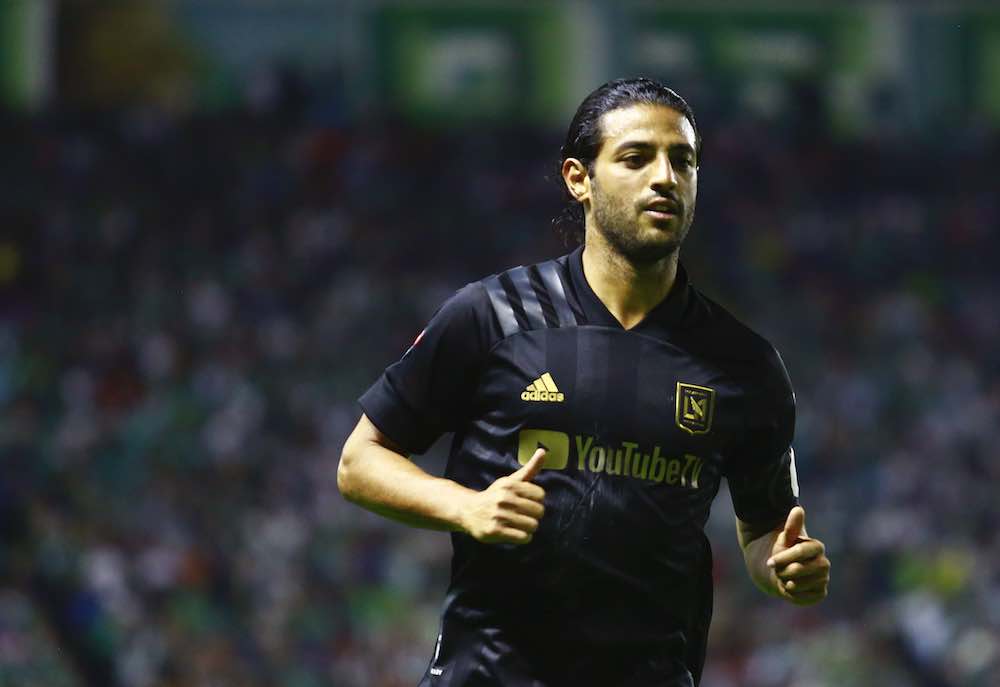 Vela was pivotal in their success last season, netting 38 goals in all competitions and being crowned the MLS MVP. Naturally, a major concern was whether this side would be as effective in the final third without not only the guy who scored the majority of the goals, but also knitted so much of their forward play together.
Rossi played as the number nine and stepped up for his side. He assisted their first goal with a good delivery into the box that was difficult for the Dynamo defence to deal with. He also scored LAFC's second goal which sparked their late comeback. Additionally, Wright-Phillips and Rodriguez each scored — the latter's goal is his first for the club and screams of a player who has a point to prove. So, thus far, the absence of Vela in the line-up doesn't appear to be a concern as this team has plenty of other goalscoring options.
3. Bradley Wright-Phillips Proves To Be A Significant Addition
Wright-Phillips made his debut for LAFC and continued to show his everlasting willingness to score goals.
Against the Dynamo, the forward netted for the 109th time to move above Jason Kreis in MLS' all-time goalscorer rankings and took sole possession of seventh place. The last time he played was back in April 2019. At the age of 35, he still looks sharp and hasn't lost a step in his game. Throughout Monday's match, he made decisive runs into the box, showed great speed and intelligent movement.
"I was like a kid going back to school," Wright-Phillips said.
"I haven't started a game since April 2019, April 19 or something like that, so I was happy that I got the start, also happy to get some match fitness, I haven't played for a while. So, it was good. I enjoyed it."
BWP spent the previous seven seasons with New York Red Bulls where he was a two-time Golden Boot winner and broke the 20-goal mark on no fewer than four occasions.
After leaving the Red Bulls following the expiration of his contract, Wright-Phillips was quickly snapped up by Bradley, who was clearly keen to add some experience to his bench, planning for this exact eventuality of Vela being unavailable.
On the basis of Monday night's performance, Bradley was absolutely right.