By Jack Beville.
Those who perhaps take a more casual approach toward their interest in Spanish football may not know all that much about Rayo Vallecano or, as they are commonly referred to in Spain, Los Franjirrojos (The Red Sashes).
South-east of the heart of Madrid lies Vallecas. Formerly a municipality of Spain up until 1950 when it was absorbed by Madrid. To this end, Vallecas, which is made up of Puente de Vallecas and Villa de Vallecas, technically belongs to Madrid. This fact, however, is seldom reflected in the outlook of the inhabitants of this proud and rebellious barrio.
The neighbourhood itself is distinctly working-class, and this comes as a result of the history of Vallecas as a town that a large number of impoverished and immigrant workers refer to as home.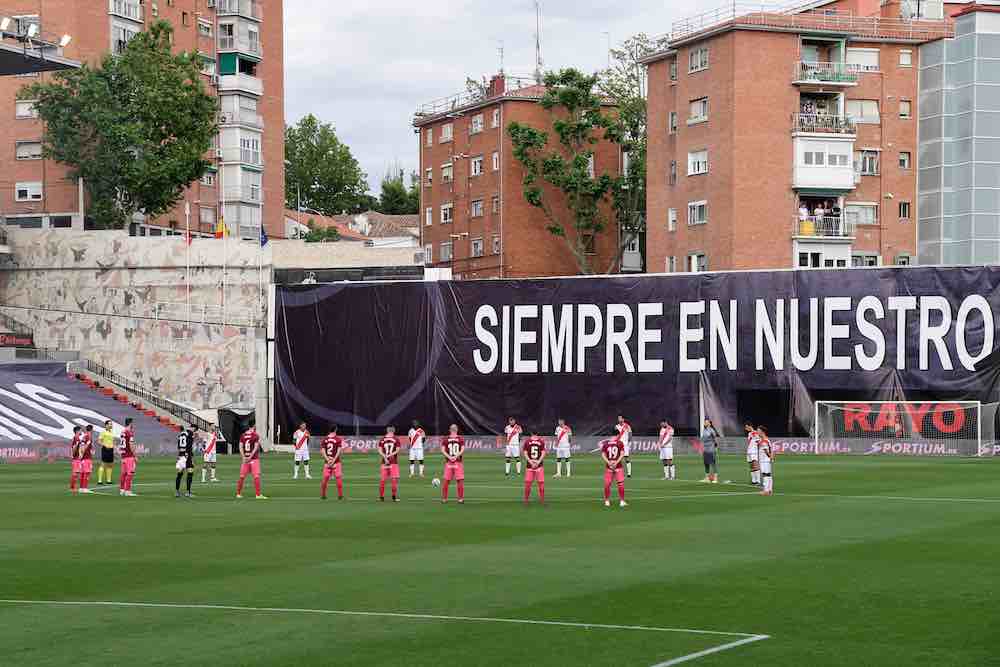 Football is often referred to as the sport of the working class, primarily due to the rich history and the origins of the game itself being rooted in working-class culture. This, of course, is not quite so much the case today — though that isn't to say that the working-class heritage of the sport is gone altogether. Often, it is very much evident through the political views and beliefs upon which various fanbases are founded.
At no club is this the case more than it is at Rayo Vallecano.
Madrid's Third Club
Let's start with matters on the pitch.
The story of Rayo Vallecano, in a purely footballing sense, since the turn of the millennium has been up-and-down. Since the 2000/01 season, Los Franjirrojos have spent four seasons in Segunda División B, seven in Segunda División, and nine in the top tier of Spanish football.
Second and third division titles aside, the closest Rayo Vallecano have come to domestic success in the past twenty years was their run to the quarterfinals of the Copa del Rey in 2002, where they were beaten 4-1 on aggregate by their close neighbours Real Madrid.
More recently, 2014/15 represented their best league campaign as they finished 11th in La Liga. Their sole UEFA Cup campaign, in 2000/01, also ended at the quarterfinal stage with a defeat at the hands of Alavés — who would, of course, eventually end the tournament as runners-up following a 5-4 loss in the final to Liverpool.
Notable Rayo Vallecano alumni include the likes Diego Costa, Pablo Hernández, Michu (arguably the Premier League's greatest ever one-season-wonder), Álvaro Negredo, Saúl Ñíguez, and Laurie Cunningham — the first Englishman to ever play for Real Madrid.
Currently, Los Franjirrojos' squad boasts two Premier League champions — Leonardo Ulloa, who was a part of Leicester City's miraculous 15/16 title-winning squad, and Bebé. You know, the former Manchester United striker Bebé.
In many ways, Rayo Vallecano play the role of the often-disregarded middle child when it comes to the Madrid clubs. Real Madrid; the club of the establishment, the club of the elite, the Galácticos.
Atlético Madrid; the underdogs, the Spanish team of choice for those who don't want to look as though they're really just glory-hunters.
Rayo Vallecano are the real Madrid underdogs. In a city dominated by two colossal footballing institutions — Rayo Vallecano are the real team of the locals. This, regardless of the ongoing trials and tribulations of the club on the pitch, is what defines Los Franjirrojos.
Los Bukaneros: Vallecano's Ultra Culture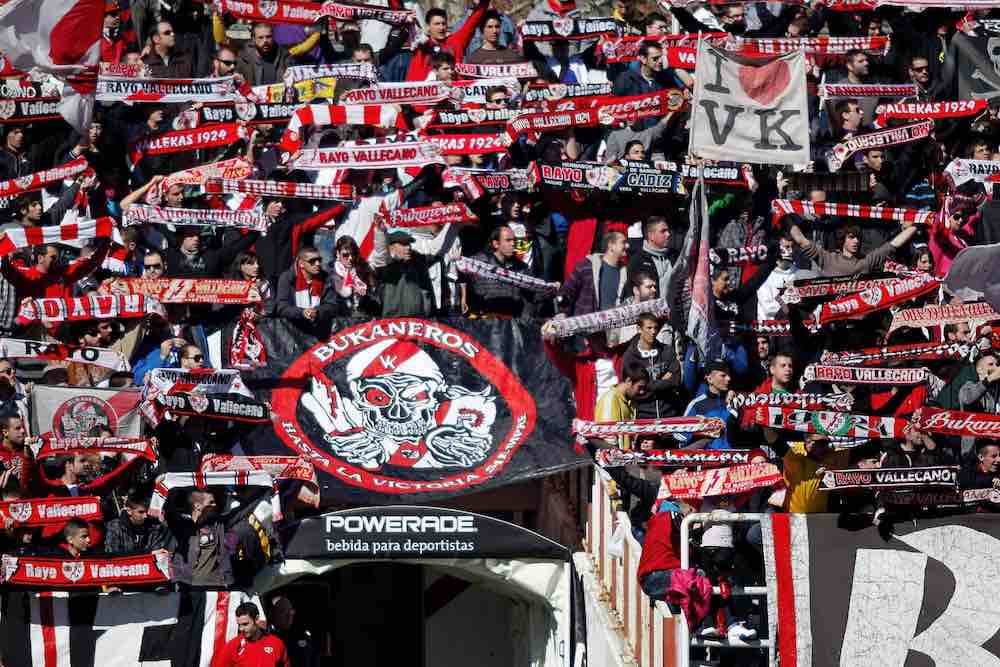 Football and politics are, in any context, symbiotic. You could claim this is the case in Spain than anywhere else.
It should come as no surprise, then, that the working-class roots of Rayo Vallecano's support, based in the firmly working-class, immigrant neighbourhood of Vallecas, influence the way they support their club in such a profound sense.
It would be a mistake to conflate a working-class background with being on the left of the political spectrum — it is by no means a forgone conclusion, nor a certainty that all working-class individuals are left-wing, and vice versa. However, the lived experiences of working-class communities do often nurture and foster the politics of the left, and this is very much the case in Vallecas.
The name of the barrio itself is, for example, often spelled as Vallekas as opposed to Vallecas — a countercultural, anti-establishment homage to the omission of the letters Q and C in the traditional Basque alphabet.
In the face of economic disregard and almost complete negligence from the Spanish government, beginning in Franco's time, those who reside in Vallecas find solidarity and unity in their local team — something that provides the locals with a platform through which to manifest the immense pride they feel toward their district.
Of course, not all fans of clubs are equally fervent in the articulation of their political views, despite very much believing in these views just as much as their comrades. The most vocal fans, as we have seen time and time again, are the club ultras. Though the term certainly holds negative connotations, hence Athletic Bilbao's Herri Norte opting instead for the title anti-ultras, these connotations often fail to truly represent the role that these groups have in fan culture.
The ultra culture in Spain is heavily politicised due to the number of clashes that have occurred, and continue to occur, between fanbases. As a result, even the ultra groups that are a force for good are ostracised and vilified by the Spanish media. This is, of course, aggravated in the case of ultras who define their club support through left-wing ideals and in opposition to the Spanish government.
On November 30th, 2014, a bloody and brutal battle took place between opposing ultra groups representing Atlético Madrid and Deportivo de La Coruña. Frente Atlético, Atléti's far-right fan group, gathered at the Vicente Calderón at 8 am, four hours prior to the meeting of the two sides, to wait for the arrival of Deportivo's Riazor Blues. There exists no grey area in terms of what the two groups represent. Riazor Blues are a radically left-wing fan group, Frente Atlético are a neo-Nazi group. The Spanish media, however, following the death of Deportivo fan and father of two Jimmy Romero during the violence that followed, were quick to condemn all ultra groups and all members of them.
Violence is obviously something that tarnishes football fan culture, but it does not necessarily follow that all ultra groups are forces of violence and that all individual ultras are violent.
This brings us to Rayo Vallecano's ultras, the Bukaneros. The Bukaneros were not at all involved in the clashes between Frente Atlético and Riazor Blues, but were painted with the same reductive brush. The reasons as to why this may become obvious when you consider where they position themselves politically.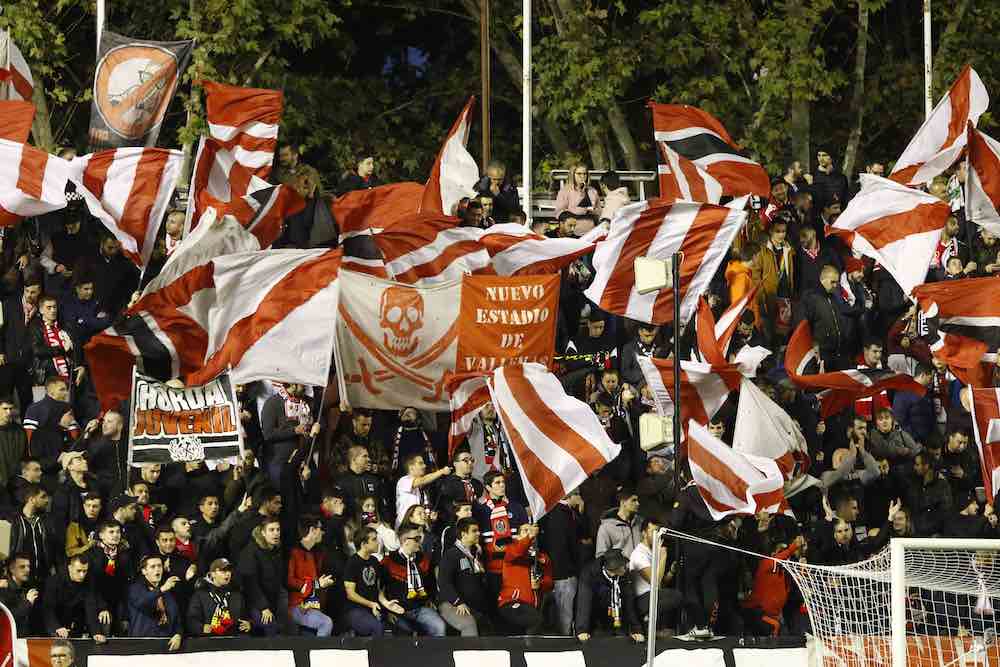 The Bukaneros are Rayo Vallecano's most radical, most vocal, and most politically active group of fans. They are ardently anti-fascist, anti-racist, and anti-establishment.
The terraces at the Campo de Vallecas are covered in political messaging, iconography and motifs. A sea of red, yellow and purple republican flags, images of Che Guevara, and socialist symbols. The stadium itself seats little over 14,000 Vallecanos but is home to a powerful political voice.
The Bukaneros stick out like a sore thumb in the wider context of the fan culture within Madrid — both Atléti and Real's fanbases are largely centre-right to right-wing. As a result, Real Madrid and Atlético Madrid's substantial fascist followings mark themselves as enemies to Los Bukaneros.
A member of the Bukaneros, by the name of Victor, explained to Football Espana what it means to be a Bukanero: "A Bukanero is a member of the Rayo Vallecano Ultras and to be a member you simply need to be a Rayo fan, non-racist and not have a xenophobic attitude."
As far as the view taken by the government, Victor alleged that this was largely due to the way in which the Bukaneros wholeheartedly oppose the government itself: "There are various reasons [for the constant police presence and raids] and one is the fact that the police are being used as an instrument by the government."
Using their mass voice as football fans isn't anything new to Bukaneros, they've been doing so for years now. In 2010, for example, Rayo Vallecano played in an empty Campo de Vallecas as fans boycotted the match in protest against football matches being played on a Friday. There were no fans whatsoever, just a banner that read 'Say No to Football on Friday', there for all television viewers to see.
Almost a decade later, fans boycotted a home game against Racing Santander as a symbol of protest against the club's president Raúl Martín Presa, something that has become a regular occurrence, and rising ticket prices.
Presa claimed that Rayo Vallecano were the victims of "football terrorism" in 2013 after Rayo's home game against Real Madrid had to be postponed after an act of sabotage led to the cables being cut on the stadium lights. Though it is unconfirmed, some speculate that the act was an inside job, carried out by a Rayo Vallecano fan in order to protest the ownership of the club and raise a middle finger to both the club's leadership, and Real Madrid.
The club's left-wing fanbase has also earned them the vocal support of local Spanish ska punk band Ska-P. The band politically align themselves with anti-fascist, anti-establishment and anarchist views and thus, unsurprisingly, sing to a similar tune as the Bukaneros. One of the group's early efforts "Como un Rayo", a song written in tribute to Rayo, became particularly popular in Vallecas.
Rayo Vallecano and Roman Zozulya
Perhaps the most significant example of Rayo Vallecano fans, and Los Bukaneros in particular, using their platform to oppose the goings-on at the club, came as a response to the signing of Roman Zozulya in 2017. A signing that led to a match between Rayo Vallecano and Albacete being abandoned at half-time.
In January 2017, Rayo Vallecano sealed the loan signing of the Ukrainian striker on deadline day from Real Betis. Rayo would have expected his stay at the club to have lasted until the end of the season. Instead, it lasted a matter of hours.
Following the signing of Zozulya, Vallecano fans became aware of a number of images of the forward that led them to believe his political allegiances tended further toward fascism and the right, than they did toward Rayo Vallecano's left-wing stance.
One image saw him posing with a scarf showing the image of Stepan Bandera, a theorist of the far-right Organization of Ukrainian Nationalists and a radical Ukrainian politician. Bandera is condemned by many as a fascist and, consequently, Vallecano fans saw Zozulya posing with such a figure as particularly problematic.
There was also speculation that the forward was sympathetic toward Ukrainian paramilitary groups, after posing with said groups in a move he saw as simply showing support for the Ukrainian military in The War in Donbass in 2014.
The motivation for the response of Rayo Vallecano's support was seen by some as somewhat inconclusive. There was no uncertainty, though, when it came to the response itself. In Zozulya's first training session, fans made their stance abundantly clear — attending the session and displaying a banner that read: "Vallecas is no place for Nazis."
The Bukaneros followed this up with a nine-page document detailing the reasoning behind their rejection of the signing of the Ukrainian. The document served to demonstrate that Zozulya had ties to far-right groups and organisations, and included a number of images that featured the forward posing with far-right, fascist and white-supremacist iconography and symbols.
This booklet was then handed out to fans prior to Rayo's game against Almeria a few days after Zozulya's signing, and also made available online. Once again, the forward denied harbouring any sympathies toward such groups and movements.
Why did Rayo Vallecano fans reject new signing Roman Zozulya?

They've outlined exactly why 👇https://t.co/WpyDERmres pic.twitter.com/4vbpTLo0qL

— MARCA in English (@MARCAinENGLISH) February 5, 2017
Fast-forward almost two years on from Zozulya's failed loan stint, to December 15, 2019 — Rayo Vallecano v Albacete at the Campo de Vallecas. The Spanish second division match was abandoned at half-time, a decision agreed upon by both clubs who subsequently requested that referee José Antonio López Toca bring a game to a halt.
The incident itself involved banners and chanting by one section of Rayo Vallecano's support, in particular, directed at Zozulya — now plying his trade at Albacete.
Rayo's fans chanted "p*ta Nazi" ("f***ing Nazi" in English) at Zozulya throughout the match, obviously as a reference to the reasoning behind their original opposition to the Ukrainian's signing two years prior.
It was the first instance in the history of Spanish football that a game had to be suspended due to offensive chanting.
As a result of the COVID-19 crisis, both sides were made to wait a further six months (179 days) before finishing the game they had started in December. The game was eventually decided by a goal from Rayo's Peruvian defender Luis Advincula at an empty Campo De Vallecas — Zozulya played the full 45 minutes.
Not often a European soccer game is stopped due to fans being *too anti-Nazi*.

Rayo Vallecano's anti-fascist fans already chased Ukrainian Nazi Roman Zozulya out of town once. Then he came back with a new team.https://t.co/cCjIhp9VEp

— Mark Ames (@MarkAmesExiled) December 17, 2019
Off the Pitch
If it wasn't already clear, supporters of Rayo Vallecano expect the same commitment to the values of the club from the players who wear the shirt as they themselves symbolise from the stands. In the end, this is why Zozulya's signing was doomed to fail. Many of Los Franjirrojos' current crop of players, however, epitomise perfectly what the supporters stand for, and what they expect to club to join them in doing so.
The most notable individual instance of charitable work from a Rayo player comes from former club captain and recently retired midfielder Roberto Trashorras. Trashorras spent seven years at the Campo de Vallecas as a key figure in the side from 2011 to 2018 — off the pitch, the Spaniard regularly took it upon himself to offer his help at a local homeless shelter during his time at the club.
In terms of a collective act of local solidarity and compassion — one that truly encompassed what Los Vallecanos and Los Bukaneros are all about — was the case of Carmen Martínez Ayuso. On November 21, 2014, Martínez Ayuso was evicted from the apartment she had been living in for fifty years of her life and, at the age of 85, was thus put in an extremely perilous position without a place to live. Martínez Ayuso was entirely unaware of the position she was in until a police visit a few days prior to her full eviction.
As previously mentioned, residents of Vallecas are familiar with economic hardship, primarily as a result of historic governmental negligence, and Martínez Ayuso is no different. She lived through the bombing of Vallecas during the Spanish Civil War, in fact.
The reality of the situation Vallecas has always faced is not lost on Martínez Ayuso, either, telling El País: "all the money that the powerful took comes from our toil."
The eviction of somebody who has been through so much over the course of their lifetime, of somebody who has sacrificed so much in order to survive in one of Madrid's most deprived neighbourhoods, is nothing short of inhumane.
Thankfully for Martínez Ayuso, the players, staff, and those at the top at Rayo Vallecano recognised her struggle and set about providing her with the help she needed. Two days later, prior to Rayo's home fixture against Celta Vigo, manager Paco Jémez took time to acknowledge the situation, saying:
"We won't stand idly by, of course we are going to do something to help. We are going to help this woman, not just me, but the coaching staff, the players, the club. We are going to search for a place where she can live with dignity."
Raúl Martín Presa, Roberto Trashorras, and Paco Jémez announced the idea of a 'row zero' bank account fund open for donations. Furthermore, five euros from each ticket purchase for Rayo's home game against Sevilla would be used to help pay Martínez Ayuso's rent.
Eventually, enough money was raised to help find the 85-year-old local a new home, paid for by the club, with all surplus funds going toward other charitable causes. The fans shared the club's sentiment, with a banner at the Celta Vigo game reading "Rayo against evictions".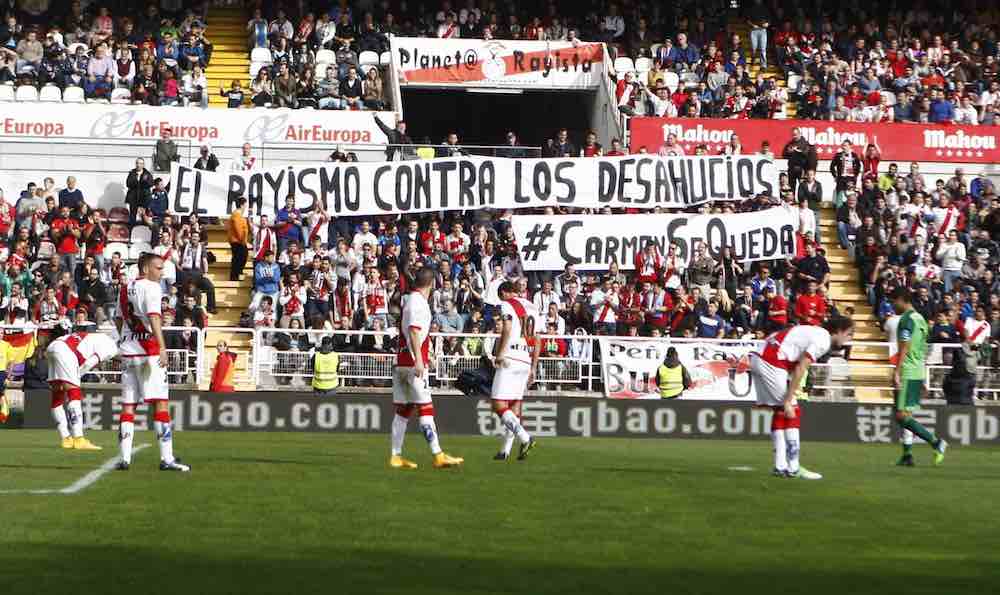 Socialism and Solidarity
If Rayo Vallecano and their support symbolise anything, it's the idea that football is far more than just that.
Regardless of the on-field goings-on at the club; the relegations, the promotions, the wins, the defeats — Rayo Vallecano is a vehicle through which the residents of Vallecas are able to show solidarity with one another.
A barrio already defined by the immense solidarity shown by those who call it home — the club allows the people of Vallecas to take their sense of community one step further. Rayo Vallecano is yet another manifestation of it, another platform upon which the locals can show their pride.
Rayo Vallecano are, according to many, Spain's "last true neighbourhood club," and that is precisely what makes Los Franjirrojos so invaluable to the beautiful game.