By Chris Smith.
Los Angeles FC booked their place in the quarter-finals of the MLS is Back tournament with a 4-1 win over Seattle Sounders on Monday night. 
Bob Bradley's men deservedly exacted revenge over the Sounders for their MLS Cup playoffs defeat in 2019, pinning Brian Schmetzer's side with an intense and organised press right from the first whistle.
A Diego Rossi double, a Latif Blessing effort deflected in by Shane O'Neill and a late Brian Rodriguez finish were enough to seal the win for LAFC on the night — Will Bruin scored before Rossi's second of the night to make things interesting but Seattle's defensive lapses cost them dearly.
While the Sounders head back home, the Black and Gold can look forward to a clash with Orlando City in the next round.
So, what did we learn from the match?
1. LAFC Press Catches Sounders Off Balance
One thing you can often criticise LAFC for — if you're being particularly harsh — is that their defence has a habit of passively standing off while the rest of the team races into a press, leaving gaps behind the forward line and meaning they can be caught in the open field with just one line-breaking pass. That, however, was certainly not the case this time.
Right from the word go, Bob Bradley's side harrassed the Sounders in possession, with Rossi, Blessing and Co using their speed and mobility to suffocate the opposition's build-up play, while this time, the LAFC defence pushed up in unison, meaning that even when Seattle passed through the first line of pressure, the likes of Jordan Morris and Raul Ruidiaz were still unable to turn and isolate defenders in one-on-one duels where they're particularly dangerous.
As you can see from the graphic below provided by Whoscored.com, there was a particularly high concentration of blocks down LAFC's left flank during the first half, with the Black and Gold clearly targeting Sounders right-back Kelvin Leerdam — the Dutchman had a tough time of it on the night and completed just 46% of his passes during the first half.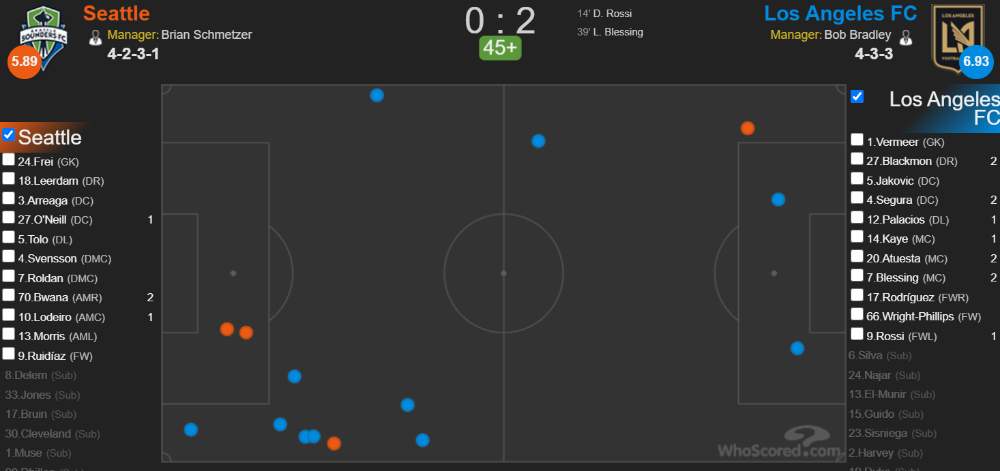 LAFC settled into a slightly more reserved block after the break but that didn't stop them preying on heavy touches from the Seattle defence and every time that happened, their forward line were backed up by those behind them. This was ultimately how they forced their third and fourth goals.
This was arguably the most organised pressing performance we've seen from LAFC and with the likes of Seattle, Atlanta United, LA Galaxy and Toronto FC all out, you start to wonder who can stop them winning the tournament in this form.
2. Diego Rossi Enhances Golden Boot Claim
Five-goal Ayo Akinola and Toronto FC are out, while the likes of Chris Wondolowski and Chris Mueller are back on three goals, meaning Monday night's game presented another chance for Rossi to enhance his MLS is Back Golden Boot claim.
The Uruguayan wasted little time in extending his already impressive record at this tournament, firing home from the penalty spot early on having initially won the spot-kick himself, drawing a late, rash challenge from Sounders centre-back Xavier Arreaga.
🎼 He scored the first goal against the Sounders…

Diego Rossi opens the scoring!#SEAvLAFC 0-1 pic.twitter.com/12Y43KLLFy

— LAFC (@LAFC) July 28, 2020
Rossi then profited from another Arreaga error late on to make it 3-1, practically being gifted the ball by a botched clearance from the Ecuadorian centre-back before firing the ball into the back of the net.
In the absence of Carlos Vela, Rossi has been absolutely superb down in Orlando, using his pace and dribbling skills to turn opposition full-backs inside out, while he seems to have developed a ruthless streak during lockdown that we just haven't seen from him before.
In reality, the Uruguay international could have helped himself to a hat-trick in this one but just two goals turned out to be enough, coupled with Blessing's deflected effort and Rodriguez's late goal. However, regardless, it was another performance which further justifies the ever-increasing transfer talk linking Rossi — who now has seven goals from four games at this tournament — with a move to Europe in the near future.
3. Individual Errors And A Blunted Edge Cripple Sounders
All of the pre-match talk — including in our very own North American Soccer Show podcast — was around this, a fixture between the defending MLS Cup and Supporters' Shield champions, being the tie of the round. While we were treated to another delightful LAFC performance, the same cannot be said for the Sounders on the night.
We've become so used to seeing Seattle torch teams on the counter-attack with lightning-fast and cohesive breaks from the likes of Morris and Ruidiaz but on Monday, that just never happened. It took 65 minutes for the Sounders to even register an effort on target and throughout the match, Schmetzer cut a frustrated figure as his players' efforts fell like water upon rocks.
It's taken 65 minutes for #Sounders to register a shot on target against #LAFC, and even that was a weak header from distance.

Been a while since I've seen their attack this disjointed and to be honest, 2-0 really flatters them, could be about 4 or 5! #MLSisBack

— Chris Smith (@CJSmith91) July 28, 2020
However, for all their disjointed play in the final third, the Sounders still managed a late goal via the returning Will Bruin, finishing a fine delivery from Joevin Jones, fuelling a late rally. Were it not for the individual errors from their centre-backs, Seattle could have found themselves in the next round even if they didn't deserve it.
First, it was Arreaga foolishly taking the bait from a Rossi trap, diving in on the Uruguay international in the box to concede a penalty and effectively putting his side 1-0 down. Next, in the 39th minute, O'Neill needlessly put his shoulder in the way of Blessing's effort to send it in the opposite direction and beyond Stefan Frei, who would surely have saved it comfortably otherwise. Then, just when the Sounders looked like getting back into the game, Arreaga comically diverted the ball back to Rossi with a failed attempted at cutting the ball back centrally inside his own 18-yard box.
There was even time for Gustav Svensson to get in on the act, gifting the ball to Rodriguez having dropped into the defence following O'Neill's withdrawal. Rodriguez, of course, gleefully fired the ball home to complete what very quickly became a humiliation for Seattle.
The Sounders' centre-back pairing looked at odds with each other thought the match, getting dragged too far apart with some electric movement from the LAFC forwards, while they were far too passive in the face of the lively Rossi and Rodriguez.
You have to wonder if things had been different had Yeimar Gomez — out with a hamstring injury — been available.