By Chris Smith.
After more than two years with New York Red Bulls, Cristian Casseres Jr has firmly established himself as one of the most promising midfielders in Major League Soccer.
Coming from humble roots having grown up in Catia — one of the poorest parts of Venezuela's capital City, Caracas — Casseres is a quiet, shy and unassuming character.
However, as is the case with many Venezeluan footballers, the 20-year-old has an almost unmatched work ethic, a quality which is reflected with his relentless nature on the pitch and his desire to get the things he wants in life away from it.
Having played for the youth teams of Atlético Venezuela and Deportivo La Guaira, impressing across 15 appearances for the latter's senior team, Casseres was spotted by the Red Bulls playing for Venezuela's youth team in an international tournament. A contract was agreed and he finally arrived in New York in 2018 aged just 18 and barely speaking a word of English.
But according to those around the club, the young midfielder has worked hard to adjust to life in the United States and is almost always first to arrive at English lessons.
As Casseres tells WFi, the last two years have been spent developing as a player and a person, and learning from his teammates, coaches and staff.
"Well, when I arrived it was a bit difficult because I came at a very young and it was my first time playing in a country where I didn't speak the language," he says.
"There were few others who spoke Spanish, but it was nothing thanks to my teammates, coaching staff and the Red Bull people who always support me and treat me well. I felt at home quickly and that was something that really helped me to be what I am now."
Casseres initially spent time in the USL Championship with RBNY's development team, New York Red Bulls II, but it didn't take long for him to establish himself in the senior side, making 23 appearances and scoring three goals in MLS during the 2019 season, while also winning Red Bulls' 'Defensive Player of the Year' award.
He doubles down on the fact that his smooth transition to life in New York off the field undoubtedly played a huge role in him making the jump to the first team and, ultimately, flourishing.
"I arrived in MLS at just 18 and experienced many things that I had not seen in Venezuela," he adds.
"For me, I have learned so much in these last two years and I have taken so much from the coaches to help me get into the team."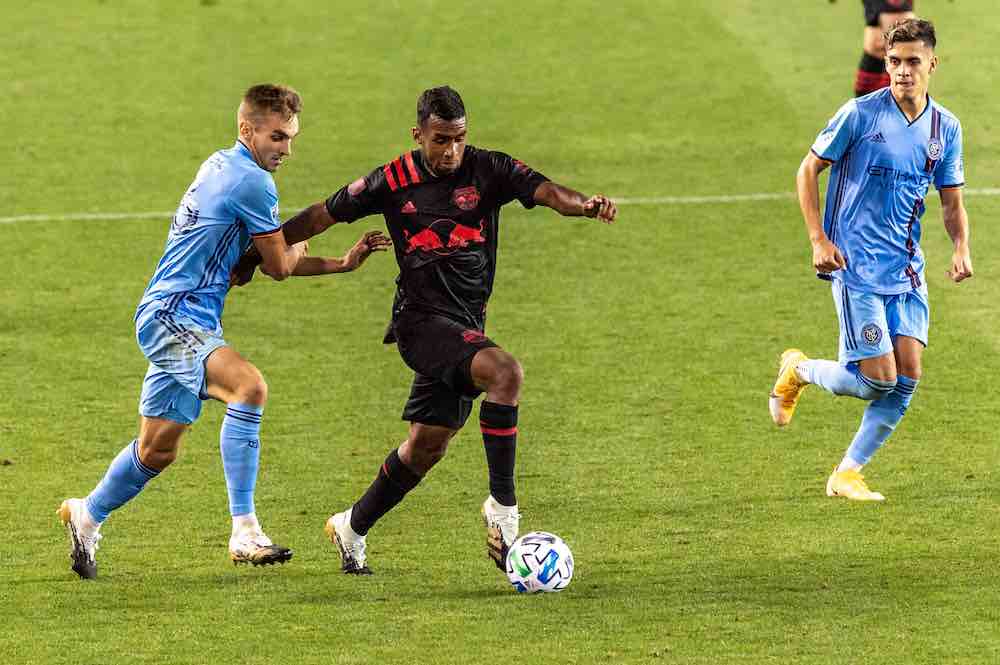 If the journey from Manchester to Dortmund was daunting for a 17-year-old Jadon Sancho in 2017 was daunting, one can only imagine the experience of a teenager from Venezuela — a country with a unique way of life and more than its fair share of political upheaval — to New York, arguably the busiest city in the world. Add the fact that he was the only Venezuelan at the club at the time and you begin to get a sense of the risk Casseres was taking.
Since his arrival, the Red Bulls have added fellow Venezuelan Edgardo Rito to their development squad, while Casseres also became close with goalkeeper Miguel Silva during his time in RBNY II.
Still, those close to him know Casseres as a quiet individual who prefers to spend more time relaxing at home than taking in the hustle and bustle of New York, while much of what he earns playing in Major League Soccer is sent home to his family to ensure a peaceful life.
"It is no secret to anyone what is happening in Venezuela. Everything is difficult but thank God it isn't for my family. They are well and what I send them allows them to live in peace," he told Venezuelan football expert and author of 'Red Wine and Arepas', Jordan Florit, last year.
"I arrived in MLS to improve, I always dreamed of playing in Europe"
Having spent much of its existence being mocked as a 'retirement league' and a gimmick where Europe's fading stars can receive one last paycheck, MLS is now in a period of great change and rapid growth.
Sure, there is still room for the likes of Zlatan Ibrahimovic and Wayne Rooney to head stateside and strut their stuff but alongside them, there is a growing number of academy products making their voices heard, while Casseres is one of a deluge of players to be scouted and plucked from South American markets, all with the dream of one day transitioning to Europe.
Casseres has been excellent tonight #RBNY

— Jake Oliver (@jolivernyc) August 21, 2020

That is a dream Casseres himself hopes will one day become a reality and he tells us the stories of Tyler Adams, who left RBNY for RB Leipzig in 2019; Alphonso Davies, who has gone from Vancouver Whitecaps winger to Champions-League-winning left-back for Bayern Munich; and Miguel Almiron, MLS' most expensive export to date, serve as inspiration and proof that European sides are watching the league.
"Yes, of course, they are a reference for me, because they made me see that if I perform well, I can leave MLS young and go to Europe," he says. "It is something that I have wanted since I arrived at the Red Bulls, to make the jump to European football.
"Since I arrived here, I have worked to improve how I play, how I am as a person and to get minutes on the pitch. That would help me show myself. Playing in Europe is what I've always dreamed of."
As it happens, RBNY might just be the perfect club to act as a staging area for Casseres. After all, aside from Adams' move to sister club RB Leipzig, former head coach Jesse Marsch also stepped up as assistant to  Ralf Rangnick at the Bundesliga side, while he ultimately left to become manager of Red Bull Salzburg in 2019, taking on young talents such as Erling Haaland and Takumi Minamino. Marsch's exploits in the Austrian Bundesliga and Champions League have made him one of the most talked-about tacticians in Europe right now.
Although maligned in some quarters, the Red Bull organisation is often referred to as a 'family' and that is exactly how Casseres refers to it, admitting the prospect of moving to Leipzig or Salzburg gives those at RBNY added motivation to be at their best.
"Yes, of course, the Red Bull group is very good and a very good family," he replies when asked about the Red Bull model.
"It is something that gives confidence to the players because we know that if we work well and we perform well here, at any moment we can go to another team in the Red Bull family."
Perhaps more than any other team in MLS, the Red Bulls have an incredibly defined style of play predicated on high pressing and quick transitions.
Casseres has made 24 tackles so far in 2020 per FBref — at least nine more than any of his teammates — while he also tops out when it comes to defensive pressures (122) and interceptions (12).
The graphic below from Twenty3 perfectly illustrates the amount of work he does off the ball, and the areas of the pitch he does it in.
It is clear that his lung-busting, high-octane approach fits perfectly with the team's style of play. Casseres — who models his game on Brazilian midfielder Arthur Melo — is also the youngest Venezuelan debutant, scorer, assister and award-winner in MLS history. Coupled with the success of Josef Martinez at Atlanta United, much has changed since Giovanni Savarese's playing days in MLS, when the now-Portland Timbers head coach was the first Venezuelan to ply his trade in the USA with MetroStars.
He credits much of his success so far to head coach Chris Armas and his ability to develop young talent.
"Chris is a great trainer and a very good person," he said. "He is a hands-on trainer that likes to teach us but more than anyone else, to the younger ones and that is something that has helped me a lot."
Right now, Casseres' main focus is on doing well for the RBNY and helping them once again reach the playoffs at the end of what has been an incredibly disrupted 2020 season thanks to the coronavirus pandemic.
However, it is clear that beyond that, the 14-time Venezuela U-20 international has designs on following the likes of Adams Marsch to Europe. Given his humble nature, incredible drive and willingness to take risks — not to mention his performances on the pitch — we cannot help but advise you remember his name.