By Jerry Mancini.
To spend over half a decade with a team shows dedication and devotion to a club.
The sweat, tears and joy of winning a championship and domestic titles, in addition to enduring the hardest moments with their team.
For Jozy Altidore, he has won and lost on the biggest stage with Toronto FC in Major League Soccer. The striker is now entering his sixth season with the Reds and has been instrumental in the club's success over the years, establishing himself as one of the best players in North America along the way.
Before Altidore arrived, it took some convincing for the striker to join TFC. His teammate from the United States national team, Michael Bradley, had a major influence in the striker coming to the Canadian club. This agreement between TFC and Altidore has been one of the best decisions for both sides.
Upon his arrival in Toronto, the club achieved very little, winning only four Canadian Championships in their first eight seasons.
Since Altidore's arrival in 2015, the club has had five successful seasons. In his first campaign with TFC, they advanced to the MLS playoffs for the first time in their history and in 2016, finished runners-up in MLS Cup. A successful season followed in 2017, when they won the double of the Supporters' Shield and MLS Cup. He also helped the team win three Canadian Championships from 2016-2018. In 2018, he participated in the Concacaf Champions League where they lost in the final against Mexican side, Guadalajara on penalties.
In addition to the club's success, Altidore's production on the field shouldn't go unnoticed. In four of the last five seasons with TFC, the striker has scored 10 or more goals. He's also won the MLS Cup MVP Award in 2017 and is a two-time MLS All-Star.
Before this season started, TFC were given bad news as Bradley was set to miss the first four months of the campaign with an ankle injury. It's no easy task to replace the role of team captain as Bradley has been a vital part of the club's culture and a controlling presence in midfield.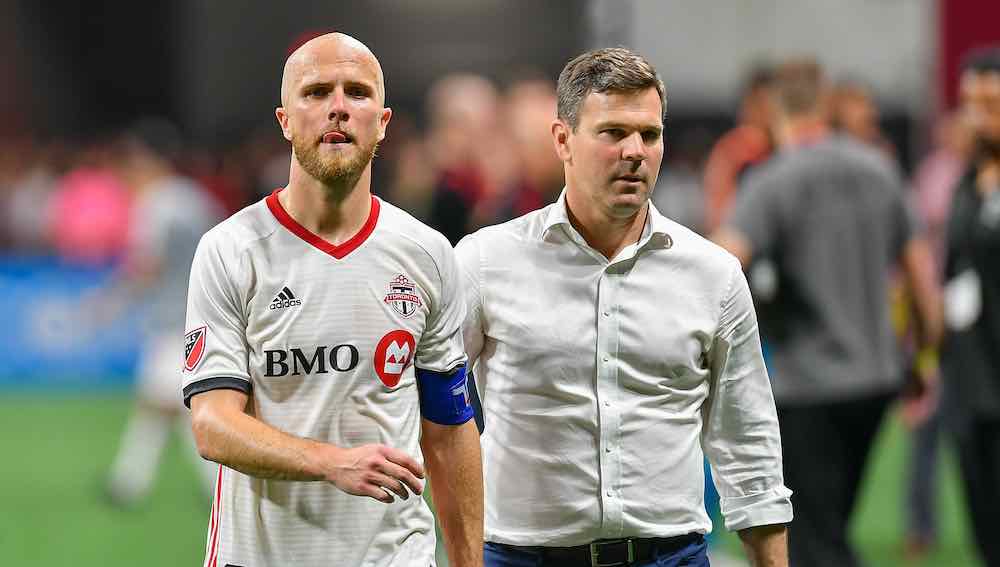 With their captain set to miss a chunk of matches, the question was: Who would replace him in the time of his absence? Before the start of the season, Greg Vanney announced that Altidore would be the club's new captain.
The striker is one of the few remaining players who has been with the club for five-plus seasons and has become one of the most sought out players since joining TFC.
Altidore is known to be a quick, physical and powerful striker who has shown the capability to score at a consistent rate. Aside from being able to find the back of the net, the forward has shown he is a versatile player who is able to play on the wing or as a second striker.
He's consistently worked up good chemistry among his key teammates which has helped him with his play up-front. Altidore has forged relationships with players such as ex-TFC striker Sebastian Giovinco and last year's new addition, Alejandro Pozuelo, both of which have been instrumental in his play. Bradley has also played an important role in his career, allowing Altidore to understand what it means to be a captain for their club. Bradley's hard work, high-intensity level and never-give-up type of attitude has rubbed off on the striker.
On the field, he consistently communicates with his teammates by directing them to where they need to be and providing that boost in morale that they are missing. He's been influential in the development of many young players on the team as is someone who the players can look up to. He has always been one of the most outspoken players on the team and provides constructive criticism and feedback to his teammates in order to make them better.
Playing in leagues such as La Liga and the Premier League has been important in his development. Not only has he played with some of the talented stars littered across Europe's top leagues, but he's also learned from the disappointment which can come from struggling at that level, channelling it into better performances for Toronto and the USMNT.
The club were unbeaten in their first two games to start the season and he embraced wearing the armband before the season stopped due to Covid-19.
After their 1-0 win against New York City FC, the striker spoke about how it felt to wear the armband in the absence of midfielder, Bradley.
"It's terrific, Toronto is my home. It's a fantastic place to play. I love to play in front of this crowd at BMO," he said.
"For myself, its an honour, especially to wear it for my buddy and friend who I have a lot of respect and a lot of love for and I'm just holding out for him to come back. He's working every single day to get back and we miss him and we can't wait to have him back."
Bradley returned to resume captaincy duties for the MLS is Back tournament but the next chapter in Altidore's career has become about more than just that. Vanney now knows that with or without Bradley, he has one of the best leaders in MLS at his disposal, not to mention Altidore's qualities as a goalscorer.
One thing is certain, at the time when Vanney had to decide on Bradley's replacement, he made the right decision. He selected someone who truly embraces the city of Toronto but, more importantly, has called it his 'home'.