By Jordan Florit.
In July 2015, 10-foot floods submerged the Venezuelan town of Guasdualito. It was the worst flooding in Apure State for over 20 years. Two weeks of heavy rain burst river banks, flooded houses, schools, and shops, and left over 40,000 people affected. In response, President Nicolás Maduro declared a state of emergency.
On the brown overflown waters of the Arauca and Sarare rivers, travelling through the streets by canoe, was a short girl with long, straight, dark brown hair. She was 14 years old and trying to assist those unable or too scared to get in the water. Born in the town, she knew no different. Floods were regular and so was her response — make do and move on. This time, however, her desire to help nearly cost the teenager her career.
In a matter of months, Venezuela's U17 national team coach Kenneth Zseremeta would pick his squad for the 2016 South American Women's Championship and soon after he would pick again for the Women's World Cup. It wasn't the fact that the pitch outside the girl's house — where she would play football with her father from an early age — had been decimated by the full force of nature that hampered her chances of being selected, it was the bacteria from the water that filled her lungs.
Destiny — or more logically probability — ensured that this would happen. Throughout her childhood, the girl would put pots out across her bedroom floor to collect the dripping water from the leaks that peppered her ceiling and threatened to sodden her floor, and in the bathroom, like the rivers she knew so well, the toilet constantly overflowed. In the evenings, she worked late into the night with her father, selling fish or fixing roofs, to earn the money needed for her football boots and her travel costs.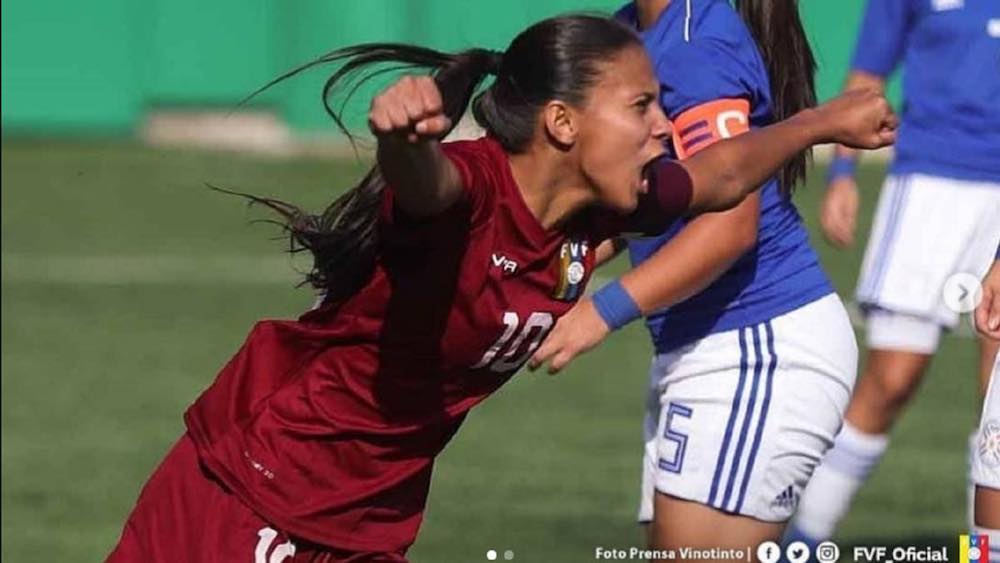 By the time the fateful flood came, she had already been playing competitively for seven years. Between long days, damp days, and days full of pushing herself to her footballing limits, something had to give. It was her health. Intertwining and conniving, every factor to have contributed to the predicament she found herself in left her on the verge of giving up.
"There comes a point at which you don't know what to do, whether to keep playing or not," she tells FUTVE English for WFi.
"I almost quit several times: my father didn't want me to play if I didn't graduate but I graduated; the chest infection was serious but I recovered; and on many other occasions I was about to quit because I was simply extremely tired but I continued.
"I felt that tiredness on national camps and I did not want to keep playing. I wanted to quit everything. Now I can see the results of all the sacrifices I made."
The girl is now 19 years old, and once more a natural disaster has her marooned and is toying with her future. In the years that have passed, however, she was picked for both of Kenneth Zseremeta's squads, winning the U17 South American Women's Championship unbeaten and finishing fourth in the U17 Women's World Cup, she was named captain of the U20s, and she has played for four teams in two countries. She is about to move to Europe to join her fifth club any day now.
The girl is Yerliane Moreno and on 28 May, she signed a two-year deal with UDG Tenerife. The club is now home to five Venezuelans, more than any other club in Spain, but Moreno isn't there. At the time of writing, the attacking midfielder is holed up alone in a Caracas hotel — and has been for a month.
Nine weeks have passed since Moreno officially became a Primera Iberdrola player but all of them have been spent in Venezuela. With the country in a nationwide lockdown since 17 March due to the global coronavirus pandemic, she is counting down the days until she can get on a flight and join her new teammates.
When the outbreak started, Moreno was on international duty. Argentina were hosting the 2020 U20 South American Women's Championship and Venezuela made a fantastic start, winning Group A unbeaten. Moreno had scored two goals and fellow UDG Tenerife players Wilmary Argüelles and Enyer Higuera had scored three each as Venezuela recorded wins over Bolivia (5-0), Colombia (2-1), and Ecuador (7-0), and drew with Argentina in a goalless encounter.
Four of Tenerife's players started every game — defender Andrea Zeolla, just 17 years old, being the fourth. Nayluisa Caceres was the exception. She missed out on eligibility for the U20 squad by 33 days. Yet at that point, it was only Caceres and Argüelles contracted with the Spanish club; the other three have all been signed since.
Only Group B's Brazil had a better first stage run. Considering Venezuela earned 10 points from 12, scored 14, and conceded just one, it needed a faultless set of displays. Brazil produced just that, winning all four games with clean sheets, and scoring just as many as Venezuela.
The tournament is now set to conclude in a four-team group format between 16-22 November, with the top two teams qualifying for next year's U20 Women's World Cup, in Costa Rica. Should Venezuela qualify, it will be Moreno's final bow — and she'll be making it with an armband hugging her bicep.
"I didn't expect to be appointed captain in these qualifiers," Moreno says. "The coach believed in me knowing I had a lot of experience competing with the national team at U17 and with the senior team.
"She wanted to give me that opportunity and so far it has been great. I hope to finish the tournament with a medal and a ticket to the World Cup."
The journey to Tenerife began in earnest with the suspension of the tournament — and it has been a long one. From Argentina, Moreno travelled home to Venezuela but not home to Guasdualito. For three months, she was in her country but separated from her family.
"The virus has been a hard blow for everyone," she says. "Once I arrived back, I was in San Cristóbal. I couldn't get to Guasdualito because all transport was suspended, but finally I was able to go and spend time with them, up until I came to Caracas to await my flight."
Now just a pandemic stands between Moreno and her arrival in European football.
"Knowing I will go to Spain to play is something I never imagined could happen," Moreno said. "When I was little, I never thought of getting this far."
It is simply one more achievement she can already be proud of in her short career to date.
#VenEx🇻🇪| Criollas Yerliane Moreno y Wilmary Argüelles por fin se sumaron al @UDGTenerife⚽️🏃‍♀️🇪🇸 https://t.co/8WIGsI7IrJ pic.twitter.com/yoG2GIEiMl

— Meridiano (🏠) (@MeridianoTV) September 3, 2020

Along the way, nothing came for free. Even when starting out as a seven-year-old, Moreno faced some minor resistance from her mother, who saw it as a men's game and was unconvinced of football as a pastime, let alone a career path. Although her mother's support eventually came, it was her father and Fray Salas, her first coach, who she credits for the love of the game she has.
"I used to play with boys," she recalls. "It was something that developed my game alongside my dad teaching me new things.
"He saw I had talent, and an uncle of mine suggested he take me for trials with a boys' team, Esfutmeguas. Everyone used to say I played well, and that's how it all started."
Soon after, Moreno played alongside Venezuela international and Boca Juniors striker Jan Carlos Hurtado (who is currently on loan at Red Bull Bragantino), for an amateur youth team managed by his father, and the two young stars would take similar routes up and out of their country's respective football leagues, both making their first move abroad from Venezuelan giants Deportivo Táchira. Hurtado headed south to Argentina's Gimnasia and Moreno crossed the border into Colombia, first playing for Flor de Patria and then Cúcuta Deportivo.
Did you know Venezuela internationals Jan Hurtado & Yerliane Moreno used to play together before signing for professional clubs?

Between 7 & 14 years old, Moreno played boys' football and played alongside Hurtado at one club. The team was managed by Hurtado's dad, in Barinas. pic.twitter.com/VgkXkHoygz

— FUTVE English (@FUTVEEnglish) September 1, 2020
Until 2018, however, the path to professional football remained arduous.
"My childhood was not easy at all," she explains. "We were always surviving on very little, with few resources and only buying new clothes when we could afford it.
"Nowadays I realise that everything my family and I went through has been worth it, though. Even telling you this makes me want to cry."
If you type Guasdualito into Google, the first image result is of Our Lady of Mount Carmel church. If you open its English Wikipedia page it has just one section other than its description: Religion. In December 2015, five months after the floods of biblical proportions washed through the town, Pope Francis granted the place of worship cathedral status.
"Dreams come true when things are meant for someone. God has time to make things happen and I have asked him for a lot," Moreno insisted, very much a product of her environment.
"I thank God like I thank my parents, coach Salas, and the few people who believed in me back then, because I've never had a sponsor and nothing has ever been given to me.
"I am proud to remember all that I lived through in Guasdualito and all of the hardships we had. I am so thankful to God because these opportunities don't appear every day."
In 2016, three Venezuelan filmmakers documented the U17 national team's journey to the World Cup. Moreno was chosen as one of five girls to home in on in order to tell the full, diverse story of the squad's background and realities, growing up across various parts of Venezuela.
She told the directors of the film, Nos Llaman Guerreras, that one thing she hoped for was that her career could lift her family out of Guasdualito. It hasn't happened yet, but their situation has improved.
"They were able to move to a better house, one without a hundred leaks in the roof," she says. "It's not a huge house — it's a humble home — but it's not like the old one, in constant need of fixing."
Although she'll be over 3,500 kilometres away, Moreno's new apartment in Tenerife will nevertheless have a touch of the home about it: living with her will be one of her fellow Venezuelans, Argüelles. Also awaiting a flight to Tenerife, Argüelles is at least in familiar settings. For the past three years, she has played her football in the capital, pulling on the shirt of Caracas FC.
"Having the Venezuelan girls there makes me feel a bit more at ease, knowing I can count on their support," she adds. "It won't be easy, and I wonder what it will be like — a new club, a new everything – but it makes me feel better to know that the coaches trust me and there are people there who believe in me.
"We are going to go there and play our best. That's what I want the most, to go there and shine like I have shined here and with the national team."
Her upcoming two years in Tenerife will undoubtedly feel as if they are passing quicker than those of her childhood and adolescence. Coming out the other side could be a 21-year-old with a U20 South American Championship and maybe even a U20 World Cup to her name. What she can achieve at club level on an individual level seems almost limitless.
On a collective, club level, it's obvious UDG Tenerife are investing in the future and casting their scouting net wide, but they remain far smaller than the likes of last season's champions, Barcelona, or Atlético Madrid, home to Moreno's senior international teammate, Deyna Castellanos. The former happens to be where she hopes to one day end up playing.
After her struggles, knockbacks, blows, and comebacks, who can begrudge Moreno for already having her sights on her next move? It doesn't come from arrogance, ego, or selfishness, it is founded in her drive, determination, and belief.
Earning a move to UDG Tenerife — she was finally able to catch her flight yesterday and arrived safely on the island without drama — is her biggest achievement yet and she is grateful for it, she simply doesn't want to stop the dreaming there.
"I don't have the words to describe everything I feel sometimes, knowing all I have achieved at my young age and everything I have been through for me to get to this point," she summarised. "I feel really proud of myself, my parents and my sisters, that we are all okay now, and knowing that something better is waiting for me in Spain."
🎥|Yerliane Moreno Arrives in Tenerife|@UDGTenerife|

"I thank God I'm here in Tenerife, to share this great experience, a new opportunity for my career as a footballer. I'm eager to start training, to be with my teammates, & to get to know the club."pic.twitter.com/PzVwqUSrD0

— FUTVE English (@FUTVEEnglish) September 3, 2020
---