By Jerry Mancini.
Toronto FC played their last match of the six-game Canadian round-robin against Montreal Impact on Wednesday night.
While Toronto's schedule is unclear for the foreseeable future, they remained focused and delivered a strong performance.
Jozy Altidore scored a late winner for TFC in the final minutes of the game, securing three points and putting them third in Major League Soccer's Eastern Conference.
It hasn't been the start to the season Altidore anticipated. It has been a slow start for the striker who started the year as the club's captain in place of Michael Bradley, who was injured at that time.
Altidore then picked up an injury earlier in the season that has slowed him down. His game-winner here was his first goal this season, and came at the most opportunistic time for Toronto. The win puts them in a good position to advance to the Canadian Championship Finals.
"It's obviously a huge goal on the night to help us get the win," Greg Vanney said after the game. "Hopefully it's a huge goal and our ability to get us into these finals.
"We'll see how this plays out as they have to go to Vancouver. It's good for [Jozy Altidore] to get on the board. He had one or two looks to end the game plus we missed him on a couple of chances where we should have played him and he probably would have had a tap in.
"I know he's been working for it and it's good for morale and our team needs him to be that goal scorer that he is. So, it's nice to get that, just need to get that first one."
Toronto opened the scoring through Pablo Piatti. The Argentine continues to impress and has made an impact in each of their six games since the restart. The forward has shown great form and is showing no signs of fatigue or concerns related to past injuries. He's contributed to two goals in the past two games.
Richie Laryea made his return to the lineup after missing the past three matches due to an injury. His presence was a delight as he was effective throughout the game.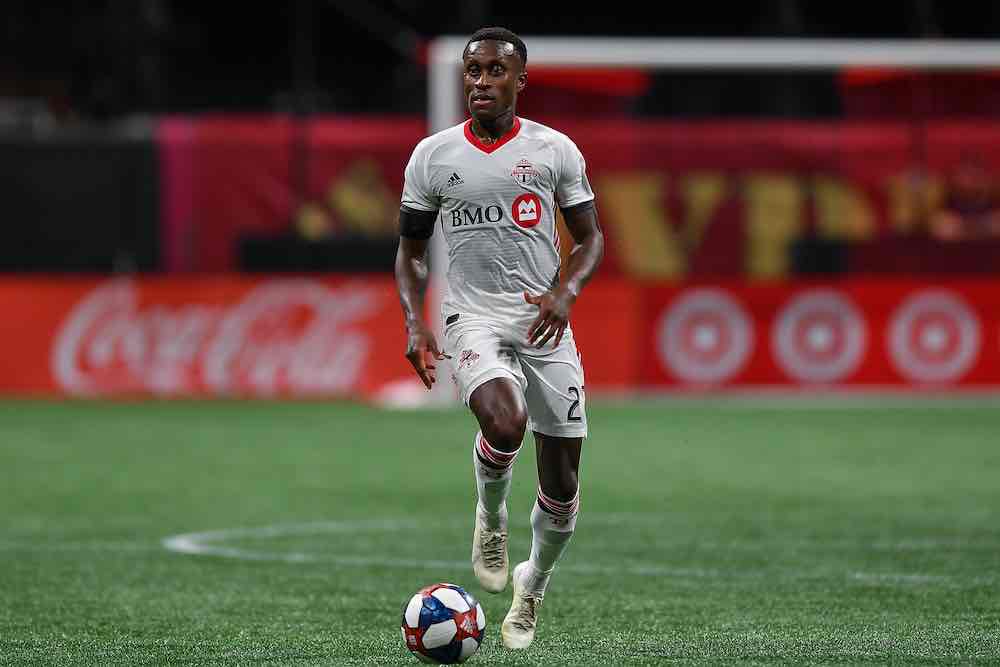 He played a part in Toronto's first goal, too, making a quick and decisive run down the left flank before delivering an accurate cross. Piatti had made a timely run into the box and scored to give Toronto the lead.
Since his arrival from Orlando, Laryea has been used in various positions and in this match, he was used as a left midfielder. It hasn't affected the performance of the Canadian, who continues to perform at a high level and has shown no rust in his game despite his recent injury.
"My ankle is fine, it's good," Laryea said of his return to fitness. "I am trying to give as much as I can in whichever position I'm put. So, I play on a great team with very good players.
"Wherever I'm put I got guys who are guiding me in the right direction and everyone knows where they're supposed to be.
"Those other nine or ten guys out there are making it so much easier for me to play wherever I need to be. I'm not the only one. There are other guys who are playing out of position across the board on the field as well.
"They come into games or start games and they're good as well cause how good this team is and how clear of a philosophy we have, so it's easy from that standpoint."
Set pieces continue to be a weakness for Toronto, who once again conceded a goal from a free-kick. Victor Wanyama scored for Montreal as he was left unmarked in the box at a set piece. Luckily for Toronto, Altidore's late winner helped to erase their mistake yet this is an area that needs to be addressed for future matches.
Montreal now travel to play their two remaining matches against the Vancouver Whitecaps. TFC's win puts added pressure on the Impact, who now must win these two games and have a better goal difference if they are to advance to the finals of the Canadian Championship. As for Toronto, they will now wait to see how this plays out.