By Alex Windley.
Although Rodolfo Pizarro and Gonzalo Higuain make most of the headlines at Inter Miami, the club's Scottish winger, Lewis Morgan, deserves recognition for his contributions this season.
The 2020 MLS season has been filled with ups and downs for the expansion side, but one bright spot for La Rosa Negra has been the breakout performances from the former Celtic man.
The 24-year-old has been a consistent starter for head coach Diego Alonso and has quickly become one of the most important players in the team.
His five goals so far this season have been important to Inter, and have also been a much-needed weight off the shoulders of Designated Player (DP) Pizarro.
The budding partnership with another star DP, Gonzalo Higuain, is also very promising, and is a glimpse of the future of Miami's offence and what it will be able to produce.
Morgan has become Inter Miami's most valuable player this season, but how exactly does he make the team better?
Offensive Threat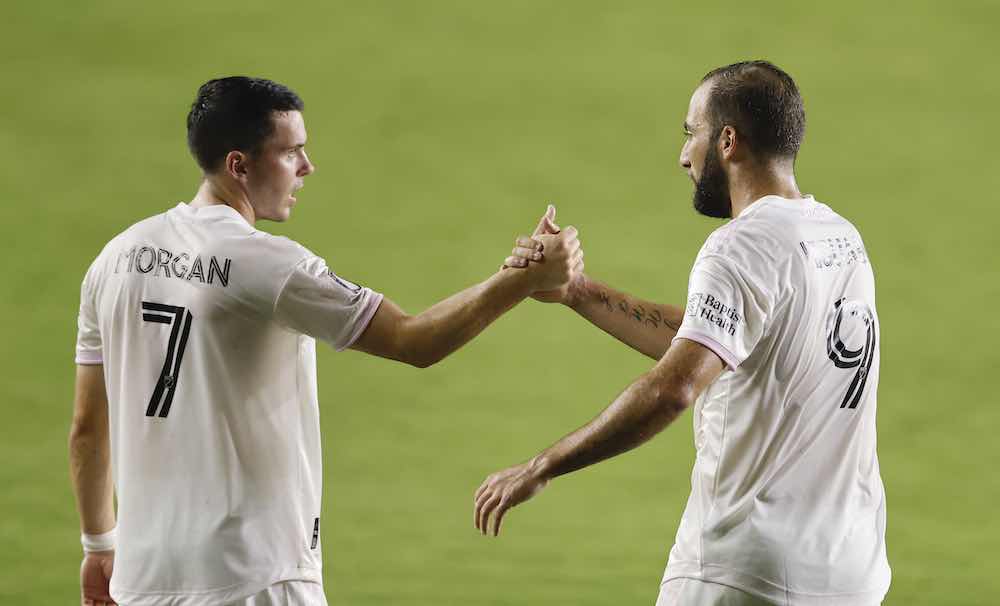 Morgan flew under the radar on joining Inter Miami. At the time, the club only had one DP on their roster and many fans were expecting a new arrival that would really move the needle.
When the signing of Morgan was announced, it was met with a lacklustre reaction. Not much was known about the then 23-year-old besides the fact that he had a couple of appearances in the Europa League, and the Champions League qualifying rounds.
It's safe to say that Morgan has definitely made his presence known since.
His style of play is exactly what Alonso wants from his wide attackers. Morgan excels at getting to the byline with his pace and using his 'favoured' right foot to put in a cross. He's also adept at beating his man one on one and cutting inside, using his left foot to have a shot on goal.
According to WhoScored, Morgan has an average of 2.4 shots per game, and this is an indication that the Scot is just as much of a goal threat as he is a danger from crosses.
His 3.1 crosses per games also fit Alonso's style of play, as the Uruguayan likes his wide players to take on their markers and cross into the box as much as they can.
Against the New York Red Bulls, Morgan showed his exceptional crossing ability with a nicely weighted ball that saw Matias Pellegrini finish cooly.
The ball from Morgan.
The confident finish.

First @MLS goal for Pellegrini. He'll never forget that one. 👏 pic.twitter.com/RSBcvyPjFG

— Inter Miami CF (@InterMiamiCF) October 8, 2020
Morgan provided a similar assist for Brek Shea's 79th-minute goal during Miami's most recent outing against Atlanta.
Since his debut earlier in the year, Morgan has grown into an all-round offensive threat for Miami. With the signing of Gonzalo, and now Federico Higuain, the club now has more creativity in attack and it's only a matter of time before the 24-year-old adds on to his five goals.
Defensively Stable
Perhaps an overlooked part of Morgan's game is his willingness to track back in defence. His 1.3 tackles per game are the most of any Inter Miami attacker that has played more than five games. His unselfishness on the defensive side of the game helps Miami in a number of ways.
His quickness and ability to dribble past defenders gives the team's right-backs some insurance should they be caught out of position.
As per Smarterscout's 3D model (below), Morgan's actions map goes all the way back to his own 18-yard box.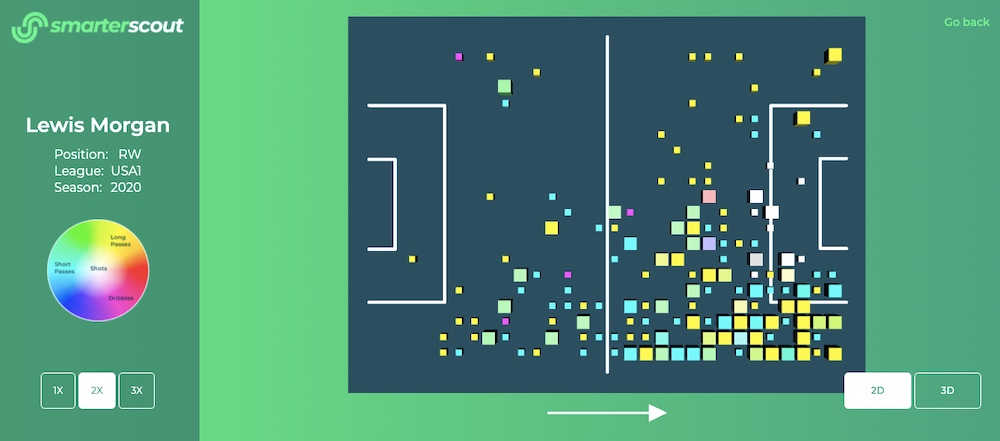 He will often track the opposition wide players like he was a fullback himself, showing selflessness and eagerness to help out on the defensive side.
The way Alonso sets up his teams, defending always starts from the front, hence the reason Miami implements a high press during certain periods of matches.
Lewis Morgan reminds a bit of Andy Robertson the way he presses, just tears right at the opposition full pelt.

— James Nalton (@JDNalton) October 10, 2020

Morgan's speed and tireless work-rate make him ideal for this, and is one of the reasons the right side of Miami has become so important on both the offensive and defensive side of the game.
Inter Miami's Player Of The Season?
With all of Miami's high profile signings this season, it's easy to see why Morgan was glossed over. He's not the flashiest name, but the 24-year-old has been integral to Miami's recent resurgence.
While Gonzalo Higuain and Pizarro make the team sheet look flashy, Morgan's skillset may be overlooked, but not for much longer.
His ability to whip in crosses, score with both feet, and defend comfortably is a large reason why Inter Miami are still in the hunt for a playoff spot.
When the 2020 season is all said and done, it will be fair to say that Morgan was Inter Miami's player of the season.
He cemented himself as one of the best players on the team, if he continues this current run of form, Miami has a solid chance of making the playoffs.