By Cain Smith.
When Ole Gunnar Solskjaer was appointed Manchester United manager, he made a couple of bold decisions when it came to his side's personnel up front.
Firstly, the club offloaded both Alexis Sanchez and Romelu Lukaku at the end of the Norwegian's first season in charge, and secondly, he handed Anthony Martial the No. 9 shirt and made him his regular starter up top.
Martial immediately repaid his manager's trust with goals and assists — 35 combined in the 2019-20 season — on top of some great link-up play with his fellow attackers.
Use your football knowledge to make bets on the football stock market – Football Index
But the 2020-21 campaign is not going as smoothly. He received a three-match ban after his red card in the embarrassing 6-1 defeat to Tottenham Hotspur and has just five goals in 21 appearances so far.
But even though he has not been scoring as much, Martial is still a vital part of United's attack. While Bruno Fernandes and Marcus Rashford are firing on all cylinders, Martial is the glue in attack for the Red Devils.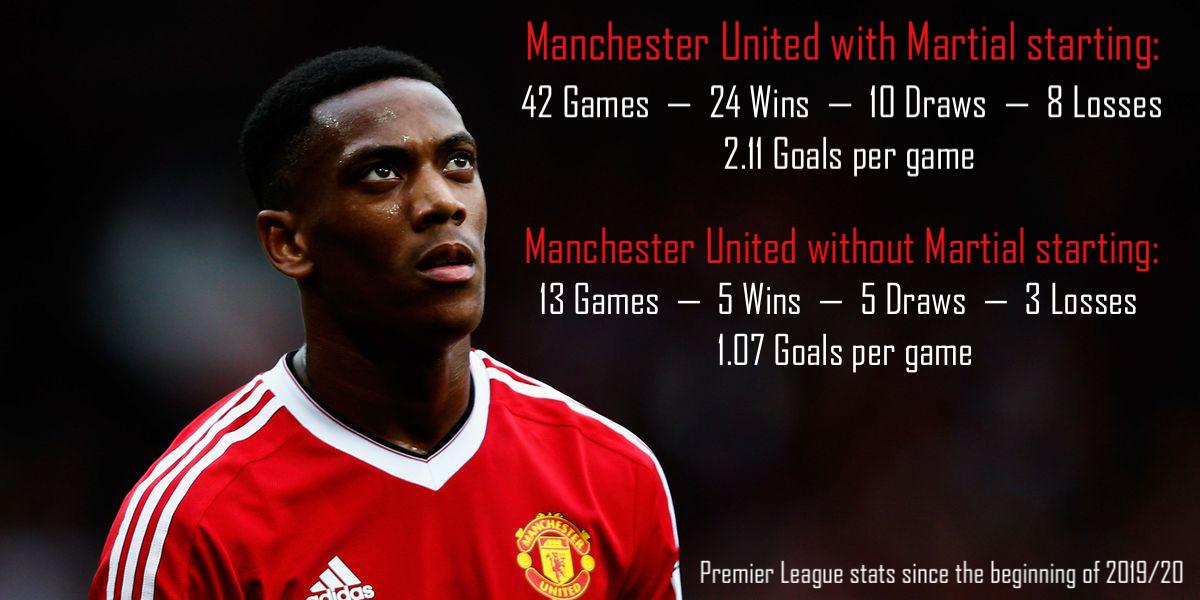 The graphic above shows United score more when the Frenchman is playing and also win 57% of their matches when he starts. This drops to 38% when he doesn't.
The statistics show that Man United are just a better team with Martial playing. Cavani's goal against Everton in the Carabao Cup is also a prime in-game example of how Martial links the play for United.
He moves into a position between the lines opening up a passing lane for Harry Maguire, receives the ball, turns and plays a pass to Cavani who scores past Robin Olsen.
While what he does in this clip is not spectacular, it is a vital part of United's attacking play, especially since they have such a focus on their presence between the opposition lines.
Speaking about Martial on MUTV last season, Solskjaer said:
"Anthony is a vital player for us. He's probably the one player that you can see hold the ball up more and you've got players making runs in behind."
While he is not quite creating as much as he was last season, Martial still has 2.76 shot-creating actions per 90 in the Premier League and clearly has the respect of his fellow forward, Marcus Rashford.
At the tail-end of last season, Rashford tweeted: "Tony wins, I win, we all win. That's my guy" as both were challenging to become United's top scorer that season.
Tony wins, I win, we all win. That's my guy 👊🏾

— Marcus Rashford MBE (@MarcusRashford) August 8, 2020
Rashford also gave his potential hat-trick penalty to Martial in United's 5-0 victory over RB Leipzig in order to give the Frenchman some confidence. It's shown that Martial's teammates appreciate what he brings to the table and want him to do well.
Talking to MUTV, last month, Solskjaer added: "He will always have the quality, Anthony. Maybe his confidence has been bruised a little bit by what happened earlier on in the season with the red card, and he has had some criticism.
"But Anthony is going to be better and better. When we get Mason [Greenwood], Marcus and Anthony firing on all cylinders as well, I think we will be a bigger threat for teams."
But Martial's usually clinical nature in front of goal has seemingly disappeared this season. He has scored just twice in the Premier League and has missed six big chances.
This season in the Premier League, Martial has an expected goals (xG) tally of 3.7 and has scored just twice, this is the first time in his career he has underperformed his xG.
The chart below shows Martial's actual performance against his xG for the past four seasons.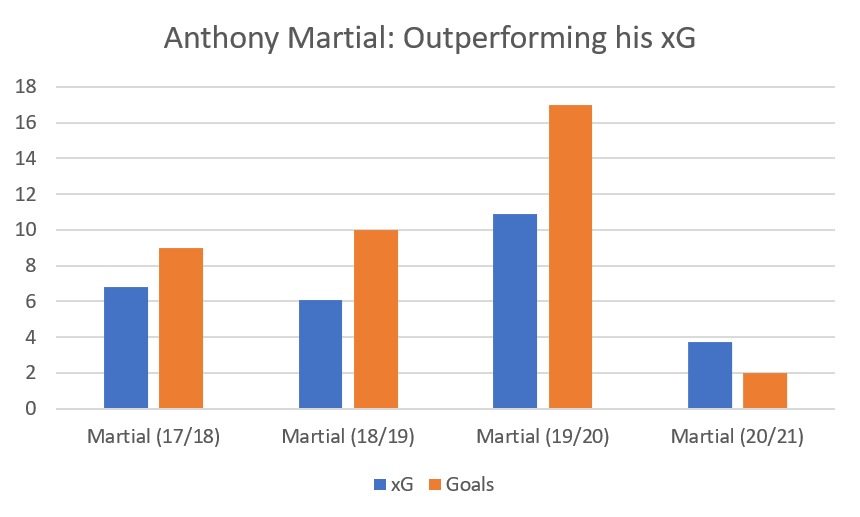 xG measures the quality of each shot taken based on several different variables, such as the shot angle and the distance from the goal. If a player has a higher xG, that means they are getting into good positions frequently; however, Martial has never really been this kind of player, which is a weakness when he's playing through the middle.
Due to his quality in from of goal, his ability to link-up play, and his trademark curling shot into the top right corner, Martial frequently overperforms his xG — but not this season, at least so far.
Ultimately, history tells us that Martial is a top-class finisher and that his underperformance in this area can be linked to confidence issues.
Martial displays excellent shooting technique most of the time but the scoring positions he gets into aren't always 'high xG' positions.
But with United becoming a more dominant force, and Martial having better teammates to link-up with, it is expected that he will start to take more chances and regain confidence. We should see a return of his cool and clinical nature in front of goal sooner rather than later.
Even without his top quality finishing, Martial offers Man United so many other assets through the middle or from the left. At 25 years old, he is approaching his peak years at the right time for the club, and if they're going to continue their title challenge they will need the Frenchman to keep that attack ticking.
Buy shares in Anthony Martial on Football Index – bet on the football stock exchange
---
+18, New UK and Ireland customers only, begambleaware.org, T&Cs apply.