By Louis Smith.
A historic final matchweek of football took place in the Brasileirão yesterday evening and saw both Internacional and Flamengo battle it out for the league title in separate parts of the country.
Replicas of the trophy were flown out to the Morumbi and Beira-Rio stadiums for presentation purposes — in typical Brazilian football style, the season wasn't going to finish without drama.
"For the first time in the history of the Brasileirão, two trophies will travel Brazil for the final round. One will be in the Beira-Rio, where International will face Corinthians. The other in Morumbi for São Paulo vs. Flamengo." 🇧🇷🏆 https://t.co/RbFuRMEdBT

— Anna Evans 🏴󠁧󠁢󠁷󠁬󠁳󠁿🇧🇷 (@AnnaGoleador) February 25, 2021
Last Sunday, Flamengo enjoyed a 2-1 victory over Inter to put themselves in pole position to become champions for the second straight year. The last time this happened was when Cruzeiro won back-to-back titles in 2013 and 2014.
The Rubro-Negro faced a daunting trip to the Morumbi to face São Paulo where they haven't won since 2011. São Paulo knew they had the tools to beat Flamengo, having done so three times already this season, but since then their form has dropped off massively and they came into the game as underdogs.
24 hours before departing to Brazil's most populated city, the Flamengo team bus was given a large send-off by the Rubro-Negro faithful.
Fans of @Flamengo today at the Rio de Janeiro aiport before the team's flight to São Paulo

Flamengo needs a simple win tomorrow against São Paulo to win the 2020 Brazilian League title.pic.twitter.com/nH5obbUzlB

— The Campeão (@TheCampeao) February 24, 2021
Flamengo are the most-supported club in Brazil and even though they were playing more than 200 miles away from Rio de Janeiro, fans of the club continued street gatherings as the team left the club hotel for the stadium in São Paulo.
Torcida do Flamengo apoia time na saída do hotel, rumo ao Morumbi! Hoje tem Mengão campeão? pic.twitter.com/FS49RFecms

— FOX Sports Brasil (de 🏠) (@FoxSportsBrasil) February 25, 2021
Despite knowing the title was no longer in their hands, Internacional fans remained hopeful that fate would be on their side. They had to beat Corinthians in Porto Alegre and hope São Paulo could do them a massive favour as they sought to end a long drought without a league title.
"The last games have left us with doubts about the team's performance, but with Inter everything is always difficult so we believe in mysticism," Inter fan João Victor told WFi prior to kick-off.
"Today is a unique day when we are not in control of our destiny. The expectation is that we will win a historical title.
"I believe in São Paulo, I believe they will play a great game in order to qualify for the Libertadores Group Stages.
"I'll watch the games on two monitors. One for Inter and one for São Paulo. I hope that Tricolor can at least draw."
With the pre-match bickering complete and the lineups selected, at 21:30 the whole of Brazil fixed their eyes on television screens in anticipation.
A menos de uma hora do início do jogo, concentração grande de torcedores do Flamengo na praça Varnhagen, na Tijuca, bem pertinho do Maracanã. É difícil achar gente de máscara por aqui. #trmorumbi pic.twitter.com/UJTBTa73F9

— Thayuan Leiras (@thayuanleiras) February 25, 2021
The first talking point of the evening arrived after just 18 minutes when São Paulo's Igor Vinícius thought he was brought down by Mauricio Isla. A VAR check followed but the call of referee Rodolpho Toski Marques stood, much to the fury of the home side.
Shortly after, 697 miles away in Porto Alegre, Inter were awarded a penalty when Moisés Barbosa's cross hit the arm of the sliding Bruno Méndez. As was the case at the Morumbi moments earlier, a lengthy VAR check followed, eventually advising referee Wilton Pereira Sampaio to take a look at the VAR screen. On his return to the field, he reversed his decision.
The decision to rule out the penalty seemed to anger the Inter players who stepped up their aggression levels — a move they thought paid off when Yuri Alberto dinked the ball over Cássio to give his side a 1-0 lead, only for technology to intervene again and rule the goal out for offside.
Inter did get their slice of luck but it wasn't of their own doing. A wonderful free-kick from Luciano gave São Paulo the lead against Flamengo completely against the run of play in a first half that had been dominated by the Rubro-Negro.
Knowing they were just a goal away from swinging the pendulum in their favour, Inter came out of the blocks flying in the second half. A Heitor cross found Edenílson who had a golden opportunity to give his side the lead, but his headed effort was straight at the Corinthians goalkeeper, Cassio.
While Inter were wasting a chance, a Bruno Henrique header pulled Flamengo level. Their lead wouldn't last long, though, as a poor kick from goalkeeper Hugo Souza found Dani Alves who picked out a perfect pass to Pablo who tucked the ball past Souza to put the hosts back in front.
Things went from bad to worse for the Rio club when striker Gabriel Barbosa was forced off with an injury.
Attention once again turned to the Beira-Rio stadium as Internacional kept knocking on the door. Caio Vidal hit the post and a Lucas Ribeiro header went close.
Time was running out and Inter needed to find a goal that would see them crowned champions.
The fourth official held his board up to indicate seven minutes of added time. For the Flamengo fans, players and coaching staff it would have felt more like seven hours.
The injured Gabriel Barbosa couldn't keep still and was pacing up and down the touchline, keeping an eye on the screens around him as to what was going on.
The first five minutes of added-time were like the full second half, plenty of possession for Inter but unable to find a way through.
That was until Victor Cuesta picked the ball up from the halfway line and drove towards the box, he played a lovely one-two before putting in a perfect cross for Edenilson to tap home, sparking wild celebrations…
Unfortunately for Inter, they lasted only a millisecond as the linesmen raised his flag — an image Inter fans will find difficult to erase from their memories.
— The Campeão (@TheCampeao) February 26, 2021
That was just the start of a hectic two minutes. The hosts were awarded a corner — one moment and one final opportunity to become heroes.
Up stepped keeper Marcelo Lomba who challenged his counterpart Cássio for the ball. It eventually found Lucas Ribeiro who fired it high into the stands leading the referee to blow his whistle.
It was a painful, blood-curdling sound for everyone associated with Internacional as their 41-year wait for a title is now extended.
For every loser, there's a winner. As events unfolded in Porto Alegre, Flamengo players were crowded around Willian Arão. Arão couldn't play after fracturing his toe, but what he did have was a charged phone and a good signal.
While that referee's whistle in Porto Allegre was a horrible sound for Inter to hear, it was a sweet melody for Flamengo's players who hugged and shed tears of joy at becoming back-to-back champions.
The triumph came in the perfect setting for manager Rogério Ceni who joined Flamengo from Fortaleza earlier in the season.
Ceni was a cult hero at the Morumbi during his time there as the club's goalkeeper. He played over 500 times for São Paulo, racking up 65 goals.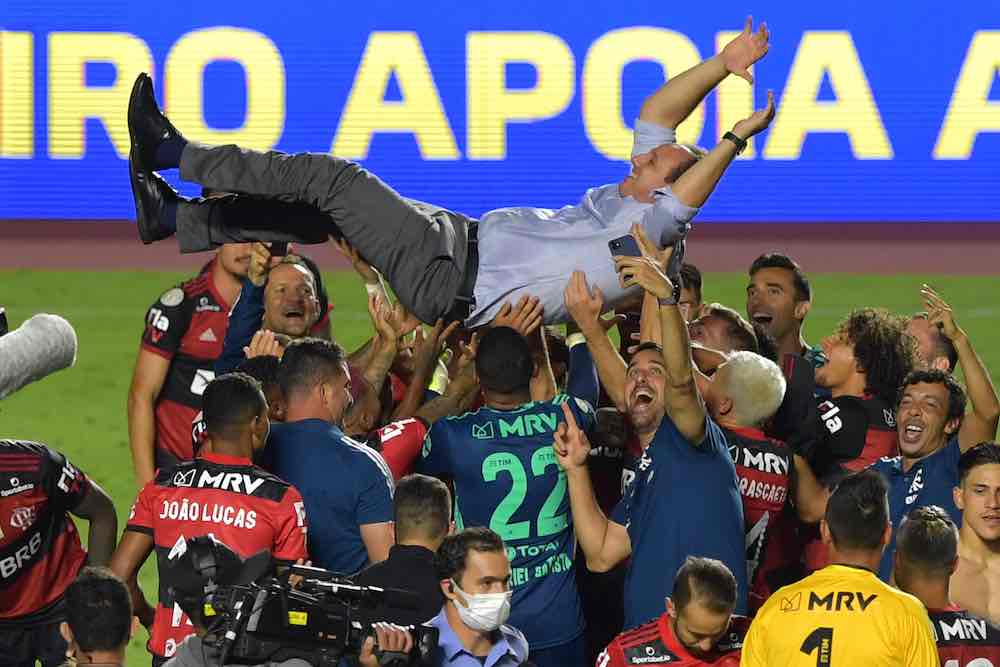 Ceni won countless trophies as a player including the Copa Libertadores twice, three league titles and a FIFA Club World Cup.
It was fitting that his first domestic top-flight managerial success came at a stadium where he cherishes so many wonderful memories.
"I am happy because I had the opportunity to win three championships with São Paulo and one with Fortaleza in Serie B," said Ceni.
"It was what brought me here. I say that Flamengo is different. Today in Rocinha I saw the game being shown on the screen.
"I'm sure that although the result was not what we wanted, I'm sure that Rio will wake more cheerfully. The joy of these people is to see Flamengo win."
That's it. The drama, the excitement, the craziness of the wonderful Brasileirão is over until May when 20 teams will do it all over again.
In a season where each team lost at least eight matches, it was only fitting that the title was won by a team losing on the final day.
This campaign has been different from any other with no fans being able to attend but in the end, it was the same outcome as in 2019, and Brazil remains rubro-negro.