Bundesliga Zeitung, by Andy Wales.
Much like other major European leagues, the Bundesliga is experiencing an unusual season. The Covid-era has brought a number of challenges to football, many of them beyond the financial issues, one of which is the physical demand placed on players by a condensed schedule.
There are questions to be asked of footballing authorities and the way in which players have been treated as commodities in the midst of this global pandemic.
For Bayern, having such little time between winning the Champions League final and starting this season has taken its toll. Injuries and inconsistent performances have left Bayern vulnerable in games. It should also have left them vulnerable in the table, but the inability of rivals to capitalise has become a familiar feature.
Despite the appointment of Julian Nagelsmann, RB Leipzig have struggled to find the necessary consistency of champions. They undoubtedly have a talented squad, but not quite enough to be considered serious title challengers. Just how long Nagelsmann is willing to accept this situation remains to be seen.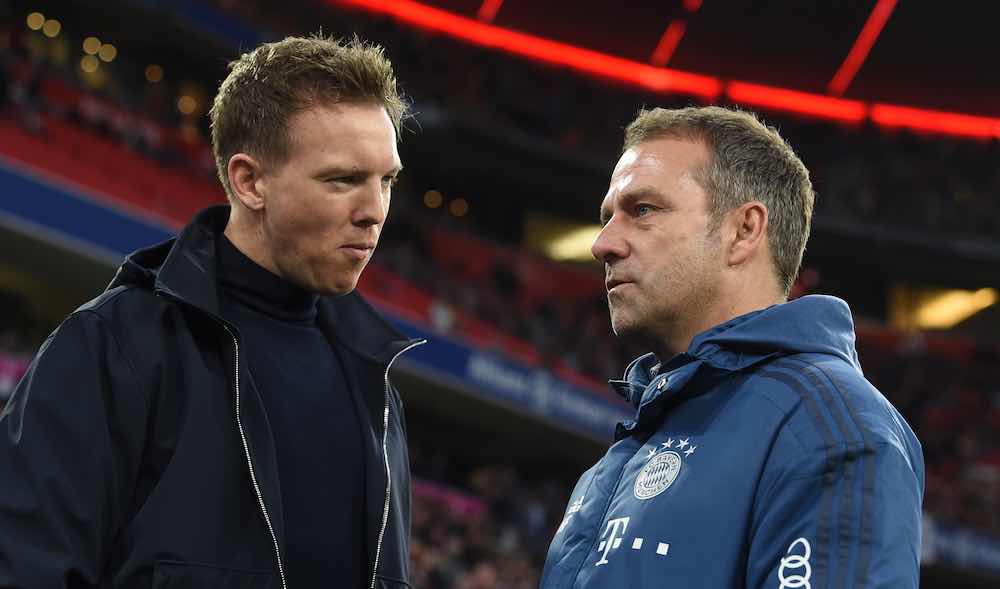 Yes, they are still the closest team to Bayern in the table, but they are seven points adrift. Rather than challenging for the lead, they are currently the furthest forward of the pack struggling to keep up.
Borussia Dortmund, on the other hand, should be serious challengers. They have a deeper squad than Leipzig and it contains a better mix of youth and experience. Their expectations are also higher and the missed opportunities to win trophies over the past couple of years have been well documented.
Those frailties too often seen under Lucien Favre needed to be dealt with. It was clear last season that the problems were recurring ones. However, Hans-Joachim Watzke and Michael Zorc sat on their hands.
It was clear that Favre was not going to have his contract extended and action was required. Instead, Dortmund opted for comfort because it was easier to allow Favre to continue. It was a move that backfired. Favre looked increasingly lost on the sidelines as the team drifted.
Replacing Favre last summer would've been a big decision, but it's now one that's become bigger.
Under the temporary stewardship of Edin Terzic, Dortmund have become more aggressive. However, whilst the style has altered, the results have not. Structural issues and inconsistency persist. Whether the plan is Marco Rose or Jesse Marsch, it cannot wait until the summer.
The safe option of sticking with Favre last summer now has Dortmund uncertain of securing Champions League football. This, despite a comfortable victory over Augsburg over the weekend.
Dortmund are not the only club facing big decisions that may impact their future. Hertha Berlin recently fired head coach Bruno Labbadia and general manager Michael Preetz. Hertha have long been an enigma of a club, but expectations have risen with their recent investment.
The appointment of Jurgen Klinsmann failed spectacularly, ending with his well-publicised departure a year ago. Labbadia helped ensure safety from relegation, but are now back where they started. Rumours of dressing room unrest, along with poor results, prompted change.
Pal Dardai has been put back in charge of the team until the end of the season, but it's yet to change their fortunes on the pitch.
🗣️ @paldardai: What went before doesn't interest me. What happens from today – that is what counts. I've had good conversations with the team and we as a coaching staff have taken a really great first impression from the training ground.#HaHoHe pic.twitter.com/2GO9nDObIi

— Hertha Berlin (@HerthaBSC_EN) January 26, 2021
Eintracht Frankfurt were the latest team to beat them on Saturday and next up is Bayern. Hertha are ambitious, and Ralf Rangnick was a name linked after Labbadia's sacking. That would certainly be an interesting move, but is thought to be unlikely.
Thomas Tuchel was even suggested by some after his departure from PSG. However, his appointment at Chelsea ends any faint possibility of that.
What Hertha do next, in terms of a permanent appointment, will be a test of their ambition. Could they attract an exciting coach such as Ralph Hasenhüttl or Jesse Marsch to try and move to the next level?
While other Bundesliga clubs will have decisions to consider over their short-term future, it's fair to say none promise to be as defining as those facing Dortmund and Hertha.