By Jordan Florit.
After months of uncertainty, one postponement, and a last-minute press conference announcing its start at four days' notice, the 2021 Venezuelan Primera División kicked off on 11 April, making it the last South American league to do so.
A new three-group format and a convoluted second stage to decide the champion and continental qualification will keep viewers entertained, as too will the plethora of wonderkids the league has to offer those wise enough to dispatch their scouts to the continent's northernmost nation.
While Dani Pérez and Jovanny Bolívar were astutely identified and signed by Club Brugge and DC United at the end of last season, there are plenty of budding starlets waiting for their own big move in the next 12 months. WFi takes a look at ten who stand out.
Andres Ferro – 19 – Metropolitanos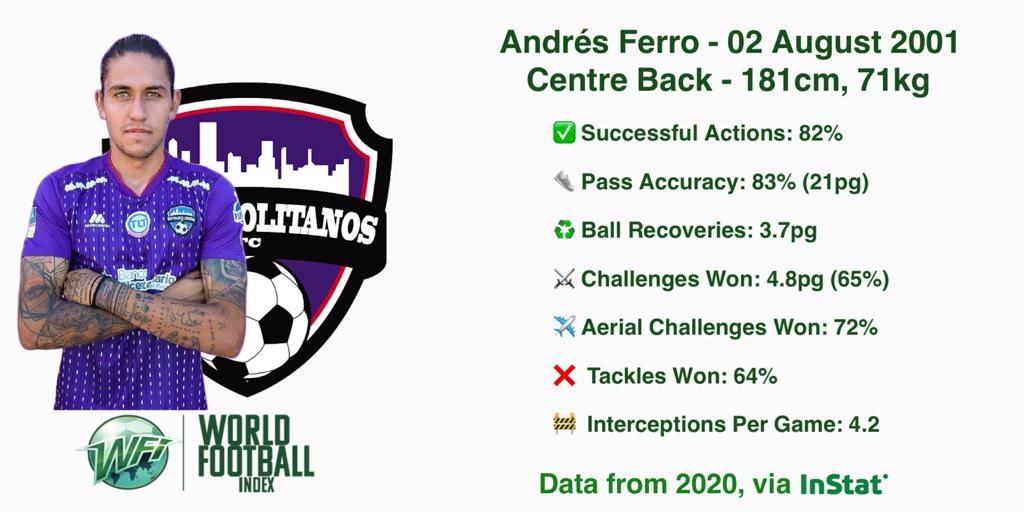 Composed, athletic, and fast, Ferro is symbolic of the identity José María Morr has stamped on his Metro side. Despite his age, the centre-back is already a leader on the pitch, brooding with confidence and certainty. Expect dominant displays.
Danny Hernández – 19 – Mineros de Guayana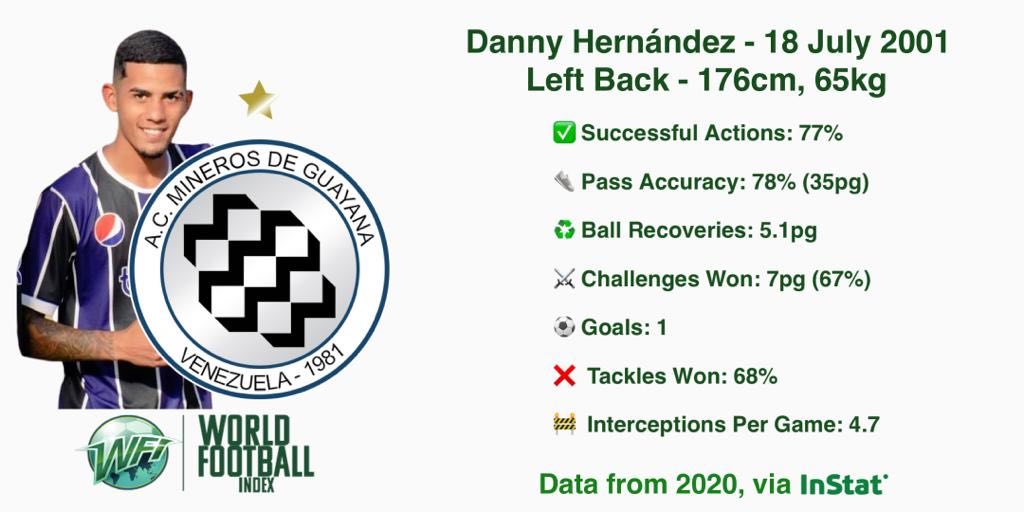 Reliable, disciplined, and hardworking, Hernández is a throwback to fullbacks of old rather than the modern wingbacks of today. Mineros aren't in the best state as they start the new season, but they can rely on this zurdo to give his all.
Matias Lacava – 18 – Academia Puerto Cabello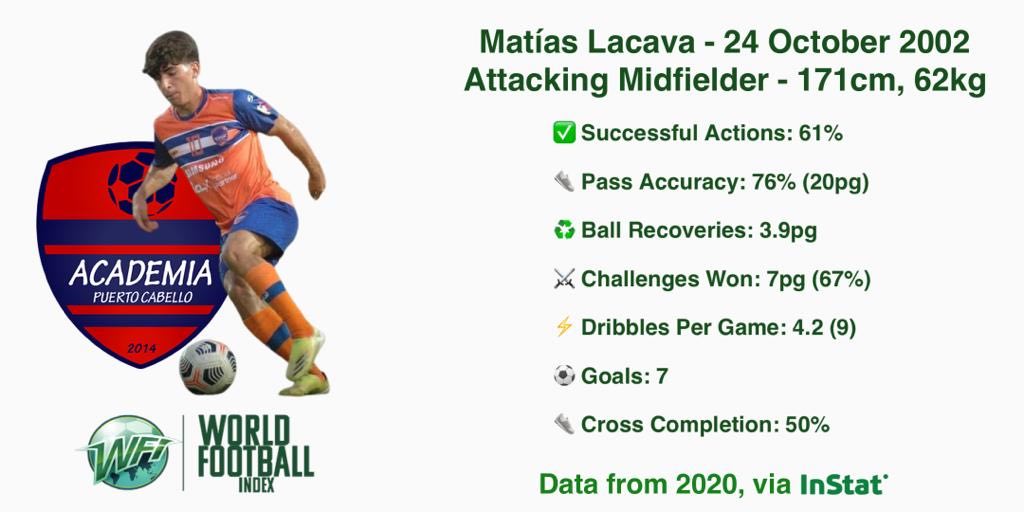 Few enchanted on the pitches of Liga FUTVE in 2020 like this former Barcelona, Lazio, and Benfica academy prospect. Lacava managed to score 7 goals in 15 games last year and guided APC to a historic finish, despite starting the season still only 17 years old. Whether down the wing or as a #10, Lacava is a youngster even veteran defenders should fear.
Angelo Lucena – 18 – Portuguesa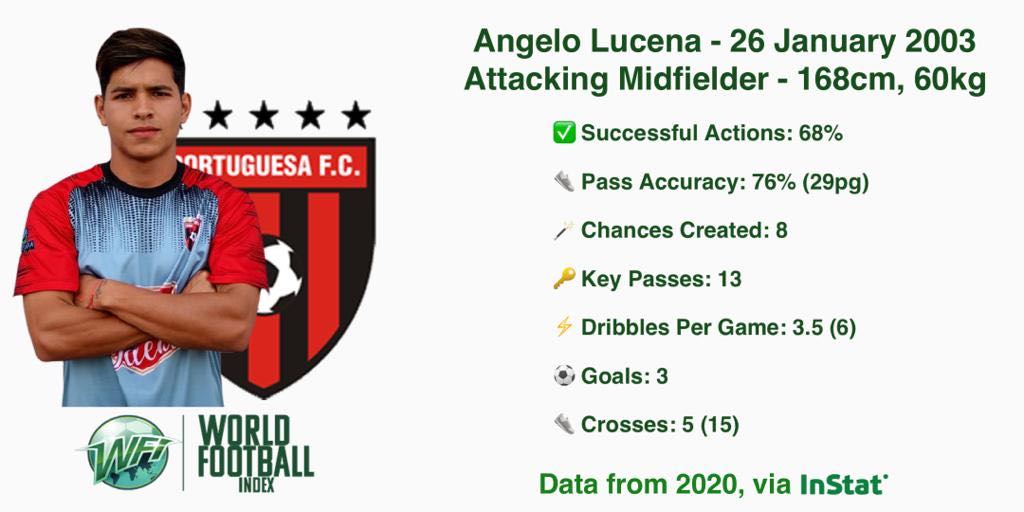 Indisputably Portuguesa's best player in 2020, many thought the attacking midfielder, out of contract, would have moved in the transfer window. Instead, he signed a two-year contract renewal and will now be counted on to lead the team with his creativity.
Jon Aramburu – 18 – Deportivo La Guaira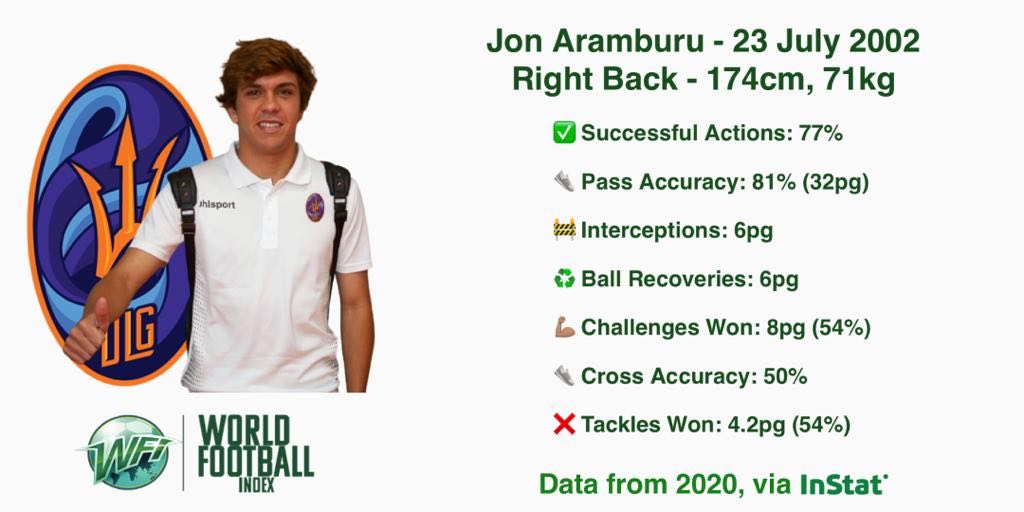 A ball of physicality and energy on either side of defence, Aramburu marked his first full season in FUTVE with the title. As a U20 international with a Spanish passport and signed to the same agency as Antoine Griezmann, his second Venezuelan campaign could also be his last.
Telasco Segovia – 18 – Deportivo Lara
Every team in Liga FUTVE must field at least one player born in 2001 or since, and Segovia is Lara's obvious choice after a stellar breakthrough season in 2020. Composed, verging on effortless, and a joy to watch, this centre midfielder is what they refer to in South America as a crack.
Yerson Chacon – 17 – Deportivo Táchira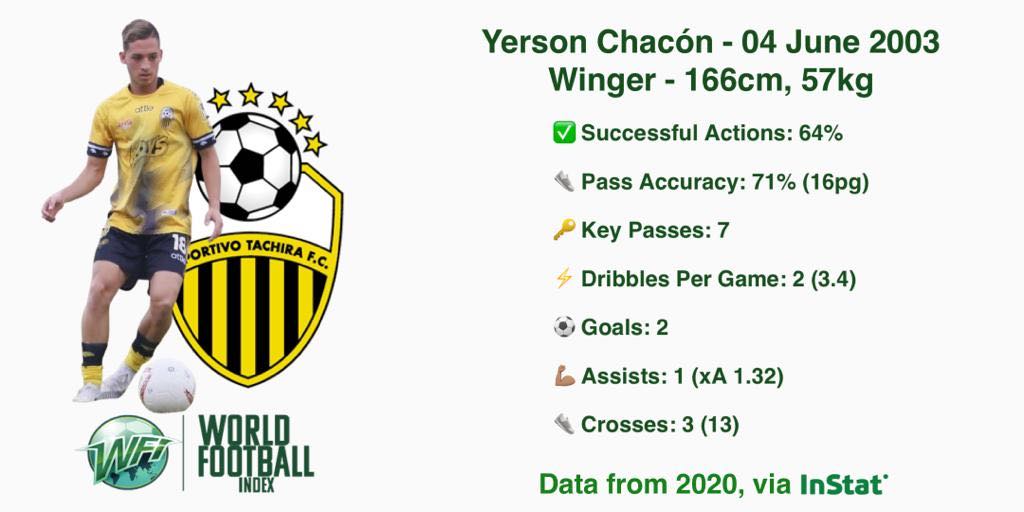 Thirteen starts and a sub appearance in a 15-game season is one hell of an introduction for a player who only turned 17 in June. With a spot in the Libertadores group stage, too, expect Chácon to rack up plenty more minutes before he hits 18.
Along with Segovia, the young winger has been listed in the 'Top 20 most promising youngsters worldwide (2003)' according to CIES Football's capital experience approach, which weights domestic league minutes played with the sporting level of their teams on a global level.
Abraham Bahachille – 20 – Metropolitanos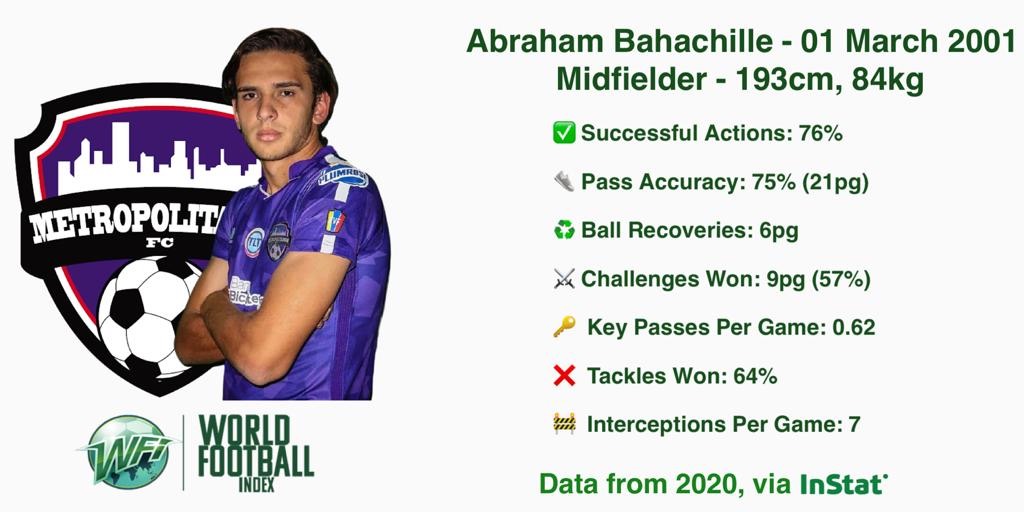 The dominating midfielder was a key man in José María Morr's young side, as they qualified for the Sudamericana last year. At 1.94m (6'4) it's hard to miss him, and he'll be hoping to stand out in the group stages, too, where they'll face Melgar, Aucas, and Club Athletico Paranaense.
Edson Rivas – 19 – Estudiantes de Mérida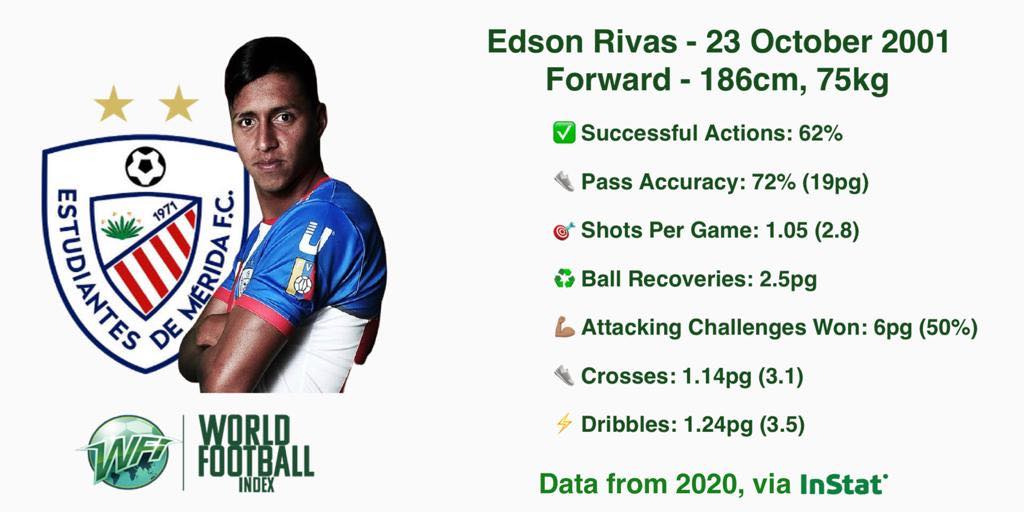 The versatile attacker has already proven himself a prime prospect for both club and country, making good of 2020 despite his club's struggles.
Playing off a #9 or on the wing, he impressed in both league and Copa Libertadores play. A more mature Rivas should prove dangerous for the Estudiantes front line, in which he'll play more centrally this year. He's already bagged two this season, as Estudiantes beat Trujillanos 4-0 last Saturday.
Jhon James Pacheco – 19 – Yaracuyanos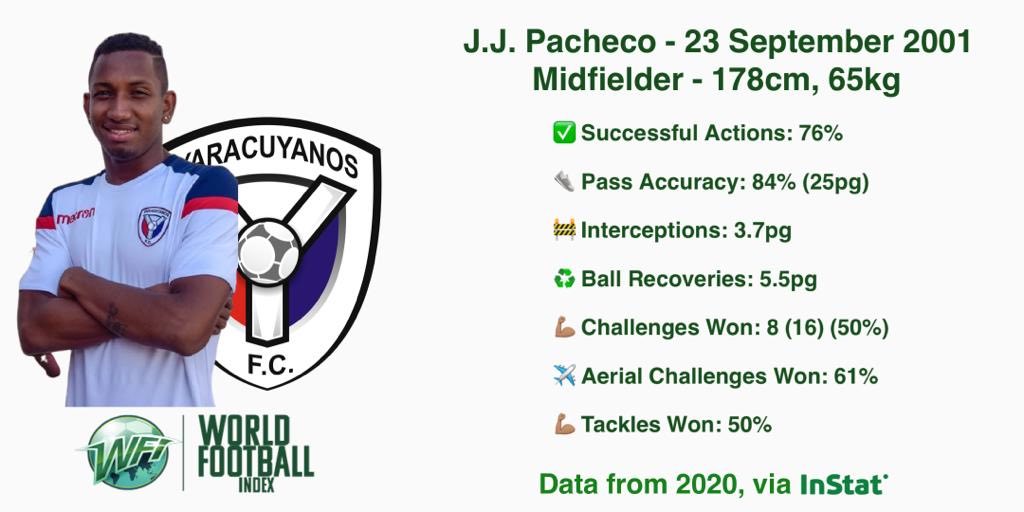 This athletic and robust midfielder has the ability to be a defensive lynchpin or a box-to-box gamechanger. Throughout 2021, expect Pacheco's technique and ability on the ball to improve under new Head Coach Daniel Farrar. The American-born Paraguayan is known as Guardiolita for his footballing philosophies and Pacheco is sure to be a beneficiary of his methods.
Bonus: Joantony Carmona – 19 – Currently Unattached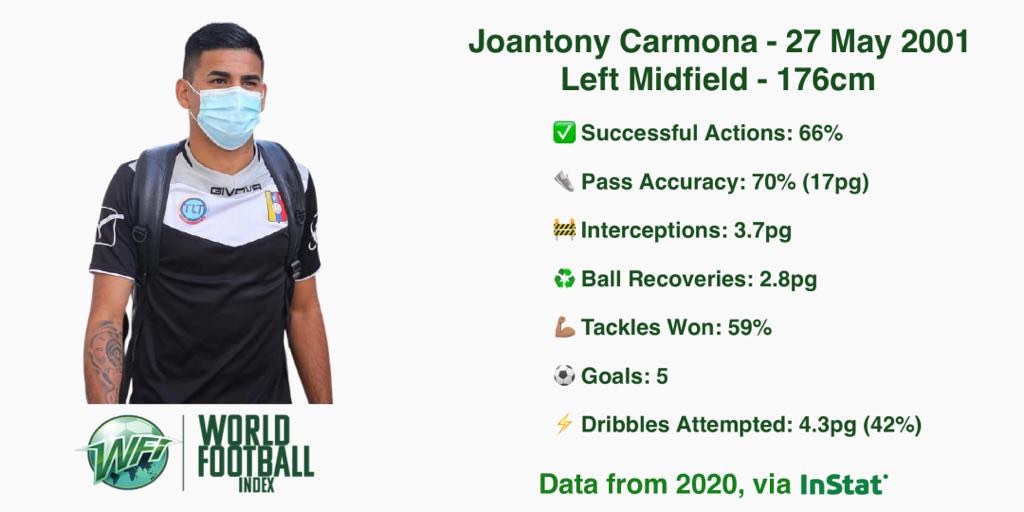 Carmona's contract expired on 31 December and with his club in financial difficulty and his stock high, he did not renew. Instead, the former Trujillanos man is courting clubs in Brazil and the US.
Comfortable anywhere on the left, Carmona can defend and dribble, anticipate and attack, and cover and create. He has all the makings of a dangerous wingback. Expect him to chip in with goals and assists, wherever he ends up.
---
Jordan Florit (@TheFalseLibero) is the founder of @FUTVEEnglish — a Twitter account dedicated to English language coverage of Venezuelan football.