By Mike Rice.
The new Liga 1 season is underway in Peru and part of the league's rules include a minimum number of minutes for players born in 2001 or later.
Each team is required to complete 1830 minutes from these collective players — 810 minutes are required in Phase 1 and 1020 in Phase 2.
The following players are all under 21 and have the opportunity to show their talents, whether in search of moves abroad or trying to claim first-team positions as their own in Peru.
Yuriel Celi (19) – AD Cantolao
The Deportivo Cantolao academy product has become a starting player for his side already at the age of just 19.
An attacking midfielder with plenty of flair and creativity, he began to break into the first team in 2019 before becoming a regular last season.
2020 saw plenty of rumours of moves, including a much-reported failed transfer to Racing in Argentina.
Celi will continue this season with Cantolao but a player of such talent may not stay for long. He is one of a number of players with plenty of potential but often looks like he is trying too much in this side.
A move is definitely required, but after issues last season with potential transfers, something needs to change for him to find the right club going forward.
Kluiverth Aguilar (18) – Alianza Lima
Aguilar is probably the most talked about player on the list due to his planned move to Manchester City.
It is hoped that his transfer, agreed back in 2020, will raise the interest and awareness of the Peruvian league to clubs outside of South America.
As a 16-year-old, Aguilar established himself in the first team at Alianza Lima as a speedy full back with bags of potential.
At 180cm tall he is also proving to be defensively sound in the air and has been continuing his progression well at Alianza despite a very poor season for the club.
He was part of the Peru U23 side that beat Paraguay 3-2 in Olympic qualifiers in 2020 and has recently been named in Gareca's provisional squad for the Peru Copa America.
He will join up with Man City in May and no doubt be sent on loan to one of the City Group clubs to continue his development.
Paolo Reyna (19) – Melgar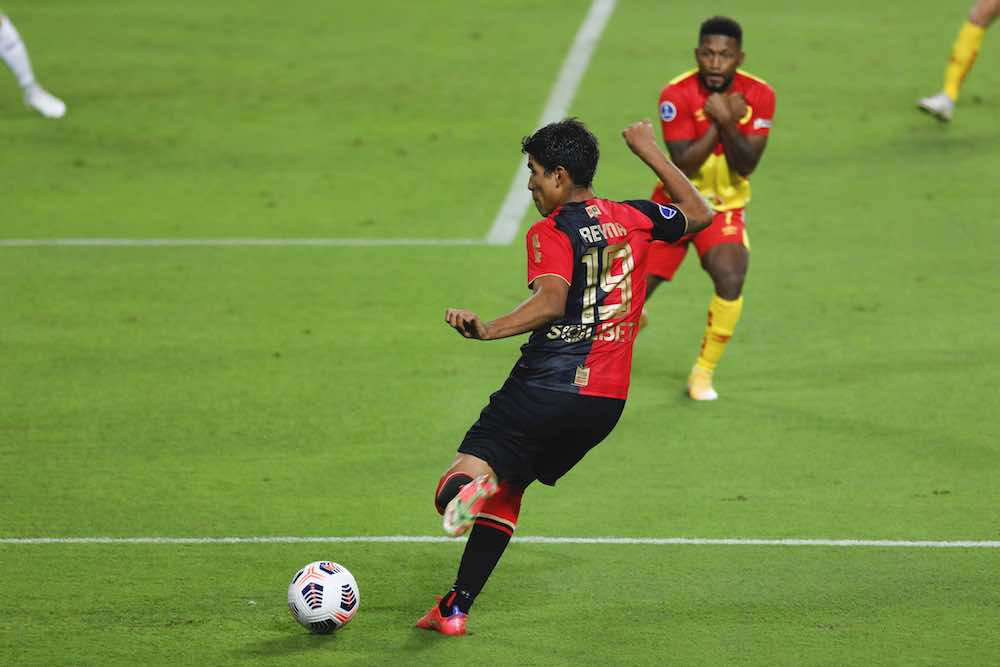 Arriving at Melgar in 2019 from Coronel Bolognesi, Reyna forced his way into the first team, eventually cementing his place for the 2020 season.
He is a strong attacking full-back with plenty of pace. One of his key strengths is how well he reads the game; he has the third-highest recoveries 13.35 average per 90, and the eighth-most interceptions with 7.48 average per 90 in Liga 1.
At 180cm, he is tall for a full-back in Peru and this has been useful when it comes to defensive actions. It also adds flexibility, seeing him used as a left-sided centre back at times by Melgar last season.
Reyna is part of the provisional squad for the Peru Copa America squad. He will look to compete with Marcos Lopez of San Jose Earthquakes and Jean-Pierre Rhyner of FC Emmen for the backup role to Miguel Trauco.
Aaron Sanchez (17) – AD Cantolao
Another young player who is into his second full season in Liga 1, Sanchez got off to a strong start. Scoring in Deportivo Cantolao's 3-0 win against Universitario and has now also been added to Peru's provisional squad for the Copa America squad.
He is a big, physical presence in the heart of the Cantolao defence. He can be strong in the air, but at times he is too static in his position and does not attack the ball as well as some opponents. This is an area of the game he will need to improve as, due to his size, he should be competing better and more successfully than he is at present.
Apart from this, he has all the physical attributes required to improve his game, and has confidence gained by being part of the first team since the age of 16. With another season of improvement, it will be easy to see him moving on along with Celi to a stronger team/league.
Erick Perleche (20) – Cienciano
A solid full-back brought in from Pirata for the 2020 season, Perleche, as one of the older players on this list, has already shown his composure and confidence in Liga 1.
Defensively sound, he positions himself well and has a good change of pace when defending 1v1 and when overlapping in attack.
He's tidy in possession, not one to dribble and run at players but to move the ball quickly and carefully. His passing is often close and composed, moving after the pass to receive, like a central midfielder, with the ability to break lines and attempt long passes to change the emphasis of attack.
Perleche is part of a Cienciano side looking to challenge in the league this season having missed out on Copa Sudamericana qualification on goal difference last season.
With his contract set to expire at the end of the season, qualification to a continental tournament will be at the forefront of his mind.
Jostin Alarcón (18) – Sport Boys
Alarcón is making his first senior appearances for Sport Boys this season, mostly from a wide left position. He is off to a solid start and really catching the eye with his high-energy performances. He recently scored his first professional goal in a 3-1 victory over Deportivo Municipal.
He is quick to press and puts defenders under pressure regularly. His commitment to the side out of possession will be something fans will appreciate, and will also motivate teammates.
In possession, Alarcón is quick and has a good balance, meaning he is able to run at defenders at pace. His goal came from receiving the ball on the left wing and cutting inside to finish from outside of the box. He showed confidence and composure in possession as well as in his finish.
Alarcón looks to be a great prospect and one which Sport Boys are in need of. Usually considered a midtable side, if they can continue to produce players like Alarcón, they can look to progress and improve — though interest in this enthusiastic player will surely be high.
Alfonso Barco (19) – Universidad de San Martín
After leaving San Martin to join Cesar Vallejo in 2018, Barco returned in 2020, making mostly substitute appearances for Los Albos.
This season he has become a key figure in a youthful centre of midfield, usually alongside Jose Inga (21) on loan from Cristal.
Barco is a tall and composed midfielder. He provides the screen in front of the central defenders and never looks hurried.
His strengths lie in monitoring late runs from midfield by opponents and positioning himself well in order to intercept and tackle.
His passing range enables San Martin to build attacks. Often utilising quick one or two touch passes, he moves immediately to look to receive.
With good strength on the ball he is composed when holding onto possession while looking to play forward. He will be a key part of how San Martin play and has a bright future.
Walter Tandazo (20) – Melgar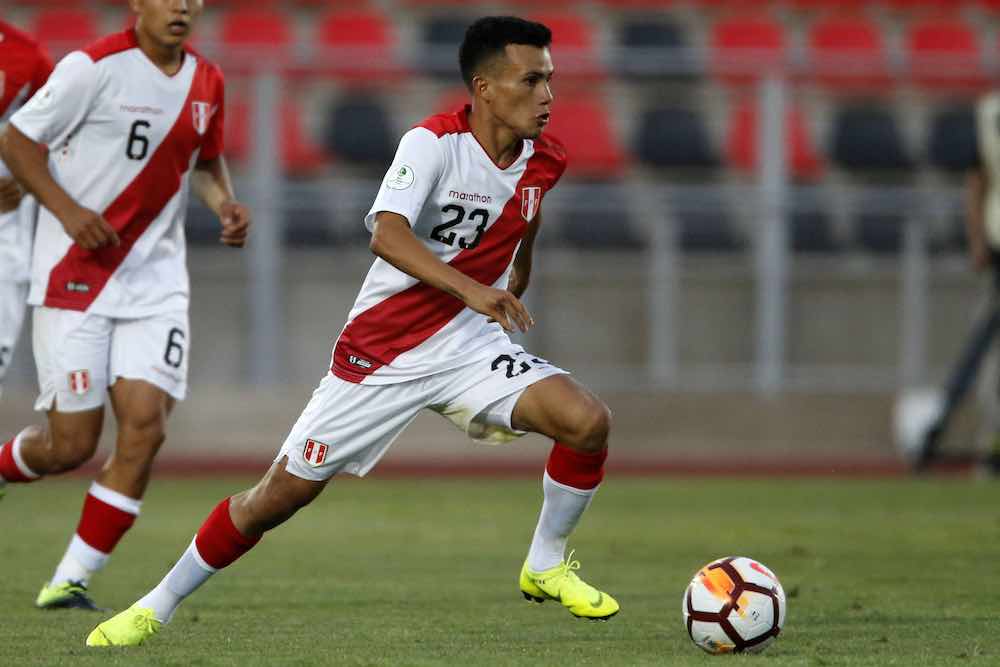 Tandazo looks to have made the central midfield position his own this season at Melgar. He is a small but quick and hard working midfielder, able to cover plenty of ground and compete with any opponent.
In possession he is proficient in his long passing and can instigate counter-attacks. His size will be an issue for some teams, though his work rate and current form in this early stage of the season has shown him to be one of the most consistent defensive midfielders in the league.
Tandazo has made the fourth most passes per 90 so far this season (52.69 per 90 with an 87% success rate), the most defensive duels 13.76 per 90 with a 58% success rate as well as the second-highest recoveries with 13.52 per 90.
Franchesco Flores (19) – Universidad César Vallejo
A diminutive attacking midfielder who is currently struggling to find his place in a side playing with wing-backs.
Flores is full of pace and trickery, his ability to run at players is amongst the highest in the league, with great balance and composure at high speed when taking players on.
He is a very direct player. When he's able to get the ball under control he looks to attack and puts defences under pressure with strong through passing as well as dribbling. This can make his actions hard to read for opposition defenders.
At Cesar Vallejo, he is sometimes being used in a wing back role which often does not suit his abilities. Should this continue, it would be very possible that another side could make better use of his exciting attacking talent.
Jhilmar Lora (20) – Sporting Cristal
Lora is another excellent young player from the Sporting Cristal academy. Manager Roberto Mosquera has likened him to former Newcastle favourite, Nolberto Solano
The full-back isn't the quickest but still contributes well in attack, supporting wingers with overlapping runs. His delivery into the box is also strong. Defensively he is organised and patient and shows good maturity.
Mosquera sees a good future for Lora and is keeping him calm and rotating him with more experienced defenders, though Lora will be confident he can make the right-back position his own this season.