By Louis Smith.
In 2016, Patrícia Sochor left Ferroviária after only a season, opting to join Spanish club SC Huelva before returning to Brazil signing with giants Santos a year later.
There she lifted the Campeonato Brasileiro Feminino and the Paulista state championship during a three-year spell.
At the beginning of last year, she rejoined Ferroviária for a second spell.
"I wanted to look for new things, learn more, mature more professionally and, in short, seek new challenges," Sochor tells WFi.
"Whenever I change my team, I have this in mind: new challenges and personal and professional growth. Returning here was to seek the title that I did not have — that of Libertadores."
The Copa Libertadores Femenina is the top prize in South American women's football. Sochor had played twice in the competition in 2018 when Santos suffered final heartbreak in a penalty shootout loss to Colombian side Atlético Huila.
Quem é Patrícia Sochor?

Sochor nasceu em 1994, é de Iguatemi, Mato Grosso do Sul.

A gente conhece bem o talento da nossa 11, mas talvez é hora de conhecer o caminho de Sochor até o Santos. pic.twitter.com/6dVJPVQjeB

— Sereias da Vila (@Sereias_daVila) July 26, 2019
The 2020 edition was due to begin in September 2020 and finish in October, however, like most football, the competition had to be postponed due to the coronavirus outbreak.
After months of anticipation, Conmebol announced that the action would finally commence in March 2021 in Argentina.
The format of the Libertadores Femenina is similar to an international tournament with a group stage of three games before a one-legged knockout stage between the top two in each group.
In their opener, Ferroviária suffered a 4-0 defeat to Libertad/Limpeño and drew their second group game with Uruguayan outfit Peñarol 1-1, leaving them with it all to do in their final game.
An emphatic 4-1 win over group winners Universidad de Chile ensured their place in the knockouts as they had scored one more goal than third place Libertad/Limpeño.
A 1-0 triumph over River Plate, thanks to a goal from Ana Alice, set up another battle with Universidad de Chile in the semis.
This time, it was a much tighter affair, and neither side could find the breakthrough after 90 minutes, sending the tie to penalties.
After 17 penalties and the score at 6-6, Sochor stepped up and slotted her penalty nicely into the bottom corner shifting the pressure to her opponent Fernanda Ramírez.
Ramírez fluffed her lines and her penalty was comfortably saved by Brazil international Luciana, sending Ferroviária to the showpiece final.
"Going into the shootout, surprisingly, we were very excited," says Sochor. "It was the first time in my career I had taken a penalty.
"I was nervous until my turn came, by the time I took the first step I forgot it was the first time, I forgot about everything around me.
"I just thought about the side I was going to shoot and I was confident. Thank God it worked."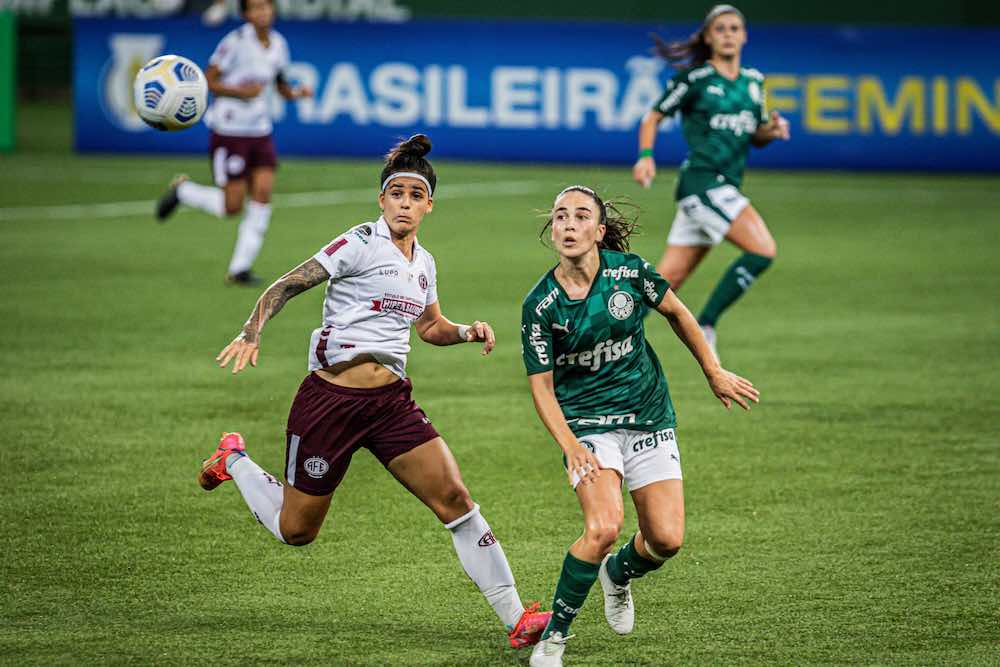 The final saw Ferroviária lock-horns with América de Cali of Colombia.
"We knew it would be a difficult game, we knew the quality of their team," says Sochor of their thoughts going into the final.
"Lindsay Camila [Ferroviária manager] inspired us with photos of our family and things that were very intense for us in the competition, like the song Pesadão by singer Isa.
"But in truth, it doesn't take much to get inspired, it's a final, a game every athlete wants to play in."
The Brazilians got off to a perfect start thanks to Sochor when her long-range free-kick aimed for the box missed everyone and caught out goalkeeper Katherine Tapia.
"Honestly, I left myself at the moment of the goal," she says. "I spent the whole championship trying to score, and there were many shots that hit the post, the crossbar and others that went out or stopped in the goal.
"It's a ball I tried to cross and it ended up entering the goal, then I believe it was God's hand on me at the right time, at his time."
Catalina Usme pulled the tie level from the spot but Aline Milene De Lima replied three minutes later, reinstating Ferroviária's lead going into half time.
With a message of: "Continue at the same intensity and do not give up until the last minute" during the break, the side from a small city in São Paulo held on to become champions of South America for the second time.
Sochor had finally achieved one of her main goals.
"It was incredible," she said. "It was the title I didn't have. "It's a title that every soccer player dreams of having, so for me it was spectacular.
"I was in a state of shock, a mixture of joy and satisfaction for all the work we did. Even more so in the face of such a complicated moment in which the world finds itself.
"Being able to be there, doing what I love and bringing happiness to the city of Araraquara and to all our family members, was indescribable."
With the 2020 season-ending in glory, Sochor spoke about her desires and goals for 2021
"A lot of work, keeping up physically, winning the championship titles we have to participate and having a good campaign.
"We know we have to work hard for all this and that is what we are going to do."