By Louis Smith.
Just months before the coronavirus pandemic hit, Sandro ended a ten-year spell in Europe to return to his native Brazil, joining Goias.
His time in Europe saw him play for seven different clubs in three different countries, most notably, Tottenham Hotspur.
When he departed for England back in 2010, he was 21 and returned to Brazil aged 31. He left as a boy and returned as a man.
"After so much time abroad, I decided to return to Brazil," Sandro told WFi. "I received a good proposal from Goiás and accepted it. I wanted to be in my country, closer to my family.
"I learned many things in Europe, mainly about the tactics. As I was very young when I left Brazil, I didn't have much idea about the importance of filling spaces.
"Today, with the experience that many coaches have given me, I understand that the team has to have a lot of tactical discipline.
"Intensity during matches was also another thing I learned. Intensity and tactics. Sometimes I ran a lot but in without an aim. Now, there are times when I might run less but with much more efficiency."
Speaking of his highlights in Europe, the Brazilian enjoyed experiences both on and off the field,
"I learned a lot in football, but I highlight the different cultures that I had the opportunity to get to know," he says. "I also met extraordinary players, learned other languages ​​and made friends from different countries.
"Today, I consider myself a citizen of the world. Football brings you many benefits and these experiences are certainly one of them, so I highlight these things beyond football itself.
"I was very happy in the years I played at Tottenham. I see a lot of importance in friendships, in learning other languages, learning about different cultures; it is priceless."
During his time at Spurs, Sandro embedded himself right in the middle of English culture finding the perfect way to relax in between games,
"In England, I liked playing darts, this is part of English culture, right? Most of the bars had a board, so I liked to stay there relaxing and playing."
On his return to Brazil, Sandro managed 17 games for Goiás before his contract came to an end in December 2020.
Unfortunately for Sandro, the majority of those games were played without fans due to Covid-19, something which he found tough.
"It is very different to play without fans," he adds. "The crowd is the spectacle of football. It is the crowd that makes the stomach chilly, that moves you.
"Sometimes you make a big move and hear the fans shouting your name. That crazy crowd, that is passion, that moves football and fans.
"Playing without them, for me, takes away almost all the beauty of football. Without the fans, it looks like training."
After four months looking for a club, Sandro opted to return to Europe to one of the countries he hasn't played in previously, joining Belenenses SAD of Portugal.
"The reason for coming to Portugal was very personal, more for the family part," he explains.
"Besides being tired of moving between countries and clubs, I got tired of moving and came to Portugal to live and then Belenenses' proposal appeared.
"My family and I needed stability. My wife and children are Portuguese and we are very happy. I already know the country and we wanted to live here. Thank God everything worked out."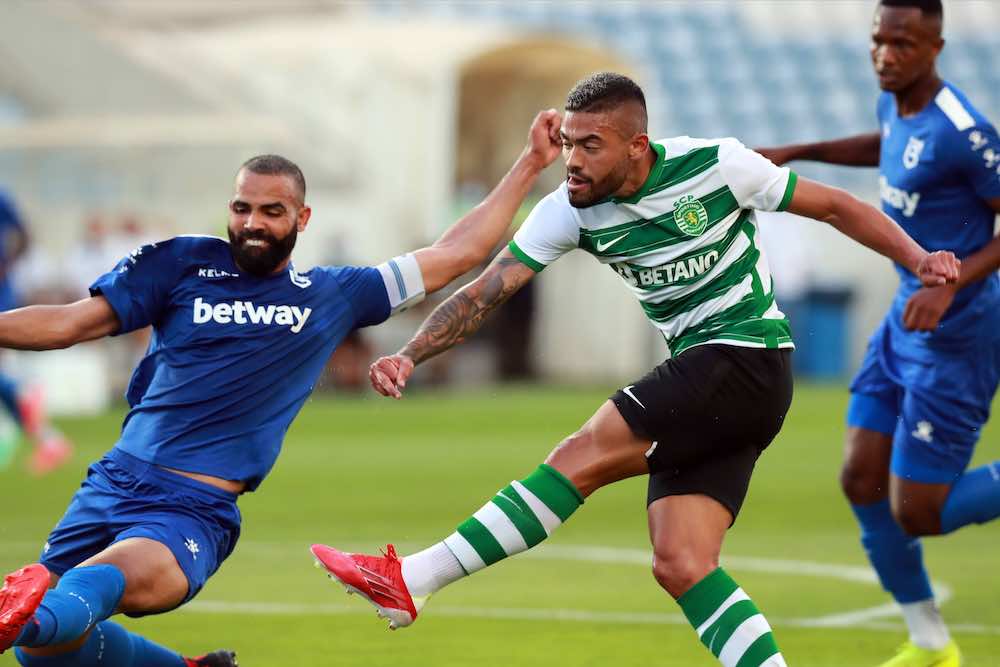 The 32-year-old has already taken to the pitch in a pre-season friendly and is casting his eyes on the upcoming season.
"Pre-season started very well," he says. "I ended up slipping and getting injured in a practice game. I was away for two weeks, but I'm already recovering and returning to the group.
"I liked the Portuguese style of training, with a lot of the ball in the pre-season. That's nice!
"I really like the family atmosphere between the players, coaching staff and people at the club. I am very happy, excited and confident that we are going to do a great job.
"I've never played in Portugal and it will be a great opportunity to show my football here too. Together with my teammates, we will try to do the best for Belenenses.
"The expectation is to have a good season. First to stay in the top division, and then try to look for something even better."