An interview with Gillingham's Danny Lloyd by Callum McFadden for WFi.
---
You started your career at Southport and played in non-League football for several years. How do reflect on your non-League experiences?
"It was a bit of a whirlwind really because I was looking to establish myself as a footballer.
"I've always been fully focused on playing as many games as I can, and I've made a few moves in my career to ensure that I'm playing week in week out because that's all I've ever wanted to do since I was a kid. I just absolutely love football and being on the pitch.
"The Southport move came out of unfortunate personal circumstances for me. I was playing at the age of 16 for TNS in the Welsh Premier League. I was living down there doing a college course as well as playing with TNS.
"My life and perspective on football changed when my brother passed away when I was 17. He took his own life, and it turned my world upside down. I was amid a tragedy, and I couldn't be away from my family. It was too hard for me to be alone at that time.
"I moved home in the April and didn't play football for several months. My grandad has always been the driving force being my football career and he kept saying to me that I had to get back into the game.
"He was writing letters to a number of clubs — bless him — trying to get me a trial and Southport got back in touch with him to say that they had a similar course to the one that I was doing.
"So, I joined Southport and completed the second year of my college course while playing for their reserve team that season.
"I got back to loving football again and scored 44 goals that season. I was also able to play for the first team on a few occasions as the club won National League North which led to me getting a contract for the club when they reached the National League.
"During that summer the club encouraged me to go out on loan, so I went to Chorley and Skelmersdale where I played regularly and was able to score nine goals in 13 starts.
"One of my best friends now is someone who I met there so I would say that going out on loan is an amazing experience and you can learn so much and develop new friendships.
"For me, playing in non-League taught me what football was about as I didn't have a YTS background. I just played proper men's football and played for the love of the game.
"I was earning £60 per week and football for me then and now was never about money. I've always wanted to play games and that's why I had a few clubs in non-League because I just wanted to play as many games as possible at whatever level I was capable of playing at."
---
A big move for you in your career was to AFC Fylde. You added goals to your game and played regularly for most of your time there. Can you sum up that experience from your perspective?
"I joined Fylde after my spell at Tamworth. Dave Challinor was my manager at Colwyn Bay and he then went to Fylde.
"He took them to the Evo-Stick [Northern] Premier League and he contacted me to ask whether I'd consider joining him at the club.
"Fylde was one of the first big non-League projects after Fleetwood so for me it was an exciting challenge.
"In my first season at the club I was the joint top goal scorer and I played a lot of games. I started to understand the tactical side of the game and that was a side of the game that we worked very hard on even though we were part-time.
"In my three seasons at the club, I was able to develop into a goal-scoring wide player and scored double figures for the club in each of my seasons there.
"If that was to happen now then a move up the levels would happen quicker as there are more agents involved at non-League level now.
"I didn't have an agent back then. I was earning £250 per week and just loving playing football. It wasn't for the money as I was working away too.
"I actually had a conversation with my family around that time and I was saying to them that my plan was probably to stay part-time and enjoy my football while keeping my full-time job. There was no pressure on me or worry about making it and I enjoyed that a lot."
---
You talk about enjoying your football and not actively chasing the dream. You attracted interest with your performances and move to Stockport County. It was a spell that went very well and helped you move on to the Football League with Peterborough. How proud are you of your season with the club?
"That Stockport season is the one season that I'll always look back on and say that it changed my life. It led me to full-time football at Peterborough as you say and it was such a great time.
"We had a great group of players and a great manager. Every time I think about that season, I can't help but smile because it was just so enjoyable. We bonded as a group on and off the park and it was a special year.
"Jim Gannon stopped me quitting football if I'm honest. After my third season at Fylde, my personal relationship with Dave Challinor had broken down and I remember saying to my family that I was done with football.
"I was achieving success in my day job and I was on a good career path outside of football so I questioned whether I needed football anymore.
"Jim then rang me and asked to have a chat with me and to be honest as soon as I went to meet him at the stadium I could see how big a club Stockport are. I then joined the club and I scored on my debut after four minutes which set the tone for the season.
"I was scoring and assisting week in week out. The longest I went without scoring or assisting that season was four games.
"It was a magical season for me personally and although we missed out on the playoffs, it's a season that means a lot to me.
"I'm so glad to see that Stockport are doing well now because it's a great club and I wish them every success for the future."
---
You talked about the importance of your family and the support of your grandad. When you sign full time for Peterborough in League One, how much did that mean to you personally and to your family who supported you along the way?
"It was an amazing time for me. It was a culmination of years of hard work for me. I had played the game since I was seven years of age so to get a chance to play at a level of football that people had told me in the past that I wouldn't be good enough for, made me feel great.
"My family were so proud after all the sacrifices that I had made and that they had made for me too. By no means did I think that I had made it when I signed for Peterborough. I always had that hunger to continue to succeed and I still do to this day.
"It was tough adjusting to full-time football at first, mentally. The physical side of it was something I was able to adapt to quickly but the mental side is completely different at full-time football compared to part-time football.
"When you play part-time football and you have a job to go to it helps you during tough times. For example, I was a business account manager so if I had a poor game on the Saturday, I would be annoyed with myself but by the Monday I'd be focused on work and if I had a good day at work and closed a deal with a client then I'd be feeling great ahead of training on the Tuesday again.
"Whereas when you are playing football full time that's all that you've got. You wake up and you live and breathe it every minute of every day so when you are not playing well and the team are losing, it is the most mentally draining thing I could describe.
"You never expect it to be that way because everyone sees football as being the game that everyone earns lots of money and it's always fantastic.
"At the top level that may be true. When you are sitting on the bench or out of the team and you're earning £80,000 or £100,000 it might not affect you as much because everything is secure for you in life.
"But that's not the reality at the lower levels of football. It's tough. You might travel on a long journey down to somewhere like Plymouth and not even make the matchday squad. That's soul-destroying as a footballer and as a person. That's the best way I can describe it.
"Initially at Peterborough, I felt like I had run headfirst into a brick wall because it took time for me to understand and come to terms with the mental side.
"It then picked up for me pretty quickly and I started playing well and almost signed for a club in the Championship in January.
"I always wanted to kick on and play in the Championship and prove myself at the highest level possible. It didn't happen for me for a number of factors out of my control, but I have no regrets.
"I finished my season at Peterborough with 13 goals and nine assists which was massive for me considering I had never played at that level before. I was happy with my performance that season.
"I scored a hat-trick in the FA Cup against my [previous] side Tranmere, funnily enough, which was a great moment at the time because the game was on TV. I was just so delighted to score a hat-trick in a competition such as the FA Cup because as a young boy I dreamed of playing and scoring in the FA Cup.
"I had lots of family in the crowd at the game and I've still got the match ball signed by the lads who played that day. It'll always stay with me."
---
From Peterborough, you went on to join Salford City. How did you feel when you got the call to join Salford City given the ambition that the club has always been very clear about having?
"Salford had been interested in me for around 18 months so at the end of the season Peterborough made it clear to my representatives that I was free to leave and Salford kept knocking at the door. So I decided to go there.
"The first six months at Salford were absolutely superb for me. The football we were playing was exceptional and we went over twenty games unbeaten.
"I played in every single one and had 17 assists by January. However, we had a sticky run over Christmas and things changed.
"The manager changed our system from a 4-4-2 to a 3-5-2 and I didn't figure as much from then. Despite that, I finished the season in 18 assists playing left of a 4-4-2.
"Some people branded me a failure at the end of that season but with my stats, I don't buy that argument. We got promoted to the Football League which was the aim and I played my part.
"When we were promoted to the Football League, I never got a real look in and most of my appearances came in the Checkatrade Trophy which summed up my situation.
"When I played in the league, I got into the EFL team of the week then I didn't play for another two months so for me I look back on my time at Salford with mixed emotions.
"I felt that I had performed well enough in training and when I was given opportunities to play more but in the end, it felt personal as to why I didn't play.
"However, that's football and it's over now. I'm on a new path and I look back on promotion to the Football League and I played my part in that."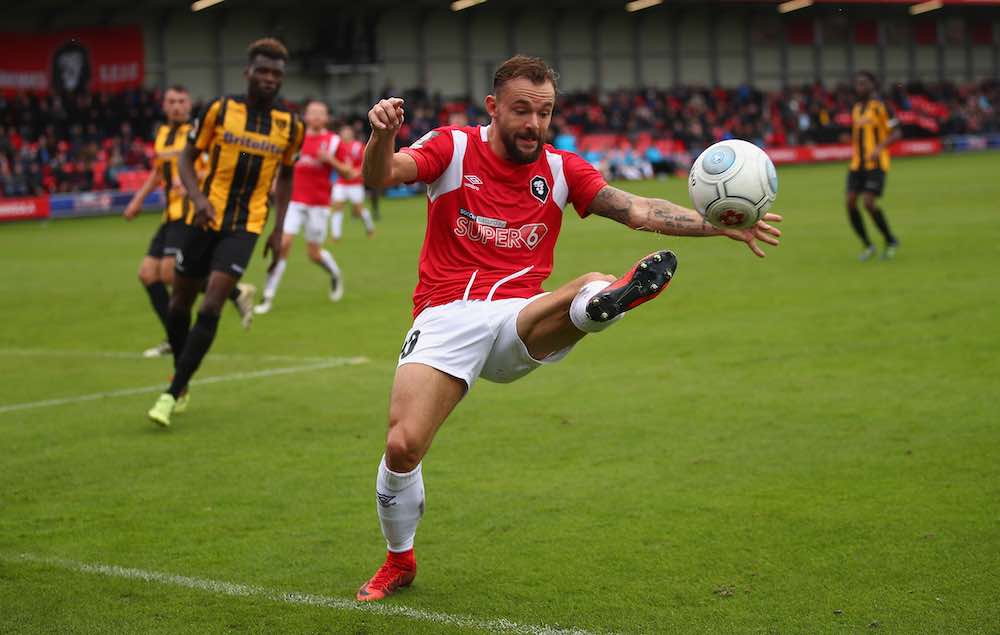 ---
As a Vanarama National League club and now as a League Two club, Salford have a lot of media attention such as a major television documentary and class of 92 involvement. What was it like playing for the club when it seemed like they were every other club's biggest game of the season due to the attention that was generated by the media coverage?
"It is difficult to play for the club in the sense that the club put their money where their mouth is and invest to be successful. Everyone you play against in your league wants a move to Salford. They want the contract that Salford can offer.
"Sometimes you even play teams that are higher up the football pyramid and they up their game because their players want that phone call from Salford because they think they'll be paid life-changing money to join the club.
"People want to beat you because you are Salford City owned by the Class of 92 and because the cameras are there.
"Personally, the club is on such an upward trajectory that it's hard to keep up sometimes with the development of the club.
"They've grown as a club incredibly fast, maybe even too fast off the pitch because they are still looking to source a training ground which is essential at this level of football.
"When I was there, at times we'd have to go and play five-a-sides to keep ticking over because our usual pitches would be out of use due to the weather. That's understandable in a sense because of how quickly things have progressed for the club.
"There are many people out there who are jealous of Salford —  that's other clubs and a number of football supporters too.
"If you look at their Twitter after a defeat you'll see comments calling them a tinpot club and plastic. I want to make clear that those comments are a nonsense.
"The Class of 92 have played football and made their money from football at the highest level. Along with Peter Lim, they could easily have bought a Championship club and invested from there.
"Instead, they've invested in a club and an area that means something to them. They've rejuvenated an area of Salford that most likely wouldn't have been invested in if it hadn't been for them.
"I am baffled by the hate that the club and the owners get from certain elements with football because they don't need to reinvest their money into the game but they choose to, and that should be commended for me as they love the game and understand the game having played at the highest level for Manchester United."
---
Who would you say are the best players you've played with so far in your career?
I'd have to say Lee Hendrie. He was superb at Tamworth and you could tell right away that he had played at the very top.
"I also played with Steven Taylor at Peterborough who was very good.
"At Tranmere, I play with James Vaughan and Jay Spearing who are both players who played in the Premier League.
"Darron Gibson is another I have to mention. His technique was unbelievable. His weight of pass is first class.
"I also want to mention Chris Forrester who was at Peterborough. He was a very good footballer and his football intelligence was clear to see."
---
On the other hand, who would you say have been your toughest opponents so far?
"Michel Salgado. I played against him in a pre-season game for Southport and he was very good.
"I've also played against John Terry in the FA Cup and also against Adrian Silva when he was at Leicester. He was frighteningly good. He was so comfortable on the ball that it was like he was playing a different game."
---
Last but not least, which coaches have had the biggest influence on you so far?
"I have to say Jim Gannon. Without Jim and Stockport County, I don't think I'd have made it to Peterborough and the Football League. I owe a lot to him and the club for what they did for me.
"Grant McCann was a superb coach and his training sessions were very impressive. I'm glad to see him doing well at Hull City now."