An interview with Harrogate Town manager Simon Weaver, by Callum McFadden, for WFi.
---
I want to start by asking you about your playing career. You started your career at Sheffield Wednesday and represented clubs such as Doncaster and Lincoln City. How would you describe your playing style and summarise your career on the pitch?
"I would say that I was a pretty old school defender. I loved heading the ball, tackling and every aspect of defending really.
"I was a passionate player and I would say that technically I was steady (laughs). I was not a great technical player but I was always an honest and hard-working centre back.
"I broke my leg a few times and had other ups and downs with injuries too at wrong moments in my career.
"I played for several clubs but I just wanted to play football and that was the reason why I moved a fair few times. I never wanted to sit on the bench at a club.
"I wanted to contribute week in week out on the pitch and I was never happy to sit on the bench for long and looked to move on if I was out of the team for a sustained period.
---
When did you decide to transition into coaching?
"I started my coaching badges in my mid-twenties because my brother said to me that I think you will be a better manager than you are a player. I did not know how to take that at the time, to be honest (laughs).
"However, looking back he was right. I always have been a deep thinker when it comes to football and I still am.
"I have always liked to analyse the strengths and weaknesses of various formations and think about how I would like to build a team should I be given an opportunity to coach at a good level."
---
You became Harrogate Town manager in 2009. We are now speaking more than a decade later and so much has happened at the club during that time. Can you sum up the state that the club were in when you initially joined?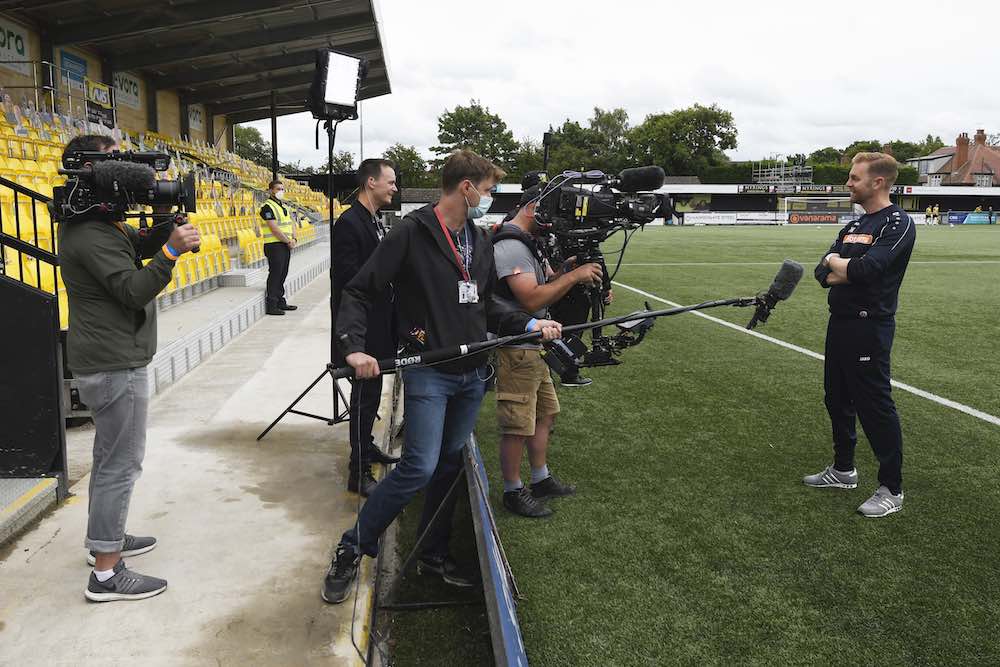 "I joined the club under Bill Fotherby who was the chairman at the time. I met him at his house for a chat and left the house as manager as he offered me the job right after the interview.
"It was a bolt from the blue really. I drove to the ground straight away, had to jump over the fence to get in, the grass was very overgrown and it badly needed a lick of paint.
"The kit-man arrived soon after and I opened a cupboard to find nine flat footballs and a club with no players as all of them had just left the club following the end of the season.
"It was a baptism of fire because the club was really struggling financially and the budget was to be cut by £1600 per week upon me accepting the job.
"That cut in wages was for all levels of the club and included me, my assistant manager and the physio so it was not an easy situation to walk into because the National League North is a tough league."
---
Your father Irving became took over the club in 2011 just two years into your reign as manager. Did his arrival at the club cause any awkwardness for your family and did it immediately put more pressure on you?
"It certainly added more pressure. We had just finished 11th in National League North before my dad took over.
"The budget was very tight but we had earned respect and creditability at our level at the time by showing resilience under tough circumstances.
"My dad only joined the club because he was approached by Bill Fotherby who asked him to buy the club because he was a local business and Bill wanted to move on.
"He said that he was not sure and that he would need to have a few conversations at home which we did. My initial thought was that this was not the done thing but that the club did not have an option because we had no real future as a club without the takeover.
"The club in the state that it was in would not have been considered a viable option for many people but I knew that my dad had a vested interest because he wants to see the best for his family and I was manager.
"He knows how passionate I am and I accepted that we would have to face the music should things not work out. However, we have a strong relationship and thankfully the club has grown from strength to strength in recent years.
"We wanted to improve the infrastructure at the club as well as the playing squad and that has been the case. The stadium has been improved and the quality of the team has grown over the years too.
"This has also enabled us to grow our fanbase as a club which is vital to ensure that the club can be sustainable.
---
You competed at the top end of National League North before sealing promotion in 2018 by beating Brackley Town in the playoff final. Can you sum up your feelings going into that match and how it felt to take the club into the National League for the first time in their history?
"It was our first year as a full-time club and I just felt that the energy within the group throughout the season was going to give us a great chance of success.
"The semi-final against Chorley was very tight but we knew we would be in for a tough game in the final.
"Brackley were a tough side to play against and we took nothing for granted going into the game. However, it just felt like it was going to be our day from the moment that we got to the ground.
"It could not have gone better on the day. The stadium was bouncing and erupted at full time when we sealed promotion. We certainly enjoyed that occasion."
---
You were promoted from the National League to the Football League in just two seasons by defeating Notts County at Wembley in the playoff final. Did the speed of your success shock you and the group at all?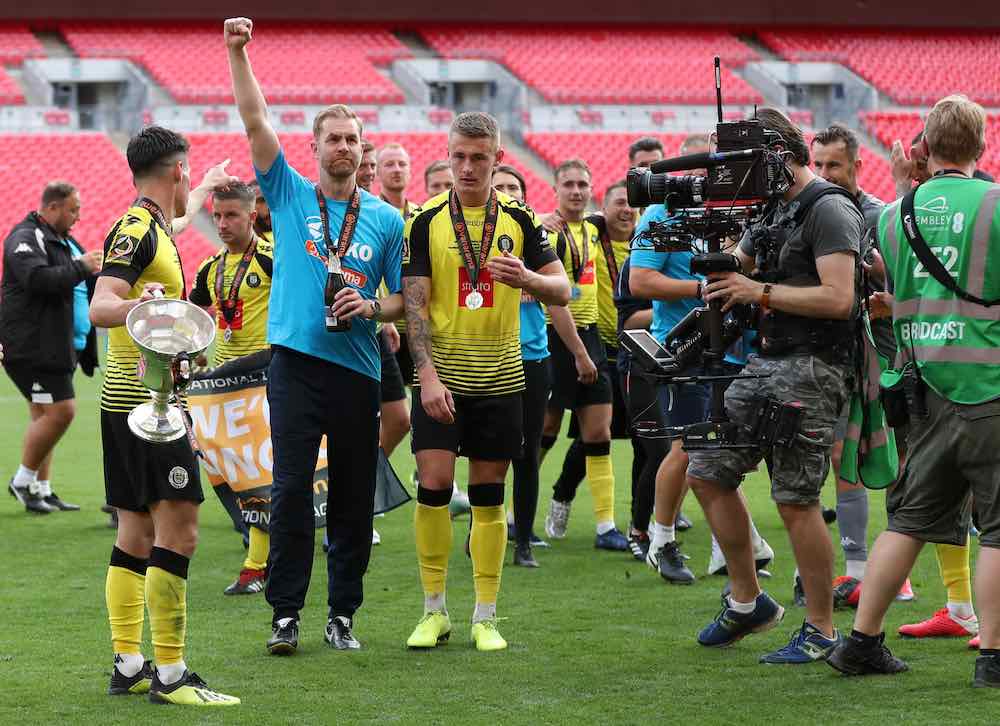 "Going into the National League for the first time was like going into uncharted waters. We had never played at that level in the history of the club so we were not sure what to expect.
"Our first game was against Sutton United who were an established top seven club in the league with seasoned professionals at that level.
"They went 1-0 up after fifteen minutes and I thought 'Oh no, this is what we have been warned about. Big strong teams who give nothing away.'
"Despite that start, the lads settled and we got the ball down and played as we had done before earning promotion and found our rhythm which set us in good stead that season.
"We reached the playoffs in season one at that level and we learned a lot from that experience.
"The big challenge was to avoid second season syndrome in year two and, to be fair, we struggled to find consistency the first twelve games or so of the season. Then, we went on a really good run before lockdown arrived.
"We were on the coattails of Barrow (who won promotion as champions in 2020) until the games were delayed.
"We went through such an unprecedented time just like the rest of the country and weren't sure if the games would be played to give us a chance of promotion.
"Thankfully, they were and we succeeded in the playoff final against Notts County to seal another promotion. It happened quicker than expected and that is a testament to the strength of the group.
"We had a group of young hungry players mixed in with senior professionals who had been there and done it in the game like Jon Stead.
"He was crucial for us in big moments like the playoff final when were against ropes in the last ten minutes. Jon settled us down with his poise and that comes with experience.
"He bought into the spirit of the club from the day that he arrived and was never 'big time'. Everybody respected him and he helped the group a lot. He had a brilliant career and to be able to call on his experience was great.
"He was first into training regardless of whether he was in the team or not and he set such a positive example to the other players."
---
You arrived in the Football League for the 2020/21 season. Your first game was against an established Football League club in Southend United. You won the game 4-0. Can you sum up how it felt to have a perfect start to the season in the club's first-ever Football League match?
"It was an immense day. Everything went to plan and I remember travelling back to Harrogate on the coach after the game thinking: 'Did that really just happen?'
"However, we never got carried away with that. We knew that this was only the start and it was crucial for all of our confidence levels.
"I will be very honest and say that I was nervous before that game because when you win two promotions in quick succession, it can catch teams out. History has shown us that over the years.
"The beauty of football is that you just never know how things will go before the start of a season. Our first season in the Football League was a positive one and I look back on it with pride but there is no time to rest on our laurels. Past success does not guarantee future success. It is important to always remember that.
"The challenge for us now is to establish ourselves in the Football League and work to move the club forward.
---
Finally, Simon, given the success that you have achieved with Harrogate over the last decade, what are your future ambitions as a manager?
"I hope to keep going and working as hard as I can with the club. We have to be realistic. We are not going to be in the Premier League in three seasons. Football is not as simple as that and we have to work and battle for every point at this level to progress.
"I want to bring more success to this club and have more days at Wembley while establishing ourselves as a proper club. We want our own training ground, we want to build a strong academy and we want to create a sustainable football club.
"In terms of other clubs and myself, I do not know what the future will hold. Football is a precarious job and while people might say that I have a very safe job due to my father owning the club, I would disagree.
"No one is immune from the sack if results are against you for a sustained period. I am under the same pressure as any other manager.
"I never say never when it comes to potentially managing another club one day as you do not want to hit a ceiling as a coach or with a club. I want to manage at the highest level that I possibly can and all that I can do is work as hard as I can with Harrogate.
"That is my primary focus and has been since 2009 when I walked through the door for the first time.
"I am an ambitious manager and this is an ambitious club."