An interview with Motherwell assistant manager Chris Lucketti, by Callum McFadden for WFi.
---
You are the assistant manager to Graham Alexander at Motherwell. How would you sum up your experience of Scottish football so far?
"We have really enjoyed it. It is a different challenge for us having worked in English football for many years.
"We wanted to challenge ourselves as coaches and we have been impressed by everything that the Scottish game has thrown at us so far."
---
You have known Graham since your playing days and you have worked together in management at Fleetwood Town, Scunthorpe United and Salford City. Can you give an insight into how you both work on the training field on a daily basis, do you have specific tasks assigned to you or is the coaching fluid between both of you?
"We share the coaching on the training ground. Graham will always take the tactical inputs ahead of a game. He leads that area in preparation for every game that we play.
"My role is to take the majority of the training alongside Keith Lasley in the early part of the week then hand over to Graham as match day gets closer.
"Graham and I have a strong relationship from our six years together as teammates at Preston North End then coaching at a few clubs in England before coming to Motherwell.
"The reason that I believe we work well together is the similarity in our views of how football should be played.
"We have strong views on the application and desire that is needed to succeed as a professional footballer. Our views on the game are completely aligned.
"We both had similar pathways as players when we were younger and we want to instil that in our players.
"Players can have setbacks, as we both did as players, but that is part and parcel of the game. We overcame them to have longevity in the game as players and it is vital that players believe in themselves both physically and mentally."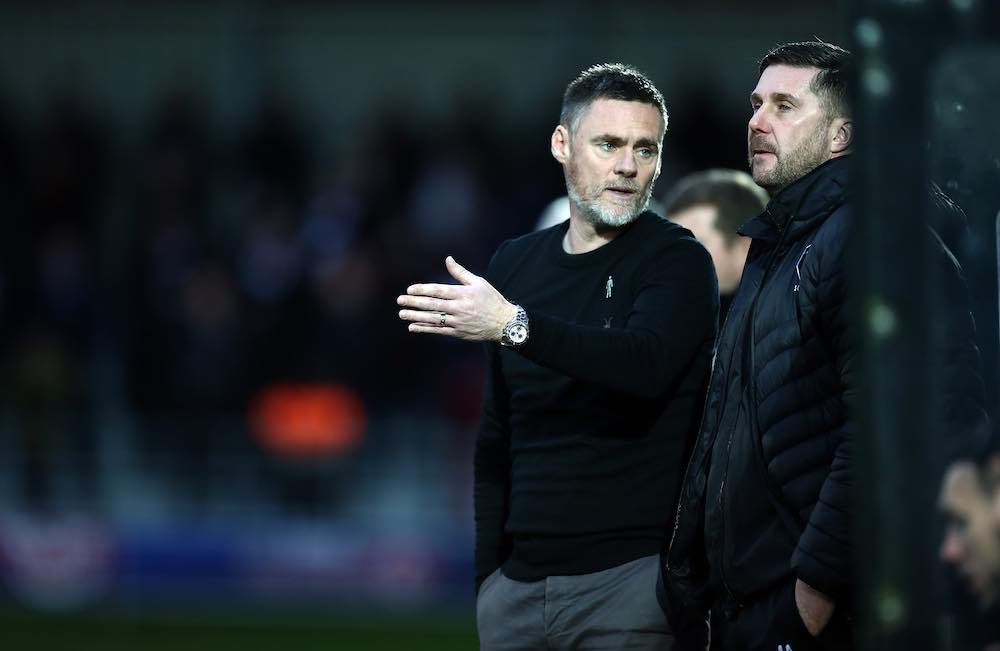 ---
Before coming to Motherwell, you and Graham took Salford in the Football League for the first time in their history. Owner of Salford City, Gary Neville has spoken of his regret at letting you both leave the football club. What was it like to work at a club with the high level of attention that was on then compared to other National League and League Two clubs?
"When we went into Salford, it was an unknown level for us because we were used to managing at the top end of League One rather than the National League.
"It was a big job and the only reason that we went there was due to the owners. We felt that the club was only going to go one way and that we could take the club on to a new level.
"We succeeded in winning promotion from the National League at the first attempt in the club's first season at that level which is a phenomenal achievement looking back.
"Whatever happens at Salford in the future, we know we played our part in taking the club to the Football League for the first team.
"We also took them to their first-ever Football League cup final in the EFL Trophy that Richie Wellens won a year after we reached the final due to Covid-19 delaying the final by twelve months.
"Overall, it was job done for us given the fact that we were brought in to achieve promotion to the EFL so Graham and we have no regrets from our time at Salford City."
---
As a player, you started your career at Rochdale but it was Halifax Town that really put you on the map so to speak. What are your memories of your time at Halifax?
"I have very positive memories from my time at both clubs. I made my debut at seventeen years of age at Rochdale then joined Halifax where I became a regular first-team player under John McGrath.
"John was an inspirational guy and a role model for me as a former centre back himself. He trusted me to play regularly and forge a strong career in the game."
---
You are synonymous with Bury and Preston North End. If we can start with Bury, you won back to back promotions during your time at Gigg Lane. Can you put into words what that period of your career was like?
"Tremendous times. I signed for the club for £50,000 in 1993 and from there, what we achieved was nothing short of remarkable.
"We had an unsuccessful playoff final early on in my time there then bounced back to go on to win back to back promotions from Division 3 to Division 1 from 1995 to 1997.
"We were playing in what is now known as the Championship against massive clubs such as Manchester City and Middlesbrough and managed to survive in our first season at that level in 97/98. Manchester City were actually relegated that season which shows you how strong we were to stay in the league.
"We had a fantastic manager in Stan Ternant and probably overachieved in comparison to the size of the club, but that was down to Stan and the group of players that we had. We had a great work ethic and team spirit which carried us far.
"Four of that side were sold on for fees accumulating £4 million in the mid to late '90s which was incredible money back then for a club the size of Bury."
---
You were sold to Huddersfield Town for £1 million in 1999. What was your time at The Terriers like compared to Bury?
"It was a mixed experience for me. I joined the club because I wanted to work with Steve Bruce was a young and up and coming manager at the time and a fellow centre half who was a hero of mine.
"When he came in for me, there was no doubt that I wanted to play for him. We were unlucky with injuries to key players in season one and without those setbacks, I believe we had the capability of winning promotion to the Premier League.
"Steve then lost his job in my second season which was difficult for us. The club then had financial issues which led to me leaving for Preston North End."
---
You made over 200 appearances for Preston North End in a five-year spell at Deepdale. You developed a solid partnership with Claude Davis as the club came close to Premier League promotion. How do you reflect on your time at Preston?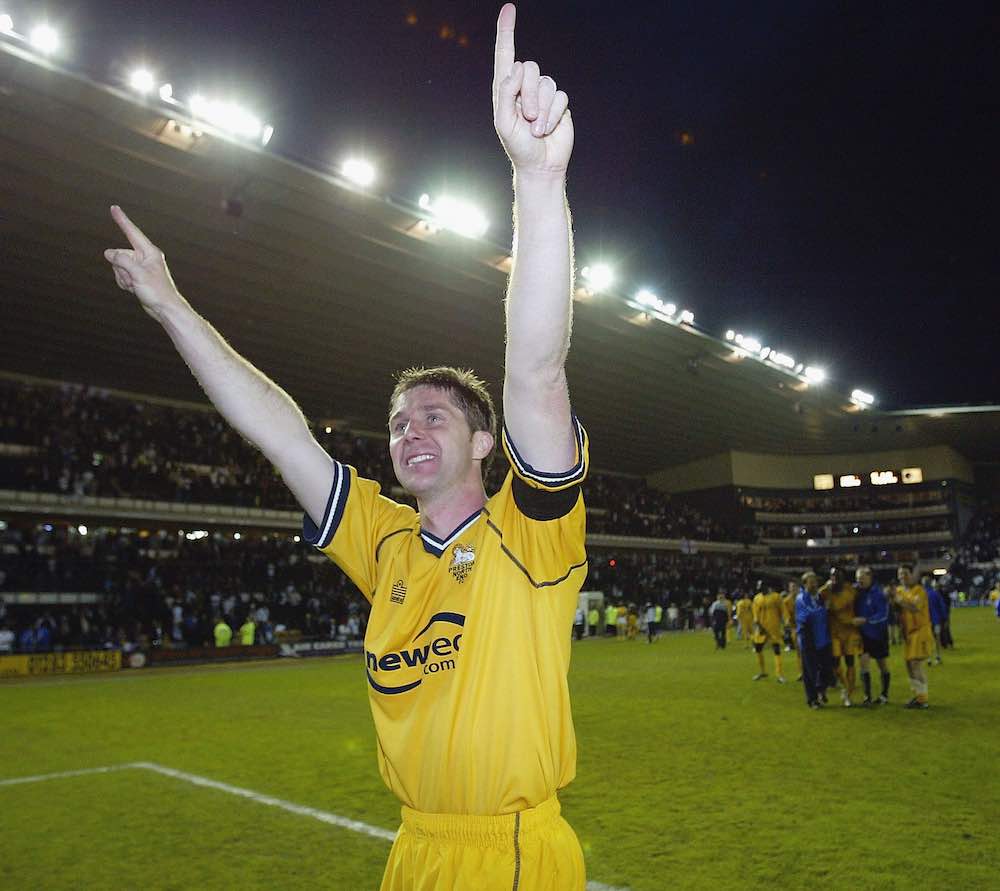 "I look back with great pride at my association with Preston. I was signed by David Moyes and joined a club that was on the up under his leadership.
"The club were in the Play-Off final the year before I joined and we had some fantastic times there. I played with tremendous players including Claude as you mentioned.
"Claude was signed by Craig Brown and he was an instant success. At 6ft 4in, he was such a strong player physically with pace to burn as well as being comfortable on the ball.
"I loved playing alongside him and we came close to promotion again under Billy Davies. We had beaten West Ham home and away in the league in that season so when we faced them in the playoff final, I would have put my house on us beating them because we were the form team in the league heading into the playoffs.
"It was an incredible feeling to lead the team out for such an occasion and be stood next to Sir Tom Finney as we lead the team out. That is a moment that I will never forget.
"I was distraught when we fell short and I honestly thought that I had missed my chance of playing in the Premier League after that defeat."
---
Last but not least, you get to the Premier League when you were signed by Neil Warnock at Sheffield United. Remarkably, you made your Premier League debut at the age of 35. How did it feel to arrive in the top flight at that stage of your career?
"I never thought I would get the chance to play in the Premier League after the playoff final defeat to West Ham with Preston so when the opportunity arose to join Sheffield United, I jumped at the chance.
"I had worked with Neil previously at Bury so had no hesitation in working with him again. Sheffield United is a massive club and it was great to win promotion to the top level with them.
"When I returned for pre-season ahead of the Premier League, I was one of nine centre-halves so I was not sure that I would even break into the side.
"However, I made my Premier League debut against Portsmouth at the age of 35 and it was a dream come true. I always wanted to be a Premier League player so to finally get the opportunity was something very special for me.
"I still hold the record for being the oldest English outfield debutant in the top flight which is nice to have.
"The big disappointment was not being able to stay in the Premier League especially given how the Tevez and Mascherano situation unfolded at West Ham.
"The way that it happened left a bitter taste in everyone's mouth and it cost the club its Premier League status.
"West Ham beat Manchester United at Old Trafford following a Tevez wonder goal which send us down on the last day of the season. It was a cruel way to be relegated."