An interview with Ivo Pinto by Callum McFadden for WFi.
---
You are currently on loan at Fortuna Sittard in the Eredivisie. How does the standard of football compare with other leagues that you have played in across Europe?
"My first impression is that the league is full of attacking teams who like to play offensive football. There are lots of goals in games, rapid transitions and the game is based on attack.
"The fans do not tend to mind if you concede goals as long as you win the game. Beautiful football rather than rigid football is what the fans want to see here and the league has many top footballers."
---
What are your personal highlights from your time at Fortuna so far?
"I was asked to play at centre back in a couple of games which was a new experience for me as a right back.
"To be honest, I thought that I did well and I actually enjoyed my experience of central defence.
"I always want to help the team and to be able to win points for the team in that position meant a lot.
"It is not usually the case that you can learn and adapt to a totally new position at 32 but I am happy with how I was able to learn quickly. It can only be positive for me going forward."
---
You started your career at FC Porto and moved on loan within the Portuguese leagues. Can you sum up what those formative years of your career were like?
"The football in Portugal was tough and to go from the under 19 side to the first team was really hard.
"We did not have the B team like they do now — it was reintroduced in 2012 after several years without one — so I went on loan Gil Vicente, Vitória and S.C. Covilhã.
"I learned a lot from my time working with senior players and coaches on loan. It was a process that was crucial in my development.
"Dropping down to the second division helped me become a regular first-team player and helped me prepare physically and mentally for the battles that were coming ahead in my career."
---
In 2012, you joined Romanian side CFR Cluj who regularly play in European competition. What was it like to play in another country for the first time in your career?
"The sporting director of Cluj scouted me while I was playing in Portugal and I wanted to join the club because there were already several Portuguese players at the club.
"That helped me settle quickly, especially as I was in my early twenties when I moved
"I was able to play in the Champions League for the first time and we beat Manchester United which was an unbelievable moment.
"Cluj gave me a platform to play at a high level and my career really took off after my time at the club."
---
Your next move was to Croatian football with Dinamo Zagreb with whom you won three league titles and a Croatian Cup. How did it feel to be a part of a hugely successful side?
"Dinamo Zagreb is the biggest club in Croatia and we were dominant during my first spell there.
"In my second season, we went over 45 games unbeaten which shows you how strong we were.
"Dinamo also enabled me to continue playing in European football in the Champions League and the Europa League.
"I made great memories and friends at the club from my fellow teammates to the hierarchy of the club."
---
Your form at Dinamo earned you a move to Norwich City in the Premier League. Was it a dream come true for you to play in the Premier League?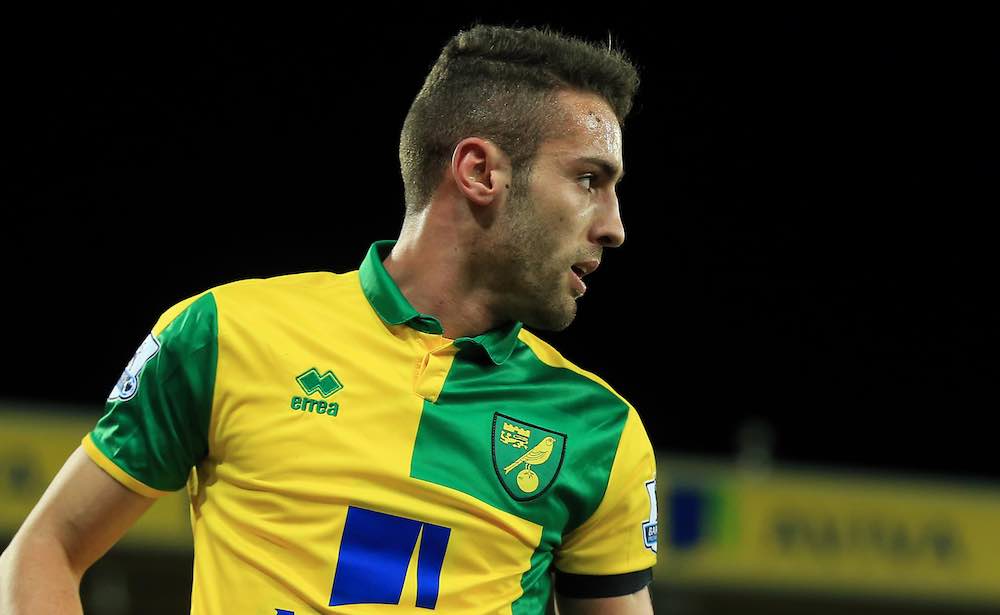 "It really was a dream come true and I said this in my first interview at the club.
"I have to say that I also enjoyed my time playing for the club in the Championship too because it is a very competitive league with lots of games.
"Norwich opened the door for me to play in the Premier League and I will always be thankful. The club is a beautiful club across all aspects and I have the best memories in football from my time in Norwich.
"I love the club to this day and to play for the club is something that I will always cherish.
"I worked under Alex Neil and Daniel Farke who were both very similar in my opinion. Both of them wanted to play football the right way and dominate possession but could also be pragmatic when they needed to be, too.
"Their expectations were clear on us as players and it is no surprise that both of them were successful during their time in charge of Norwich. Both of them are good managers and I enjoyed my time with them."
---
Last but not least, Ivo, I want to talk to you about your international career. You represented Portugal at youth level and have featured in several senior national team squads. Can you put into words what it meant for you to represent your country?
"I have only beautiful memories of my time with the national team. To play for my country and represent the flag and my people is the ultimate honour.
"It was another dream of mine as a kid and although I have not been capped at senior level, I will never give up. I know how hard it will be for me because we have the best right back in the world at the moment in Joao Cancelo and very good backups such as Ricardo Pereria and Cedric Soares.
"I will always be happy with my involvement regardless of whether I get a senior cap or not because to have played at youth level and been in the senior squad was a pleasure.
"Training alongside Cristiano Ronaldo, Pepe and many other top players was an education for me. Their reading of the game is scarily quick and marks them out as being the world-class players they are.
"We had a special group under Fernando Santos as was shown when we won the European Championships in 2016. I was in his first squad when he took over as manager and I was a supporter in training as well as being a player (laughs).
"To share the pitch, the cafeteria, the hotel and the team bus with players of that magnitude was special and those memories will stay with me forever."