By Louis Smith.
Meleiro, a small Brazilian Municipality in Santa Catarina state, was known for its beehives, packed to the brim with honey, and as a place where Italian immigrants made their home back in the late 19th century.
Like in most places in Brazil, football is popular and has several local amateur sides, but with no major links to the big cities, it can be hard for talent to be discovered in these areas.
In 2009, goalkeeper Luan Polli, born in Meleiro, signed with Figueirense — one of the biggest clubs in the state.
His reason for saving goals instead of scoring them is heart-warming.
"It all started with my father, who was an amateur goalkeeper," Luan Polli tells WFi.
"He passed away I was very young, so I found an old football boot, which my mother kept from him.
"From then on, I told her that I wanted to be a goalkeeper, like him."
In 2012, Polli was loaned to Flamengo's youth side to further his development, but he ended up eclipsing that by making an appearance for the Rubro-Negro's senior side in 2013 during a state championship match.
On his return to Figueirense, he made his top-flight debut in Brazilian football aged 21, as they drew 1-1 with Fluminense.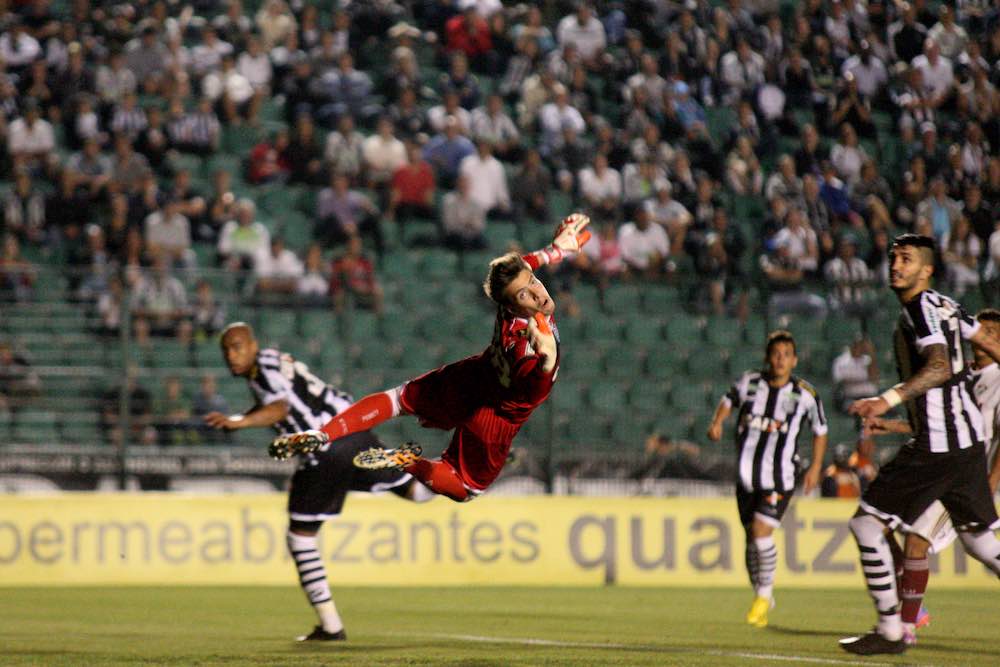 Polli would go on to make a further seven appearances for the club before going on another loan spell, this time joining Boa Esporte.
At the end of 2017, Polli's came to an end meaning he had to explore new ideas. He decided to not only leave for a new country but a new continent…
"I was going through a difficult time in Brazil, without a club, the opportunity came to go to Malta to play for Naxxar Lions," he says.
"I didn't know Maltese football, I knew that the best-placed entered the Europa League and playoffs of the Champions League. I thought it was a good opportunity to enter Europe."
Polli's time in Malta was unfortunately hampered by injury, which saw him manage only three appearances for the club.
However, despite the negatives, he had a chance to take things in off the football field.
"It was a nice experience," he adds. "Living in a different culture, learning a new language and seeing how football is treated outside Brazil but professionally, I arrived at the end of the season, I ended up getting injured, I saw that football was not as structured as in Brazil, so I chose to return.
"Returning to Brazil was a choice to be able to have more competitive training and gain match fitness again.
"In Malta, compared to Brazil, it is much lower. Despite being an amazing country to live in.
"Returning to Europe is something I would like to do in the future. I'm an Italian citizen too — I have dual nationality.
"My big goal is to return to Europe in a strong league, and after my career, maybe even to live there."
After a short spell in Malta, Polli returned to home comforts by joining the northeastern outfit Sport Recife.
In 2019, he helped the club achieve promotion to Serie A as they finished second, only losing four league games across the season.
Then a year later, mixing it with Brazil's best, Sport Recife and Polli had a wonderful season as they ensured safety, with Polli making several key saves along the way.
"2020 was where my career took a leap, where I had national projection with great performances and mainly helping the club achieve its goals," he recalls.
"It was the best season of my career. I had an outstanding run of games. I was very well received by the club, the fans and the city. I have a huge affection for Sport Recife."
Luan Polli, ex-Sport, foi anunciado oficialmente como novo reforço do Atlético Goianiense.#futebol #Football pic.twitter.com/V1JsSPVjbg

— Daily.Futebol (@DailyFutebol1) July 31, 2021

Polli now plays for Atlético Goianiense whom he joined in the middle of 2021. He has made a strong start in the Campeonato Goiano and Copa do Brasil.
With the Copa Sudamericana and Brasileirão just around the corner, he looks to be in great condition for the challenges ahead.
"My goals for the future are to consolidate more and more my name in the Brazilian scene, along with the goals of Atlético Goianiense and replicating my 2020 season with outstanding performances," he concludes.
"My long term ambition is to earn an opportunity to return to Europe, in a great club."