There's no other club like Real Madrid in European football. Anyone who needed a reminder of that needn't look any further than last Wednesday's Champions League clash between the Spanish club and Paris Saint-Germain.
PSG had won the first leg of the last 16 back at the Parc des Princes 1-0 thanks to a moment of magic from Kylian Mbappé. The same player made it 2-0 at the Santiago Bernabéu in the second only for a late hat-trick from Karim Benzema to turn the tie on its head and send Madrid through to the quarter-final of Europe's premier club competition.
It was a magical moment, one that underlined what makes Real Madrid the club they are. Before the game the Bernabéu unveiled a stirring Tifo; "We're the kings of Europe," it read, as if to remind PSG that you can't buy the incredible prestige and history woven into those famous white shirts. Once Benzema pressed Gianluigi Donnarumma to create the opening for his first goal, PSG's heads dropped and the Bernabéu began to believe. It was done.
On February 15 2007 @Benzema scored the first hat trick of his career — heard he did it again tonight? 🤩 pic.twitter.com/N4TYpcOQvb

— Olympique Lyonnais 🇬🇧🇺🇸 (@OL_English) March 9, 2022
PSG's famed front three, composed of Mbappé, Lionel Messi and Neymar Júnior, wilted. So did their midfield, even Marco Verratti, that highly-talented Italian playmaker who lit up the first 150 minutes of this European tie. Their defence crumbled, their goalkeeper unable to put his mistake behind him. Madrid, in contrast, came alive. They'd been second best for the vast majority of this two-legged tie but they produced the goods when it counted.
Benzema was the headline-grabber but it was Luka Modrić that wowed this observer. The 36-year-old Croatian had lost the midfield battle to Verratti for most of the tie but suddenly began to play like a man possessed; winning the ball from Messi with a full-blooded sliding challenge, getting the crowd up, before carrying the ball forward like the Argentine himself before finding Vinícius Júnior, who in turn teed up Benzema. Celebrating like a hooligan in the dressing room post-game, he proved himself the embodiment of Madridismo.
Because he really is. Madrid, more than any other club, define themselves by European success. No other club can match the 13 European Cups they've won and no other stadium lives European nights like the Bernabéu. Modrić, in his never-say-die, animalistic competitive streak, knows this like few other men. This is his tenth season at the club.
And what a season it's shaping up to be. Madrid followed up the high of Wednesday night's heroics with a trip to the Balearic Islands to face Mallorca on Monday evening. They won 3-0 thanks to a brace from Benzema and another goal from Vinícius, the deadliest duo in European football at this moment in time. The win took them ten points clear of second-placed Sevilla at the top of La Liga; the title is theirs barring a miracle.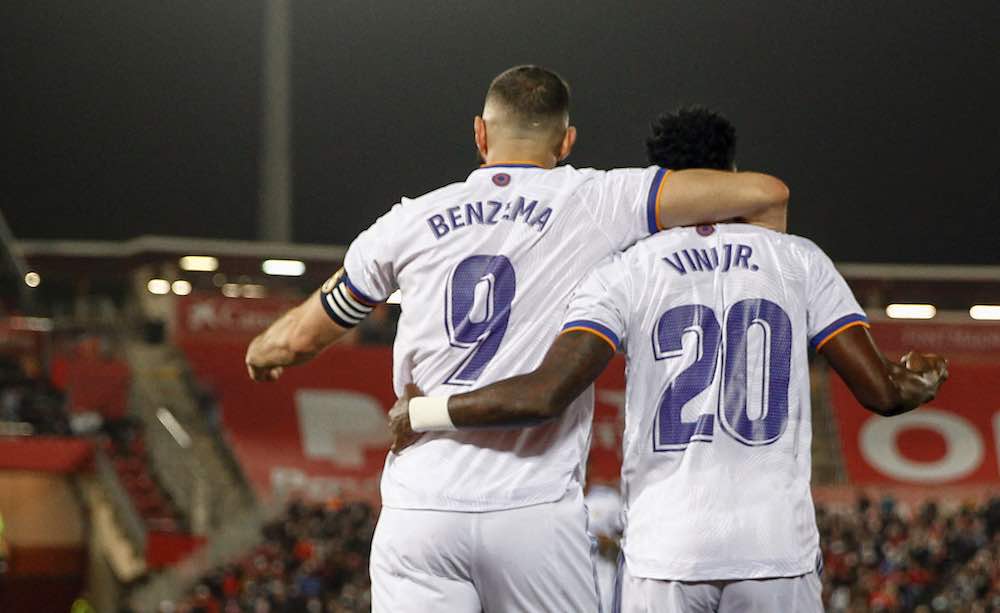 And they're still alive in the Champions League, too. They're certainly not the best team left in the competition; that title belongs to Bayern Munich, Liverpool or Manchester City. But the best team doesn't always win the Champions League.
They are a tempting proposition for anyone looking to back a winner at a good price, and with UEFA turning to new sponsors in recent times (for various reasons…) including betting brand Entain and its UK offshoot PartyCasino, many punters will see the Madrid side as the outsiders with a real chance of winning.
When it comes to a one-off game Madrid have the balls to defeat anybody. If they can keep their key men fit – Thibaut Courtois, Éder Militão, David Alaba, Luka Modrić, Vinícius Júnior, Karim Benzema – they stand a fighting chance. And a fighting chance is all Real Madrid ever need.
Because they know how to win and can get things over the line like no other club. That's why it looks likely Mbappé is going to head to the Bernabéu when he leaves PSG on a free transfer at the end of this season; the Parc des Princes may be the home of the stars, the rich and famous, but it's the Santiago Bernabéu where legends are truly made.